---
What's in Store this Year?



While choice is not new, the influence of platforms, the edge, the influx of open, data, analytics and the flexibility of today's technology, make decisions based on choice better than ever.



Marc Petock,
Chief Communications Officer,
Vice President, Marketing
Lynxspring &
Connexx Energy

Contributing Editor
January is a time for many to reinvent themselves through the time-honored tradition of New Year's resolutions. I look at it as a time to refresh. And when it comes to our industry, it's a time to see what's ahead and refresh.
Regardless if you are a manufacturer, system integrator, building owner, facility manager, engineer, contractor, one thing is for sure, change is going to be constant, and the promise of more change is in store. The way we interact with technology has changed dramatically in recent years – and is still changing.

IoT continues to alter the way we live in a multitude of ways, from the transformation of business operations to the reshaping of how we operate and manage buildings. It is moving from experimentation to business scale. As I have commented in previous articles, IoT is changing what we are delivering---how, when and where. However, realizing its potential starts with understanding the value and contribution it brings. IoT is as much about behavioral changes, transformation, and business opportunity, not just technology or the number of connected devices. IoT is the platform upon which to connect, collect and analyze data so we can drive, optimize, measure and validate outcomes. Building owners and operators should not "buy" IoT; they should purchase solutions to specific challenges where IoT components are part of a solution. When it comes to our industry, we have proven that IoT is driving value and delivering successful business outcomes.

When we mention IoT, one must mention Artificial Intelligence (AI). AI is undoubtedly the buzzword of the day – everyone is talking about it. The upsurge of AI will continue. AI capabilities have been made possible by the massive increases in data and computing power. It's the incredible explosion in data that has allowed AI to advance over the last couple of years; the more data an AI system has, the quicker it can learn and the more accurate it becomes.
However, many still aren't quite sure what it is and how it will be applied to use cases. 2018 is the year that understanding of its role in helping to run our systems will spread. As more and more devices become connected and capable of interoperating with each other, AI's natural language processing, image recognition, and neural-network driven decision-making – will help them to understand each other, and us.
2018 will be the year of the platform, especially open platforms. Open platforms will finally get their just due as building operators see them as a way forward in how they manage and operate their facilities. Platforms create value for users by facilitating connections and exchanges between people for services and information.

Then there is the edge. It's here, and it's is here now. And it will be part of the norm. Edge computing represents cutting-edge hardware, software, and services co-located at endpoints that make technology far more efficient, scalable, secure, and manageable. It also makes solutions much smarter by enabling machine learning and artificial intelligence capabilities to be deployed much nearer the point-of-use.
AI and analytics will be embedded in edge devices for specific applications and tasks giving rise to newer functionalities to the same devices we have been using for years; thus creating new value. The evolution of the edge will be dominated this year by the growth of specific edge computing systems and rollouts in the field becoming larger in scale.

The use of data is now mandatory and no longer optional. Data and analytics are now irreplaceable assets in managing and operating our buildings and facilities. The need for cost-effective, real-time data analytics has never been greater. Attention will turn from big data to smart data. And when it comes to data unless data is interoperable, we will not experience the full power and value it can deliver. It can now be said that the data produced by a device is now more valuable than the cost of the device.
Wellness and productivity are significant considerations for every business, as staff costs typically make up 50%–85% of the budget. When office conditions (poor indoor air quality, thermal discomfort, poor lighting, etc.) negatively affect productivity or employee health, the economic impact for the company is significant. In the last two years, the conversation has changed from how much energy can we save to how does a building affect people's health and productivity. This will continue throughout this year.

The health and wellbeing of building's occupants isn't just the responsibility of human resources anymore. Today's building owners and operators, as well as occupants, are looking for work environments that embrace technology and enable seamless, collaborative, healthy and comfortable working experiences. This includes the "wellness of the workplace." Owners, operators, facilities managers play an important role in making sure the people who work in buildings are happy, healthy and productive.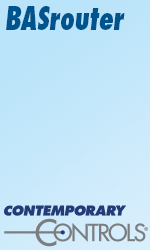 Because of the points above, adoption of smart buildings will be more and more common. After years of being over-shadowed, building technology is in the spotlight. Commercial building owners are feeling the pressure to invest in intelligent building technologies that provide better insight into operations and equipment as well as access to real-time data for productivity, comfort, and sustainability. We are at a tipping point as more owners and operators are starting to recognize that smart buildings are not a fad, but a powerful tool to both gauge and meet occupant demands and increase asset value.

Cybersecurity issues will get worse. Cybersecurity comes down to one thing-risk and how much you are willing to take. We need to change—cybersecurity needs to be looked at as "value add." If cybersecurity is not integral to solutions from the outset, the remedial efforts to manage a security incident is going to be less effective and costlier.
In combination with cybersecurity, building risk management is now part of the conversation. Identifying, assessing and controlling threats and addressing risk is now a fundamental issue for any company in 2018.
And finally, this year will be the year of choice. While choice is not new, the influence of platforms, the edge, the influx of open, data, analytics and the flexibility of today's technology, make decisions based on choice better than ever.

So, in closing, while opinions vary and yours may be different than mine, or I didn't mention something that you believe is part of what's ahead this year, the challenge is not technology, but rather being prepared to take advantage of what's in store.
---


[Click Banner To Learn More]
[Home Page] [The Automator] [About] [Subscribe ] [Contact Us]