---

EMAIL INTERVIEW – Trevor Palmer and Ken Sinclair
Trevor Palmer,
Vice President Product Management, Distech Controls
Vice President, Product Management Controls, Acuity Brands

In his 20+ year industry tenure, Trevor Palmer has held several leadership positions from technical sales and contracting to marketing and product development in the HVAC field, specializing in controls and peripheral devices. He is instrumental in positioning Distech Controls as an industry leader in building automation and IoT technology, while guiding the company's strategic development, market expansion and product line diversification.

In his current role, Trevor leads the company's product strategy and customer experience teams for controls across both the Lighting and HVAC domains. He is recognized as a building systems expert throughout North America and Europe.
---
AHR FAQ 2018

Sinclair: What is new from Distech Controls?

Palmer: Our latest innovation, as revealed for the first time at the 2018 AHR Expo, is the Allure Unitouch™ - a customizable, best-in-class touchscreen that will unify HVAC, lighting and shade control under one, simple-to-use room interface. In the last 12 months, we have been busy releasing the following:
ECLYPSE™ nLight Module: Unified hardware for lighting and HVAC, extending the ECLYPSE HVAC platform with the power of nLight® lighting controls.
Horyzon-C: IP-based capacitive and multi-touch color display. The sleek-designed device offers a fully customizable user experience via ENVYSION web pages, enabling viewing and access to all comfort parameters controlled in a space.
Redesigned ECB and ECL VAV Controllers: These are smaller, lighter weight with a stronger actuator for a range of VAV applications.
Sinclair: What are the benefits of the Distech Controls brand as integrated into the Acuity Brands portfolio, such as bundling HVAC and Lighting Controls?

Palmer: The impact has been overwhelmingly positive. We have worked together internally to identify the most innovative ways to leverage the ECLYPSE platform. Some of the first results have led to the creation of nLight ECLYPSE as well as enhanced variants of ENVYSION, which unify systems more quickly and efficiently than in the past. We are also working on channel initiatives where the lighting agency network and System Integrators can do more together. Just recently we are seeing the benefits of channel and technology collaborations; the end customer advantages include single user experience across lighting and HVAC, fewer field devices on projects, simpler site deployments and fewer moving parts.

Sinclair: Has Distech Controls announced new, significant Systems Integrators, partnerships or awards since the last AHR EXPO in 2017, which enhance capabilities for the HVAC market?

Palmer: Distech Controls is always looking for ways to best serve the market. Over the past year, some of our highlights have included the following:
Sinclair: How is Distech Controls implementing cutting-edge technology such as RESTful API, BACnet IP, connected controllers, unified systems and others for the HVAC market?

Palmer: A big part of Distech Control's differentiation is technology built to open standards. Utilizing an Android operating system and Restful API to communicate seamlessly to the IT Industry, Distech Controls' solutions "future proof" projects as technology advances. The RESTful API provided by Distech Controls allows an installer to get, put and post data specific to one ECLYPSE controller. Our ECLYPSE HVAC and lighting systems both utilize the same controller platform, operating system, graphics package, and control logic engine. This, in turn, results in a unified user experience without the headaches associated with integrated systems. All ECLYPSE controllers are connected controllers as they feature an embedded web server and IP connectivity (wired and Wi-Fi). By laying the groundwork for the IoT building, Distech Controls opens the door to is using data to deliver value to an end user.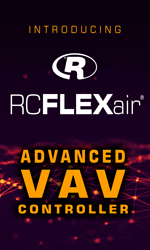 Sinclair: What is AtriusTM, and is it available globally?

Palmer: Atrius IoT solutions enable digital experiences in spaces by unlocking rich services for developers, businesses, and customers. Atrius is marketed in North America but is available globally. These solutions:
Leverage your building by connecting sensors and devices into a digital, location-aware sensory network, unlocking flexible software services in a unified and open building IoT platform.

Become your business builder, allowing the development of applications and analytics, driving optimized operations and enhanced customer experiences.
Include cloud-based services and an integrated development environment (i.e., Atrius Solution Builder) as well as integrated solutions from Atrius and Atrius IoT Partners on the Atrius platform.
Sinclair: What is Distech Control/Acuity Brands' approach to "future proofing"?

Palmer: We are designing solutions to remain compatible with future functionality from Acuity Controls and Distech Controls. Additionally, we are enhancing the capabilities for unified lighting and HVAC for today and tomorrow.

Sinclair: What is the Unified Architecture available via Acuity Brands?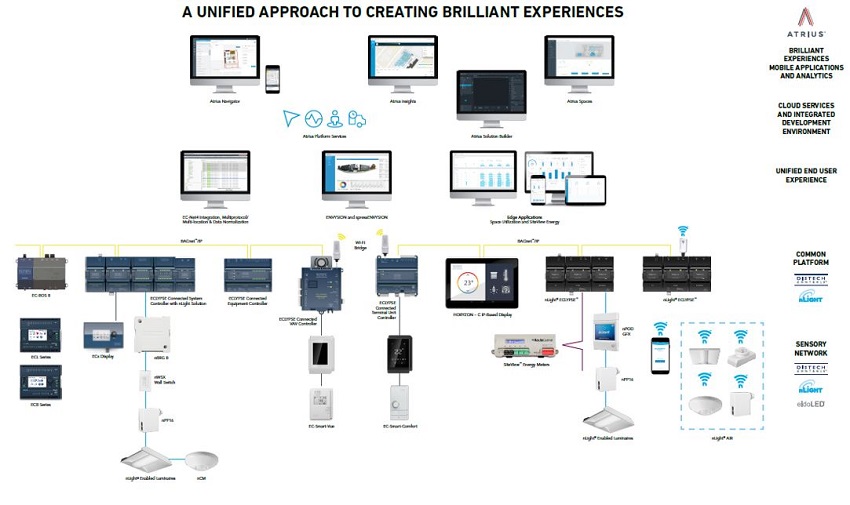 https://www.acuitybrands.com/solutions/internet-of-things/atrius

---


[Click Banner To Learn More]
[Home Page] [The Automator] [About] [Subscribe ] [Contact Us]