---
Building Brains

AI Is the Brain, IoT the Body speaking with the Face and Voice of Digital Transformation.


Ken Sinclair

Founder, Owner, Publisher AutomatedBuildings.com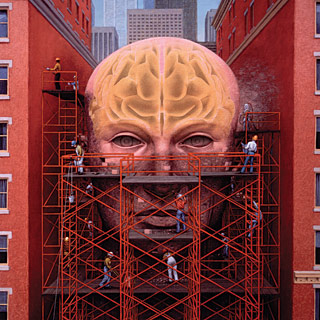 "Building Brains." Building is used both as a verb and a noun, which makes you read each reference twice to get both meanings.

This column explores giving the face and the voice of digital transformation a brain.
Machine learning or Artificial intelligence "AI" is poised to take our industry in directions never before conceived, quickly.

If AI Is the Brain, IoT Is the Body and with all the parts identified digital transformation is changing our world faster than we can imagine.
Building Brains will evolve rapidly as more and more intelligence devices come with their own machine learning and AI. The challenge will be to manage these bit brains on the edge and use that intelligence for the greater good of the building, the campus, the city and the world. The new task is to build building brains with the myriad of edge brains creating a virtual intelligence digital transformation community for our purpose.

In the past machine learning and AI only resided in the cloud but the development of open source learning, voice platforms, and low-cost processor/memory at the edge, bit brains are now everywhere.
In this article 7 IoT trends that will define 2018

AI remains king. Few things have garnered as much media attention or financial investments as the emerging field of artificial intelligence, and for good reason. AI is one of the pivotal drivers of the IoT's success, and companies everywhere, regardless of their size, are starting to realize the potential AI has to reshape their business. Many experts are expecting 2018 to be the greatest year yet for AI, and those who familiarize themselves with it now will be grateful when they find themselves in a future defined by intelligent machines.
Understand the difference between machine learning and AI? After watching this video, you will be able to define machine learning and how it can be used to solve a variety of problems.
From this article AI Is the Brain, IoT Is the Body
Artificial intelligence promises a brave new world of computers that can plan, strategise, evaluate options, calculate probabilities, and make smart decisions. But to actually do anything, AI needs the Internet of Things (IoT). You might say that IoT is the body that gives AI's brain the ability to act. IoT also provides the data AI needs in order to make smart decisions. Just as our eyes, ears, nose, and skin sense the world around us and send that information to the brain to process, billions of sensors and cameras in the Internet of Things gather vast amounts of environmental and operational data to be sorted, analysed and turned into actionable insights by AI. In return, some of these insights and decisions can then be acted upon by IoT and end devices such as robots, drones and industrial machines.
Understand these new Building Brains are autodidactic so their actual power will not be fully understood until they have shared some of our experiences.

From our AHR Expo session, Intelligent Edge Computing changes machine learning's location bringing more power with an autonomous personality even closer to the edge while providing the foundation for a decentralized architecture creating machine distributed collaboration. This panel discussion will provide opinion and insight to growing and connecting edge data services with the goal of self-driving buildings with greater occupant interaction.

Therese spoke in Chicago on What's Happening at the Edge of IT/OT Convergence
Dell Tech recognized that the same open-source framework was needed now for Edge developers. This is EdgeX Framework. Linux Foundation runs it. EdgeX is a new rendering, a new perspective, on the 7 layers of the IIoT Consortium's reference architecture. (Point to where the edge & cloud are. virtualization support in between) Project Haystack is an EdgeX member. Specifying engineers are quoting both Haystack and EdgeX into their projects to avoid Vendor Lock-in of their data.
Although this all seems very new to us, our industry has been talking since 2014. See this article
BUILDING AUTOMATION AND ANALYTICS — ALREADY AT THE CUTTING-EDGE OF IOT

How is this being used today?
SkyFoundry (http://www.skyfoundry.com), a leading developer of analytics software for use with equipment systems and facilities of all types, announced the release of Machine Learning Tools for their SkySpark® Analytics software.

SkySpark® automatically analyzes building, energy and equipment data to identify issues, faults, and opportunities for improved performance and operational savings. The new Machine Learning Tools provide support for supervised learning for prediction and forecasting through regression-based approaches, and classification using Support Vector Machine (SVM) techniques.

"We have been working with select customers for almost a year as they tested our new machine learning tools. Their feedback helped us optimize the tools to make application as easy as possible. The results have been excellent, and we are excited to announce their availability to the entire market. These tools further extend the capabilities of SkySpark, and the range of solutions our partners are delivering to customers around the globe," said John Petze, Principal at SkyFoundry.
Vendors are rapidly building on this with edge intelligence. Example follows.
A Conversation with Lynxspring's Marc Petock on AHR Expo 2018 2018 will be exciting for sure. After years of being over-shadowed, building technology is in the spotlight. - Marc Petock, Chief Communications Officer, Vice President, Marketing, Lynxspring & Connexx Energy
On the "what's new" front, we will be showcasing several new product offerings scheduled to come out in 2018 including: Onyxx® SkySpark® Edge Analytics, a stand-alone, SkySpark® Everywhere™ embedded device that puts SkySpark Analytics at the edge and allows users to analyze important data at the edge and gather real-time intelligence. It enables data from BACnet & and Modbus to connect locally with SkyFoundry SkySpark to add data and analytics value at the device level.
Low cost credit-card sized computers, when coupled with open source software, will allow incredibly powerful edge devices to be quickly created, which will evolve to a new breed of edge intelligence or brain bits for our building brain. The following links provide insight.

Open Software – and now Open Hardware While at AHR Expo 2018, we encourage attendees to stop by our booth (4118) to see how open hardware is going to influence our industry. - George Thomas, Contemporary Controls
An Open Source Library for Embedded AI and Machine Learning from Microsoft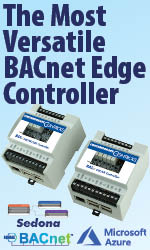 The Embedded Learning Library (ELL) allows you to design and deploy intelligent machine-learned models onto resource constrained platforms and small single-board computers, like Raspberry Pi, Arduino, and micro:bit. The deployed models run locally, without requiring a network connection and without relying on servers in the cloud. ELL is an early preview of the embedded AI and machine learning technologies developed at Microsoft Research.
We built ELL for makers, technology enthusiasts, students, entrepreneurs, and developers who aspire to build intelligent devices and AI-powered gadgets. Our tools, our code, and all of the other resources available on this website are free for anyone to adapt and use (for details, see licensing below). Just keep in mind that ELL is a work in progress and that we expect it change rapidly, including breaking API changes.

Edge devices with onboard intelligence will share thought with cloud intelligence and Building Brains will rapidly evolve, it is early days but these brains are rapidly evolving with or without your input.

This just in,

Alibaba's AI beat humans on a Stanford reading and comprehension test — the first time machines have outscored humans on this kind of exam, according to the Chinese e-commerce giant. AI from Microsoft (LinkedIn's parent) also beat the humans, but its results were processed a day later, Alibaba said; "the tie provided a fitting symbol of the AI arms race being waged by the US and China," notes the Financial Times. Fellow Chinese titans Tencent and Baidu are also in the AI race, and the nation's government wants China to become the global AI leader by 2030.

---


[Click Banner To Learn More]
[Home Page] [The Automator] [About] [Subscribe ] [Contact Us]