---

EMAIL INTERVIEW - Barry Haaser & Ken Sinclair
Barry Haaser, Executive Director of LonMark® International
LonMark International is a global trade association consisting of companies that establish technical guidelines and promote open, interoperable products utilizing ANSI/EIA/CEA 709.1 and related standards.
Please send comments and questions to barry@lonmark.org
---
Building Open Systems Seminar

Sinclair: What is Building Open Systems?
Haaser: LonMark International is organizing the Building Open Systems Seminar program to provide members of the commercial buildings industry with consistent information on specifying, deploying and maintaining Open Systems.












Sinclair: How do you define open systems?
Haaser: We recently published a document entitled "The LONMARK Open System Definition" which defines the key characteristics of device networks that range in size from a few devices to enterprise applications. The document describes the five key elements of an open device network, including: system behaviors, devices, connectivity, device interfaces, and network software & tools. Automation systems based upon the LONMARK Open System Definition should deliver lower life cycle costs, independent sourcing of products in any part of the system, and the ability to integrate disparate systems easily using worldwide IT standards.
Sinclair: Who is sponsoring the program?
Haaser: The seminar program is supported by a number of industry leaders including Circon Systems, Distech Controls, Echelon, Engenuity Systems, Gesytec, Honeywell, Hubbell Building Automation, Raypak, Siemens Building Technology, and Tour Andover Controls. A number of integrators and contractors are signing up to sponsor seminars in their area.
Sinclair: Is this another Echelon seminar?
Haaser: No, this is very much a LonMark event presenting our perspective on open systems. Program content has been developed with the help of our sponsors. I am very excited about the enthusiastic support we've received for the event from sponsors and attendees.
Sinclair: Who are you targeting for the seminar?
Haaser: We expect the seminars to appeal to a number of industry professionals wrestling with open systems issues. The content is very rich and will be useful for architects, building and facility managers, consulting engineers, electrical and mechanical contractors, and system and network integrators.
Sinclair: Who is presenting the material?
Haaser: Seminar material will be presented by industry experts familiar with the construction cycle and key issues impacting facilities today.
Sinclair: Is this limited to the U.S.?
Haaser: The entire Building Open Systems concept is being rolled out worldwide, supporting Europe, North America and Asia. The North American program gets underway in February hitting 22 cities in the U.S. and Canada. The European program also visits 22 cities starting in February. Planning for the Asia program is just getting underway.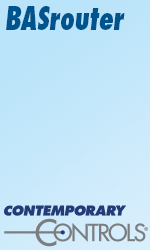 Sinclair: Which cities will you visit?
Haaser: We are visiting 22 key locations throughout the U.S. and Canada. A complete list of cities is available at http://www.buildingopensystems.com/us/conferencelist.php
Sinclair: How much are the seminars?
Haaser: I am pleased to say that all of the seminars are free. Rather than charge a fee for the seminars, sponsors decided to make them free. This is a pretty good deal considering the rich level of non-commercial content that people will receive in these full-day seminars.
Sinclair: How does someone register for a seminar?
Haaser: Complete registration details are available at the seminar website http://www.buildingopensystems.com
Sinclair: Where can I get more information?
Haaser: We have a very informational website set-up where people can get complete details at http://www.buildingopensystems.com.
---


[Click Banner To Learn More]
[Home Page] [The Automator] [About] [Subscribe ] [Contact Us]