---
Richards-Zeta, Panduit, Cisco Systems, Inc.: Platinum co-sponsors of the Building Intelligence Tour











LONMARK: Sponsor Large Open Systems Demonstration and Free Education Sessions at AHR Expo 2006
Building Intelligence Tour: Seminar at AHR
AHR Expo First Green Award AHR Expo adds Greenovation Award Category Innovation award recognizes "greening" of industry WESTPORT, CT. AHR Expo has added a new category to their fourth annual Innovation Awards competition. The Greenovation Award, recognizing excellence in green building products and technology in the HVAC&R industry, will join the other eight categories in the award competition. The first winner of the Greenovation Award (2006) is VRTX Technologies LLC for the VRTX Systems, which relies on kinetic energy, hydrodynamic cavitation and chemical equilibrium to control scale, corrosion, and biofouling without hazardous chemicals. The system's installation reduces water usage, operating costs, environmental impact and improves worker safety. It treats industrial cooling water from condensers and cooling towers.
Intelligent Building Seminar at AHR Expo Intelligent Buildings combine technology with improved building systems, to create a better project. Join us for a one day educational seminar at the AHR Expo in Chicago to learn how Intelligent Buildings can benefit you and your business. This one day event includes national speakers, a complete workbook, meals, and a networking reception. Registration is $350 ($400 at the door). Take advantage of our early registration discount, available until January 1, 2006, for $250. Attendance is limited, so visit www.buildingintelligencetour.com.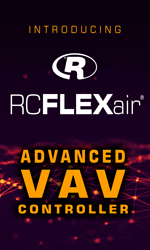 Danfoss Receives AHR Expo® Innovation Honorable Mention in the Building Automation Category for its VLT® HVAC Drive MILWAUKEE, WI -- Danfoss was recently awarded a 2006 AHR Expo® Innovation Honorable Mention in the building automation category for its newest generation of VLT HVAC Series variable frequency drives. The VLT HVAC Series is the latest technology in the VLT Series, a name known for innovation, reliability and exceptional quality. The purpose of the recognition by AHR® Expo, in conjunction with its sponsors AHSRAE and ARI, is to acknowledge achievement and encourage the further development of creative and useful HVACR products. Danfoss will be exhibiting in booth #2035
Jackson Systems, LLC Wins Award for Comfort SystemsTM VAV Diffuser Indianapolis, IN – Jackson Systems was recognized for excellence in innovative product design by the AHR Expo - 2006 in sponsorship with ASHRAE and ARI. The company's Comfort SystemsTM VAV Diffuser was awarded an honorable mention in the ventilation category by a panel of judges appointed by ASHRAE.
AHR EXPO® Adds New Endorsing Associations CHICAGO, IL - The Building Performance Institute (BPI), the Testing, Adjusting and Balancing Bureau (TABB), and the Association for Facilities Engineering (AFE) recently joined with other leading associations to endorse the AHR Expo, January 23-25, 2006 at McCormick Place in Chicago. Since 1930, AHR EXPO has been the HVAC & R professional's single best resource for new products, new ideas, and new services. It's a hands-on, interactive event that showcases a wide spectrum of equipment, systems, and components. This unique industry forum creates a dynamic marketing environment unequaled in size and scope by any other industry event. The AHR EXPO is produced and managed by International Exposition Company e-mail info@ahrexpo.com; Internet www.ahrexpo.com.
---


[Click Banner To Learn More]
[Home Page] [The Automator] [About] [Subscribe ] [Contact Us]