---
Washington Mutual Center's DDC System is More Unique Than Common

Contemporary Controls UL 864 Ethernet Switches Serve Up Dependability in Smoke Control System

Debra Biela
Marketing Communications Specialist
Contemporary Controls

Case Study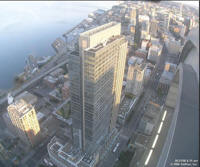 Among cities that foster its own architectural style, Seattle, WA is a clear winner by virtue of its creation of the 42-story Washington Mutual-Seattle Art Museum in the downtown district. Its modern style is as special as its Alerton Distributed Digital Control (DDC) system that is the center point of integrating the building operation systems within the facility.











This joint venture between Washington Mutual Bank (WAMU) and Seattle Art Museum (SAM) adds over 300,000 sq. ft. to the museum, over 12 full and partial floors, and over 900,000 sq. ft. of new WAMU office space throughout all 42 stories. Additionally, the office tower sits atop 6 stories of parking that accommodate over 700 vehicles.
In the case of this project that began in 2004, ATS Automation, Inc. in Seattle offered its expertise, as the controls contractor to ensure the networked controls would function as intended to achieve the best performance. ATS employed the Alerton DDC control technology in the WAMU portion of the structure as the centerpiece of control and integration.
"The project is unique due to the smoke control aspect," said Pete Segall, ATS Senior Sales Engineer. "Typically, most buildings do not have the DDC system performing smoke control. It is more common for smoke control to be accomplished via the fire alarm system." Segall explained that the project goal was to satisfy the need to develop a control system that could monitor and control HVAC, Smoke, and Combo (Smoke and HVAC) equipment on both a day-to-day and alarm event basis. "Pure Smoke control systems do not function on a day-to-day basis; however, HVAC and Combo systems do. The smoke and combo systems are able to be manually overridden by a firefighter through a networked firefighter smoke control command panel. This panel allows for the manually override of the smoke control system for floor pressurization and smoke purging."
The following systems are integrated to the Alerton System.
HVAC System - Direct Alerton DDC Control

Smoke Control System - Direct Alerton DDC Control

Automatic Transfer Switches - Modbus Integration

Emergency Generators - Modbus Integration

Variable Frequency Drives - BACnet MS/TP Integration

Chillers - BACnet Ethernet Integration

EST Fire Alarm - Field Server Driver

Siemens Power Monitoring (WAMU) - Modbus Integration

Lutron Lighting Control System - BACnet Ethernet Integration
And in short, UL 864 is a system rating for performing engineered smoke control within buildings. Because an entire control system (that employs Ethernet) requires a switch, ATS used Ethernet switches from a much valued manufacturer of industrial networking equipment. Contemporary Controls in Downers Grove, IL provided the eight-port switches to be used during testing; therefore, it is considered part of the UL Listing. The EIS8-100T switches had to pass stringent hardware tests in order to acquire a UL Listing on the system. UL 864 Recognition on the Ethernet switches is required to meet the NFPA 72 code requirements that any communications path used for transmitting critical life safety data be listed for fire-protective signaling use.
All UL 864 requirements would have to be met on these copper switches. Levels for high voltage testing are as follows:
6000 V supply line transients

2400 V signal circuit transients

5000 V input voltage surge

115% rated voltage overload
These switches met the test levels and would be able to withstand any occurrences on the power or signal lines and continue to function. The units had to survive specific temperature and humidity conditions: 50° C and 95° humidity for 24 hours.
The design must remain constant. Any hardware change that is made requires a system retest. Segall said in order to ensure quality and consistency to the public, ATS would rely on Contemporary Controls to offer that same level of consistency. Also, Contemporary Controls was willing to secure and maintain UL 864 Recognition on the Ethernet switches and provide skilled technical support. The EIS8-100T provides 10/100 Mbps ports utilizing RJ-45 connectors. The switches offer wide range AC/DC operation. Also, the switches must meet and maintain certain criteria including dependability which is crucial for the operation of the smoke control network.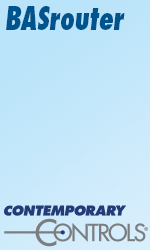 The two Ethernet switches are physically connected to the Alerton BACnet/Ethernet Smoke Control Network via CAT 5 cabling so that precise DDC logic routines could be carried out. The switches were linked together for keeping signal wiring distance within the 225 ft. limitation. One of the switches was used as a "gateway" path to the non-smoke control Global DDC logic boards as well as the Building Management System computer (user-interface to the system). They are positioned in wall-mounted panel enclosures that are also UL Recognized for fire-protective signalling use. One switch is located in the Central Fire Control Room, and the other switch in a Telecom Room on the lower two levels of the Washington Mutual Center.
Segall said the building's system is an entirely BACnet system at the Ethernet and MS/TP levels. It comprises two networks that are a UL 864 BACnet/Ethernet Network and a standard BACnet/Ethernet Network. Alerton global controllers reside on both Ethernet networks. Under the global controllers is the MS/TP network. Wiring for the UL 864 networks had to be kept to less than 225 ft. The non-UL Ethernet networks ran anywhere from 100 ft. to 300 ft.
Segall commented that the use of BACnet in this application is significant. It is an open protocol, it employs standard network technologies such as Ethernet, it is kept current by ASHRAE, it is constantly evolving with technology and there are a large number of third-party systems that can be integrated to BACnet because of the open protocol. "With reference to Ethernet, it is the backbone of the system," he said. "It allows for the high-speed transmission of large amounts of system data."
The greatest advantage for those who manage and operate the center on a daily basis is the ability to gather information using The Alerton Envision for BACtalk Software. For example, it is necessary to know the equipment status of the Smoke Control Network. "Envision is the window into each system," said Segall. "The Envision software allows building personnel to graphically see all of the information in the system via floorplans, text tables, graphical representations, etc. It also handles trending, alarming, user audits, user setpoint interface, etc.
Segall made this conclusion: "In the Washington Mutual Center project, various products and services from different integrators and manufacturers were combined to achieve the optimum in operational capacity."
---


[Click Banner To Learn More]
[Home Page] [The Automator] [About] [Subscribe ] [Contact Us]