---
Destination Sydney, Australia
Four For Points for the Industry

Ken Sinclair Editor/Owner AutomatedBuildings.com
Marc Petock, Director of Marketing, Tridium
Mike Marston, Director, Asia/Pacific, Tridium
Martin Hodder, Regional Director, Tridium Asia
Four Points by Sheraton Leading the Way in the Management and Control of its Facilities Management, Workflow, Energy Management, Security and Building Efficiency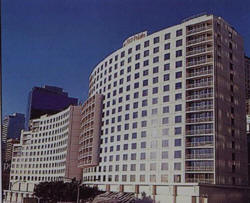 Be sure to read this month's interview with Craig Arnott of Airmaster Australia The Integrators View











Not often do I as editor of AutomatedBuildings.com get to travel to the other side of the world to actually see projects that my authors are talking about but when the chance occurs I am pleased to seize the opportunity. Such a chance came as I talked to the Tridium folks at Connectivity Week Asia Pacific in Singapore. They were talking about the merits of that Four Point Hotel project in Australia where they had achieved a high level of integration and connectivity. After Singapore it was my intention to go to Australia but to Melbourne not Sydney. When I got to Australia my plans changed and Sydney got added to my travels. I contacted the Tridium folks to see if I could visit and validate the good words that they had said about this project. I created a global buzz in the Tridium organization that eventually fell on the system integrator and building owner's chief engineer for the project. From my point of view this was even better as I could talk candidly with Craig Arnott, NSW Controls Team Leader for Airmaster the system integrator for the project, and Nigel Wright the project chief engineer. If you have not had the chance to hear the Tridium folk sing the praises of this project here is a bit of background by Marc Petock and Mike Marston of Tridium.
Overlooking the colourful Darling Harbour on the edge of Sydney's central district, the Four Points by Sheraton hotel is just a short walk to the city's business center, an array of entertainment venues and world class shopping. As Australia's largest contemporary hotel, Four Points by Sheraton Sydney has an extensive range of amenities including 643 rooms and 47 suites, a variety of meeting facilities, a business center, start-of-the-art fitness center and multiple restaurants. The hotel caters to both the business traveler and vacationers.
Looking to increase the support of its internal operations, reduce energy and operational costs, migrate to an open, Web-based enterprise platform, integrate all the building systems and improve guest comfort, the hotel turned to Tridium and local system integrator Airmaster to design a complete end-to-end solution consisting of both hardware and software.
Specifically, the requirements called for an open platform with real-time, enterprise connectivity and an easy-to-use, Web IT Portal with customized interfaces that integrated with the hotels existing building automation systems, Fidelio guest management system, lighting systems, paging systems and intelligent guest room control systems. A seamless interface was required for the corporate Maintenance Management system and Help Desk and all systems had to be capable of being interfaced to the company's financial systems and Oracle database.
In addition, the hotel management was concerned about the potential obsolescence of its legacy Building Controls Systems and the possibility of being "locked-in" to just one supplier.
Utilizing Tridium's Niagara Framework® and Vykon Energy Suite®, Tridium and Airmaster constructed an open, intranet Web Portal that included application modules for controlling and managing all of the hotel's Lighting, Guest Management, Help Desk, Security, Maintenance Energy, Facility Management and Knowledge Base systems.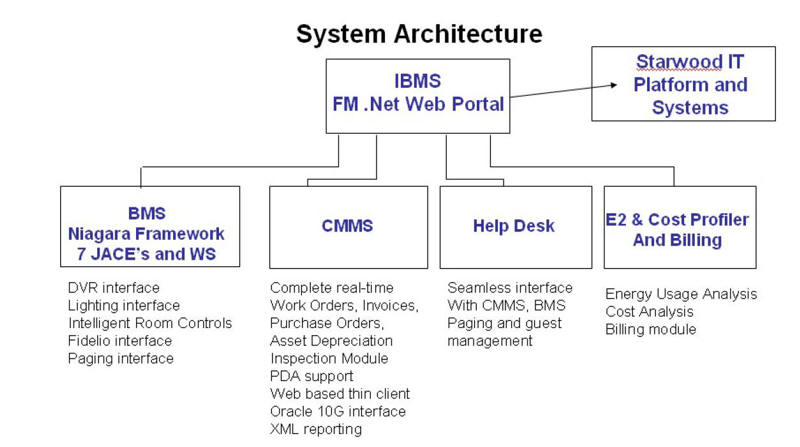 The integrator and owner were willing to meet me on site after their busy days. When we meet in the lobby Craig opened his laptop and quickly picked up the wireless connection, and signed on to the system using an IP address and password. While he accessed the system he shared his excitement about the project. He stepped me through the major features that we had heard Tridium talk about around the world. Neat stuff, but because of the "anywhereness" of the technology I had seen bits of all this in various Tridium demos. Ok Craig, what really happens here and how much does the local system integrator know about all of this? Answer: Lots! Craig has created a close relationship with the project and showed proud ownership and was extremely pleased to have been able to meet his sophisticated owners requirements with his new tool kit. Craig is a veteran of the air conditioning industry with a strong refrigeration and traditional automation background We are able to talk concurrently about the old days, the present, and the future. It was great fun exploring the power of connectivity control. I really must get out more, it greatly increases my understanding of the true power well executed connectivity. Craig was able to fend off all of my rapid random questions about how do you do this and how do you interface that? He was able to take it down to a code and procedure level. We talked about global support and training. His first level of support from Tridium is out of Singapore or wherever in the world the best resources to solve the problem maybe. Again the "anywhereness" of the technology allows support to occur from wherever and whenever.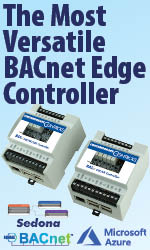 Craig showed me some sub meter billing routines that generated monthly invoices that he had created with a spreadsheet and visual basic pulling real time information off the system. I was also intrigued by the interface that Craig had built on site with a small touch screen device for under $300 that he had purchased from an local electronic shop and the powerful onsite system graphics which provided the refrigeration folks a simple interface for servicing to the complex building chiller system. The completed interface was running on an extended USB bus which I did not see on the system architecture drawing :) A great example of what can happen with enabling technologies in the hands of a good integrator. Talking about the chiller plant, I was extremely impressed with the PowerPax chillers and their Turbocor compressors, with magnetic bearings suspending a rotating shaft on which two centrifugal impellers are connected, a design that essentially eliminates frictional loses. Very neat, no oil and great part load efficiency http://www.powerpax.com.au/products/waterCooled.htm A great example of connectivity and new technology working together to save energy and improve control.
I was extremely pleased to understand how the IT openness in all directions of the Tridium system had empowered Craig to meet the demand of his client not only for the the project to date but for the future.
This is not a new complex, in fact I was amazed to find out how old the core complex was. Nigel had a vision of how to bring his complex forward with the correct balance of knowing what to keep and what to throw away. Nigel is deeply focused on his company's ROI and has achieved much by piecing together several logical pieces all fashioned into several justifiable projects that make up the whole connectivity picture.
What does the future hold? Nigel and Craig presently are working on a project that validates the conditions that the food has been maintained at, plates have been washed at and other serving conditions to increase client care and prove due diligence. Room based lighting control is next on Nigel's agenda. The challenge he has of working with existing infrastructure while evaluating the future wireless requirements adds great complexities to his decision making process. The existing power rate has a complex electrical demand rate and time of day billing. I am sure future projects will roll once the local electrical utility gets its head around GridWise thinking. I am sure that they will want Four Points to be their first project since the control is already in place and the complete cooling plant is totally variable.
Below are a few screen shots of the system that let you see the level of connectivity that has occurred.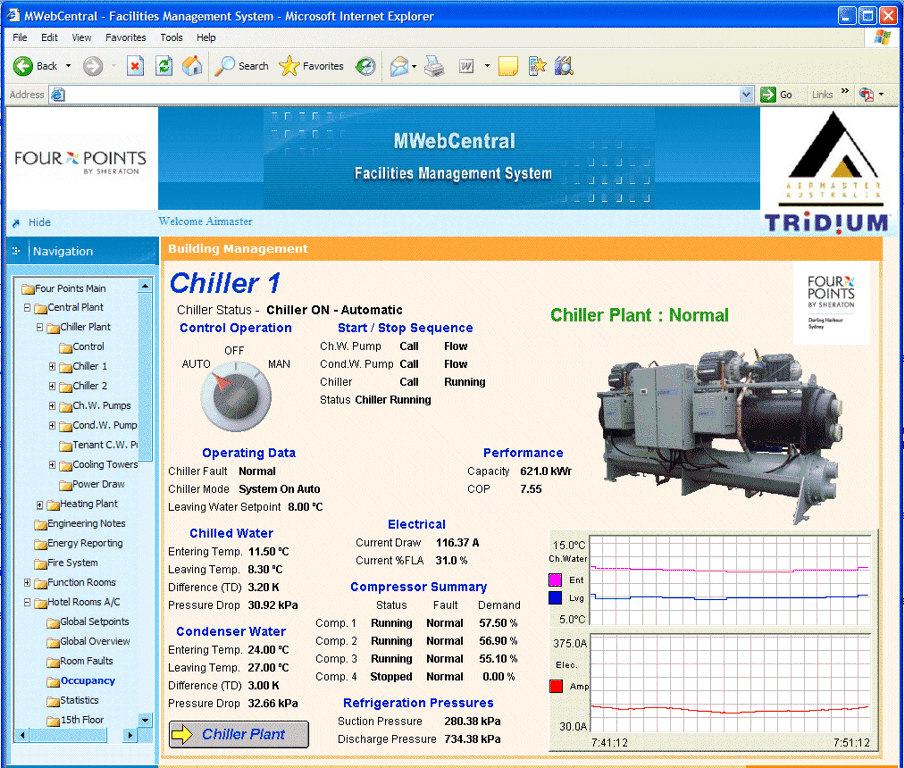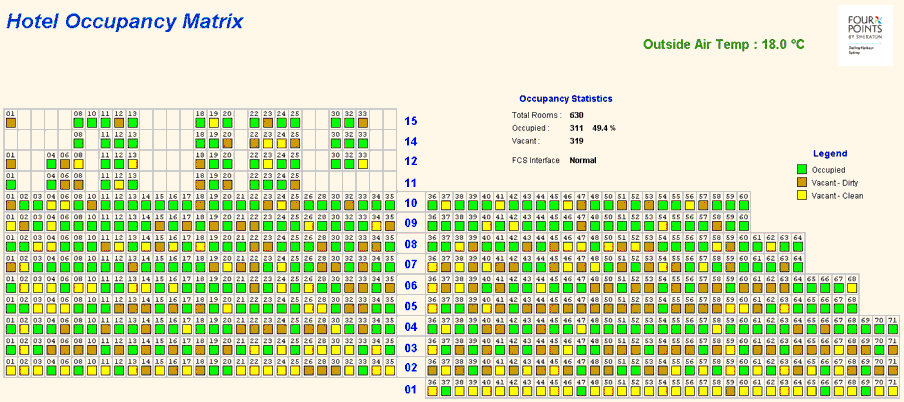 Project requirements
An open platform with real enterprise connectivity and a Web Portal IT based, thin-client browser based (with no special software required by operators and users to connect to and use the software applications). Seamless customized interfaces to the Fidelio guest management system, lighting systems, paging systems and LON based intelligent guest room controllers

Support for Oracle and XML reporting

A Maintenance Asset Management system which will operate with Barcode readers, hot WiFi database Sync, comprehensive inspection module, seamlessly integrated with the BMS and Help Desk and enterprise connectivity for asset depreciation calculation for the corporate accounting system.

Airmaster and Tridium provided the Niagara Framework as the total FM integration solution
Integration of all building systems into a single easy to use IT intranet web portal

Efficient management software modules for Lighting, Guest Management, Help Desk, Knowledge Base, Maintenance and Energy Management

Reliable Web Portal IT based distributed architecture
Benefits for the Sheraton Four Points Management
Safe and comfortable working environment and efficient management and control

A single web enabled IT and java based

A thin client browser based software package which reduces the cost of software maintenance and avoiding unnecessary complexity.
I asked Craig to share his thoughts about the project in the following interview.
Want to read more about this project? This article was published in May 2006. To read download the pdf
---

[Click Banner To Learn More]
[Home Page] [The Automator] [About] [Subscribe ] [Contact Us]