---
| | |
| --- | --- |
| Editorial Comments by Ken Sinclair | |

Continuing the Countdown to Chicago











I feel that the ASHRAE winter meeting and AHR Expo event January 26-28 in Chicago will mark the start of the real reinvention of our Building Automation industry. Reinvention is necessary not because we want to, but because we have to. The present financial times are rapidly redefining what is sustainable and what is not and Building Automation in its present form is not achieving anywhere close to its potential. Typical heating, ventilation and air conditioning systems are 50% efficient compared to fully integrated systems. Source: U.S. Green Building Council, Cisco Systems, The Hartman Co.
Add to this the functional creep of what is now included the new Building Automation definition and we have a real need for reinvention.
In Tom Hartman's article Obama's Energy Challenge he states...... On January 20th, the US starts a new chapter in managing energy. and goes on to say....................the building sector is by far the most wasteful of all of the major energy use sectors in the US today. But while this unbridled energy waste offers an enormous opportunity to reduce energy use, it also represents a daunting challenge because despite the many claims, virtually all energy reduction initiatives associated with the building industry have so severely underperformed that there is an absence of any reliable existing policy or program structure upon which to build the sound and scalable initiatives needed for a more energy efficient future for buildings.
Anto concurs in his article...2009, Not Business As Usual! he states;.......... Big things need to happen to force a revolution, what we are witnessing right now with the economic woes, climate change and the change that the new Obama administration will bring
Jim's Nine Predictions for Smart Buildings in 2009 provides insight to some of the elements of this reinvention plus his article New Year Resolutions for the Industry tell us ....what we need is a second step called LEEP, which is Leadership in Energy and Environmental Performance.
Peter Kelly-Detwiler of Constellation NewEnergy advises; Sign Up for Demand Response Many of the power grids in North America offer significant incentives to participate in demand response programs in his article A New Year's Resolution for PJM
In the upcoming years pervasive computing will undergo a transition. New OSS projects will be created that focus on generic pervasive and mobile computing (or Internet of Everything as some people tend to call it) and also on specific support for building automation, smart grid and related technologies. You need to read more OpenLynx: Open Source Software by Peter Michalek
In addition An Aspect on Networked Area Control , Introduction to BACnet Routers, Choosing the Right Integrator, and Top 12 Issue Favourites - 2008
Great January Columns; Discussion on Descriptors; Steven R. Calabrese, Smart Buildings meet the Smart Grid, Toby Considine BAS Use of Ethernet/IP Infrastructure II Paul Ehrlich & Ira Goldschmidt
Is 2009 the year of significant change? It has the markings of it Ken, the perfect storm is forming. I don't think 2009 will be business as usual.
January Reviews Automated Demand Response KNX Energy Management Solutions Monitoring-based commissioning Wireless for Controls: An Update
Be sure to get the latest and greatest right up to show time in our Previews of AHR EXPO
Also find out more about Building to Grid in the preview of B2G Summit Chicago Jan 28
We would like to welcome our newest advertiser Control Solutions, Inc. Control Solutions, Inc. - Minnesota offers cost effective network gateways, embedded web servers, and network I/O for building automation using BACnet®, LonWorks®, and Modbus® protocols.

Countdown Chicago
December issue is our "Countdown Chicago" issue with a preview of new products, services, education sessions plus even more of what you will see at http://www.ahrexpo.com/ January 26-28 in Chicago. Be sure to take a look at our preview of our large building automation industries' involvement at the World's largest HVAC&R Marketplace. We will be adding more information as the countdown continues with press releases and new products. A request for all of our industry participants, I know you are very busy preparing for Chicago but please take a few moments to share with our readers the fruit of your labors and show them why they cannot miss seeing your booth at this event.
If you have never been to an AHRExpo in Chicago, I strongly recommend that you attend. The size and scope of this event is truly amazing and Chicago has always been a record breaker in attendance and sheer number of displays. Dave Branson and I are doing our 10th consecutive year of free education sessions for International Exposition's AHR Expo. As our Greener Sustainability Buildings become an interactive part of the Electrical Grid we have a lot to talk about so please join us. Our contributing Editor Jim Sinopoli and columnist Toby Considine will be joining us in our free education sessions increasing the scope of the sessions. Jack McGowan's GridWise sessions are dove tailed between our four sessions to provide two complete days of sustainability discussion. Please join us and provide your input during and after the presentations.
2008 has been a year of change and there is no sign that 2009 will be any less traumatic, the new global economy coupled with the need to implement the radical change of how buildings interact with our existing electrical grid will be the centre of all our sustainability discussions.
Lots of insight on this radical change from our authors
December Interviews
EMerge Alliance Launched Brian Patterson
Advanced Integrated Lighting Controls Jeff Seewald
2008 in Review Peter Kelly-Detwiler
OPC in the UAE Mostafa Shahto
December Columns
A Light at the End of the Wireless Tunnel Andy McMillan
Cabling for DDC Systems Steven R. Calabrese
The Lie in Demand—Response Toby Considine
BAS Use of Ethernet/IP Infrastructure Paul Ehrlich & Ira Goldschmidt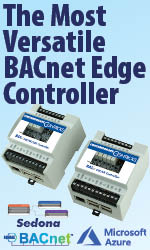 And of course all of our Articles, New Products, News and Event Calendar
We have added a new Blog tab to our navigation menu which links to related industry blogs of interest. We created an Industry online Forum many years before blogging was conceived and have combined these.
The news just keeps flowing thru our web site and RSS feeds daily, and of course the only way to truly find what you are looking for in the vast quantity of information on our site is with our site search engine http://www.automatedbuildings.com/search/sitesearch.htm
We have been working on improving our web site by reorganizing how we handle the great number of news release we receive daily. We now provide a

News Feed ( Which Needs a RSS Feed Reader ) and have provided a New Our RSS news feed rendered into HTML
Tell our sponsors you saw their ad on the AutomatedBuildings.com web site and thank them for supporting your free access to evolving Automated Building Industry information. Click on their ads and view their valuable products and services. Please review all Our Sponsors.
It is a great time to be in the news business for our industry.
Send comments and suggestions to news@automatedbuildings.com
As always lots of new products, plus be sure to check our event calendar to see the number of events we have in our future.
---


[Click Banner To Learn More]
[Home Page] [The Automator] [About] [Subscribe ] [Contact Us]