---
Buildings and Cities

Where are we heading?

Alex Detre
VP Business Development
BSRIA North America

Andrew Giles
Director BSRIA
WorldWide Market Intelligence


In the home…

In the home, particularly in new build we are moving from monovalent to multivalent systems. Gradually, the next step gets you to hybrid solutions. You then now have a Smart Home or an energy management system (HEMS). We then start to combine environmental controls with lighting appliance and entertainment. Soon we will be talking to ANY on-site electricity production and storage which pushes us to connect to the SmartGrid.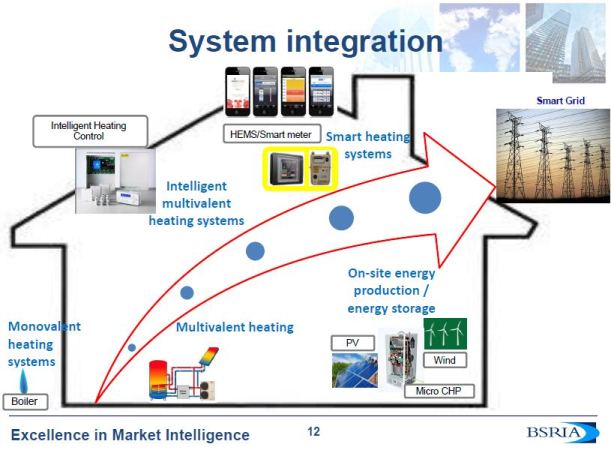 The European market is already €600M, of which Germany accounts for half and shows only signs of exponential growth rates across all countries. However 60% of the market growth is going into commercial applications.
At work…

A very common integration approach which is becoming standard practice is Building Automation and Control Systems (BACS) integrated with HVAC sub-systems i.e. chiller plants, fan coil systems and rooftop units. We also see several building automation systems integrated together, mostly within multi-building sites, establishing central monitoring and control. End users are readily accepting this more than ever. BACS integrated with other systems such as lighting, access controls, fire etc. penetration is seen in smaller-scaled projects and is still considered a smaller market. Rarely will you find BACS integrated in other enterprise systems, such as the accounting system, HR software, report dashboards etc. There are some IT applications that have been implemented in order to draw data from various systems onto another IT platform for reporting purposes.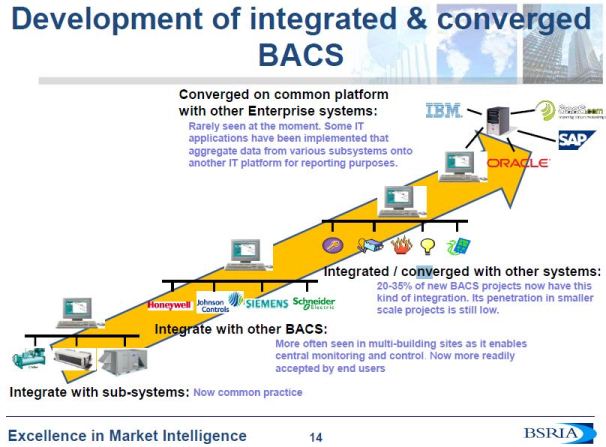 Building Energy Management Systems (BEMS)…
We are seeing a dramatic rise in BEMS computer-based software for controlling and monitoring energy usage of building sensors. It is already a market of over $200m in 2012 in UK, €1.3bn across Europe and expected to grow at around 15% per year. Around two-thirds of all sales are going into commercial buildings >50,000m2. There are two different categories:
Building automation companies that have developed their own BEMS to augment and supplement their BACS.
Stand-alone systems and software with a standard interface able to talk to any BACS company or protocol or connected to the smart meter.

The larger markets in the UK are the standalone systems and software because of greater outsourced energy monitoring bureau services. A subset of the first category i.e. BACS overlay is automatic continuous commissioning which helps with the perennial problems of turning data into action. This data generates information like graphs and then knowledge such as fault diagnostics. However, it is still a human being ordering replacement plant for equipment or who has to call a maintenance engineer…but this may change. What BEMS can do, is to provide automatic continuous commissioning, enabling the control system to adjust and fine tune without a human intervention.
Trends in Smart Homes are going "app"- based. Panoptics by JCI has developed a BEMS commercial solution incorporating apps from various OEM partners. Mios has gone one step further with an open source solution. OEMs can submit their own apps for any products and control solution to the platform and this task can be outsourced to any software engineers working out of their bedrooms who may design apps for other kits as well. Over time we can get something like a "trip advisor" phenomenon so that we can expect an "app advisor" will soon start to happen informally i.e. the best apps start coming to the surface. The system integrator can pick and mix apps according to the product and systems in the building.
Smart Buildings in Asia
We discussed this in a previous AutomatedBuildings.com issue; however, to summarize that activity has shifted to Asia with Schneider moving its corporate HQ to Hong Kong. Smart Buildings will double in size by 2020 with China controlling half of the market with thirty six (36) Smart Cities. Rapid urbanisation is a massive driver.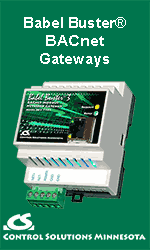 What about the Smart Grid in Buildings?
Demand response has been around for fifty (50) years. Initially end users would agree on a manual switch-off of some equipment (Demand Response v1). Recently energy management service and software providers have been offering energy efficiency services and advising on replacing equipment. Now enter the Smart Grid era, these same providers like Enernoch, Veridity and various utilities who can offer automatic software controlled demand response (Demand Response v2). These companies establish on / off protocols with end users, thus saving on peak demand time and reducing unused consumption. The now unused energy is translated into savings that is shared with the end customer by the energy service providers. Everybody wins, with 15 to 20% savings not uncommon so utilities push it and end users want it.
New Entrants into the Market
Companies in generation / transmission or distribution / substations will look at consumption and vice versa:
Utilities
Advanced meter infrastructure companies architecture
BAS companies / grid optimisers
Utility systems developers and integrators
Demand response / EMS software as a service
Commercial infrastructure / meters

However the future remains uncertain and difficult to predict, there are a number of unresolved questions:
How will stakeholder relationships and business models change? How is real-time communication going to happen? A single comprehensive solution? Will each metered service have its own communications solution /own protocols? What about standards?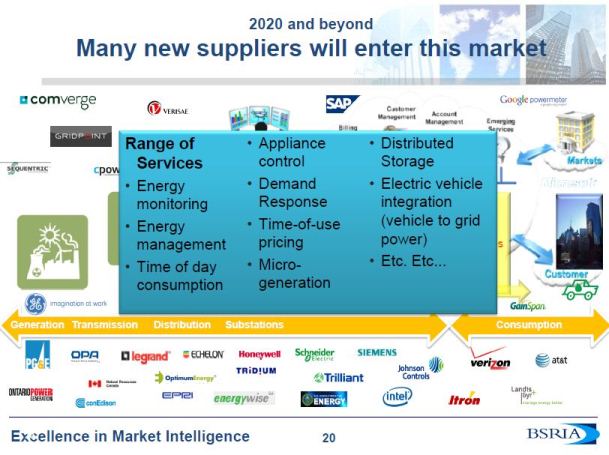 The Cloud
Cloud computing is no longer a concept…it is growing dramatically and by 2020 1/3 of all data produced will live in the cloud. Currently, 80% of all current services (Amazon, Google) are in a public cloud i.e. applications or data being available over the internet or a paid service.
For building services, it is mainly a private or corporate offering providing hosted services to a limited number of people behind a firewall and you can have hybrid versions which are a mixture bound together. Despite security concerns, the first markets are CCTV and access control followed by energy monitoring and energy management. This would involve a tremendous amount of data and would be next in line for the cloud.
What are we Heading Towards?
Information delivered to where we happen to be – mobility / telecommuting:

If you have a smart phone in your pocket you already have a "window on the world" – this will become even more versatile as technology and communication bandwidth increases – so you can work anywhere!

Robots using intelligent appliances and sensors:

You can already buy a robot vacuum cleaner but a project by the Small Robotics Building project Japan's Shimizu Corp and Yasukawa Electric Corp utilizes smart infrastructure and robotics to handle such duties as reception, deliveries, cleaning, and security via a building-wide network, which then dispatches robots to perform various tasks.

Offsite intelligent construction:

Mass production and testing will reduce cost and improve reliability but this means a move towards plug-and-play systems based on standard communication protocols and intuitive operation.

Modular / compact / reconfigurable:

As rent demand grows for more versatile space usage, so will the demand for intelligent building design and flexible building systems.

Buildings – the new power stations:

Grouping hundreds / thousands of buildings with on-site generation, micro-grids and demand response, they become "virtual power stations" thus removing the need to build expensive "spinning reserve" generating capacity.

Triangulation in buildings – RFID / GPS:

Buildings will "know" where we are, and "CIA- like" provide access to authorized areas, adjust conditions to suit our preferences and turn out the lights when we leave!

Talk to our buildings:

Cars already have it and soon we'll use voice recognition to activate building functions such as lighting and air-conditioning.

Intelligent / light-transmitting materials - customizable LED walls:

Translucent, insulating walls and LED for digital signage & instant decoration.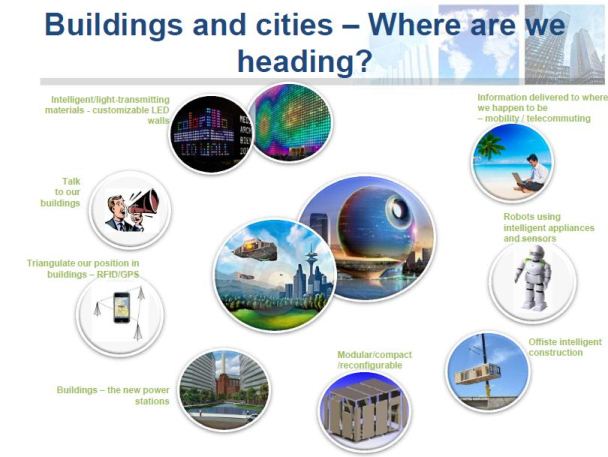 Will we get there? We think so but the person that gathered all of this information can tell you…SEE YOU AT AHR 2013.

---


[Click Banner To Learn More]
[Home Page] [The Automator] [About] [Subscribe ] [Contact Us]