---
Industries' Connection Communities Blur

How does your product or service connect to everything in our online world? Which Connection Communities is it part of?

Ken Sinclair,
AutomatedBuildings.com
Publisher


Publishe

d

Energy Manager
We now expect to see and control everything from our smart phones or tablets. This social and technological phenomenon of connection has greatly changed the expectations of all products and services while leaving us as an industry scrambling to understand what connection communities we need to be part of, and how will we get our real time data to the information cloud and return reactions back to our devices and services?

Every year a greater portion of our hard equipment becomes soft, the soft part only exists virtually and more and more only in the cloud not the device. Everything from interface with other devices to; How do I communicate with it for setup? It's Interactions? It's Energy Performance? How to maintain performance? This has all become the soft virtual clouded part of the product or service's interaction with "connection communities".

ASHRAE recognized that connection was paramount with their efforts in open standards several years ago with BACnet. The connected device evolution beyond our industry has been phenomenal, evolving to today's "BYOD" Bring You Own Device as the standard personal interface.

The traditional connection communities of our industry such as BACnet, LonMark, Niagara, EnOcean, etc. now need to merge their data and conform to presentation and interaction standards that have been developed by the all-encompassing connection communities such as Apple, Google/Android, Microsoft, Amazon, etc.

The rapid development of Apps by the all-encompassing BYOD connection communities has shown how these devices will be connected to the cloud's ability to store, analyze, provide function and provide further cloud connections and then return analyzed interactions.

In an attempt to open dialog AHR Expo and AutomatedBuildings.com have put together an education session on the exhibition floor January 29th, from 2:00 - 3:30 pm Theater: C - Why We Need to be Part of Several Connection Communities: An Educational Overview.

This article provides a very graphical example of how connection communities can merge with other connection communities to provide a goal such as IBMS: IBMS Reduces Operational Costs - Sean Goldstein, Crestron

Today's commercial buildings contain more technology than ever before. Organizations must now be able to intelligently manage anything with a network connection, including AV, voice and data, lighting, security, and HVAC. To accomplish this, all of these disparate systems must be networked, managed and controlled in a fundamentally new way.

The Integrated Network

Crestron products are Integrated by Design to deliver complete building technology solutions. Crestron unifies all technology in the building on an "integrated network" where AV, lighting, energy, voice and data, security, room scheduling, HVAC systems, and more are all on the same platform so they work together seamlessly. Everything across the enterprise can be monitored, managed and controlled from a centralized dashboard, thereby increasing operational efficiencies, productivity and energy savings, while decreasing tech support cases and equipment downtime. The integrated network brings reliability to all technology in the building, and when all technology is reliable and intelligently connected, employees are more productive and efficient.

One Platform, Complete Control

The Crestron 3-Series Control System with BACnet/IP support provides an open architecture, scalable, IP-based platform for implementing fully integrated building management and automation. Integrated control of lighting, shades, HVAC, AV, BMS, security, IT, and other connected systems is now faster, simpler and more efficient than ever. Built-in BACnet/IP support enables seamless integration with existing building management systems. All systems run independently and communicate with each other on the same platform, creating a truly smart building. The result is an easier, greener, more productive, and more enjoyable work environment.

The 3-Series presents a giant leap forward in control system design and forms the core of the intelligent building, unleashing more power than ever to integrate all technologies in the modern building. It embodies a distinctively robust, dynamic and secure platform to elevate system designs to higher levels of performance and reliability. Compared to other control systems, it provides a pronounced increase in processing power and speed with more memory, rock-solid networking and IP control, and a unique modular programming architecture.

This article talks to why we must be part of several active connection communities for analytics to work: How Smart is Your Building? - Zach Denning, Controlco

So what is a "smart" building? Often the term is confused with the addition of a building automation system in place of an antiquated pneumatics system, or when an engineer develops a new controls strategy that lessens the energy consumption of a central plant. But what defines a "smart" building? The definition of smart is having or showing intelligence, which is achievable through the merger of data analytics and building automation systems. The evolution of analytic software has been incorporated into building automation systems, providing operators and end users more insight into how equipment functions than ever before. Analytics are now run on everything from variable speed supply fans to local heating valves on units; all in an attempt to register impending failure and deliver actionable data to the end user. How many tenant complaints are based on the failure of a valve or damper actuators? What if a thermostat slipped out of calibration and went unnoticed? What if the software could predict the malfunction and generate a work order on its own? These are all examples of the application of analytics within a building. Analytics are powerful tools that when incorporated into building automation can not only predict impending failures, but deliver those results in unique ways to end users.

The article ends with this insight:

Analytics have become one of the prominent buzz words in the engineering community behind LEED and green energy due to the associated savings. Often property owners can utilize their existing BAS system with a new front end such as the Tridium A/X which is capable of hosting analytic platforms. This type of installation will allow the analytics platform to harvest data from disparate systems and manipulate equipment directly from within the program framework; a unique solution offering greater expandability into sequence upgrades based on how equipment has functioned in the past. Integrated analytics packages are helping to evolve the world of smart buildings through continuous management of energy consumption.

There are lots of educational sessions to provide more information at AHR Expo in Dallas this year; for insight check out our AHR Expo preview.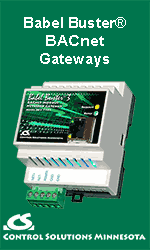 I recently returned from a very Green Greenbuild in San Francisco; check out my review it has some great resources you should know about.

Some of the Resources I found:
I really need to get out more as I am always amazed at what I do not know about what is happening in our industry.
• When I met with Schneider folks at GreenBuild SF they made me aware of their Energy University. This is a great resource; let's use it as an industry to learn.
• The LEED folks provide this great tool that provides easy and fun access to their assembled resources: http://www.gbig.org.

Go BIG and play with gbig and see what LEED buildings are close to you and how they are better while learning how you can use their ideas to improve your buildings.

Look for clarity as our existing connection communities sort out the blur, no doubt connection methods in IP/IT terms at every level are very necessary. Here is an excellent example: Project Haystack.

An open source initiative focused on developing naming conventions and taxonomies for building equipment and operational data. The community is defining standardized data models to describe the data that comes from smart devices like building automation systems, meters, and the wide range of smart devices we find in today's buildings.

Project Haystack encompasses the entire value chain of building systems and related intelligent devices. Owners and consultants can specify that Haystack conventions are used in their building automation systems to ensure cost effective analytics and management of their buildings for years to come. System integrators and manufacturers who integrate Haystack support into their projects and products are positioned for the future of value added services: http://project-haystack.org.

---

[Click Banner To Learn More]
[Home Page] [The Automator] [About] [Subscribe ] [Contact Us]