---

EMAIL INTERVIEW – Brendan Carroll and Ken Sinclair
Brendan Carroll, Founder, EpiSensor Ltd

Brendan has been working with venture funded technology companies for over seven years and is a founder of EpiSensor Ltd. based in Limerick, Ireland. EpiSensor provides an enterprise-class energy monitoring system which has lowered energy costs for Fortune 500 customers in Europe, Australia, Asia, and North America.
---
Enterprise-class Wireless

Energy management is a voyage of discovery


Sinclair: What does EpiSensor do?

Carroll: EpiSensor provides an enterprise-class wireless energy monitoring system for industrial and commercial environments which is reliable, rugged and interoperable. Your readers will be familiar with energy monitoring from an automation system point of view, and also with energy monitoring for the home - many devices, systems and companies have launched in this space in recent years.

EpiSensor is bringing the characteristics of a home energy monitoring system to industrial and commercial environments by making our system extremely rugged, scalable and accurate, but retaining features such as ease of use and installation that would typically only be found in a consumer grade system.

Sinclair: What are they key ingredients for an effective industrial / commercial energy management system?

Carroll: We have been delivering energy management systems to some of the world's largest companies and in our experience there are a number of key factors that contribute to the success of an energy management system in these environments.
Firstly, the system delivered must be flexible. Energy management is a voyage of discovery - each stage of monitoring will reveal the next. It is generally very difficult to specify an energy management system up front and is best to start with the main feeds of energy into a plant. Companies are often making the transition from low resolution monthly energy usage data provided by the utilities and too much information can be a bad thing. Being able to expand a system by simply pressing a button on a new meter is essential.
The second key area has to do with IT environments and policies. While the facilities or energy management team in an organisation might be driving the procurement of an energy management system, it will always require approval from the IT department. The system has to be open enough to be integrated into existing systems, but also conform to the highest security standards and IT policies.
Finally, the system must be both accurate and reliable. There are many wireless systems available that look great on paper, but in practice are not suitable for industrial and commercial environments. Data loss is not acceptable to our customers, and we have many layers of protection built-in to ensure that we never lose a data point. Wireless communications networks will fail, but our wireless monitoring products have on-board data logging. If the wireless network is not available, up to 10,000 data points can be stored locally on each meter, and will be uploaded in sequence when communication have been restored.
Accuracy is also very important when using data from the energy management system to verify utility bills, for example, and all EpiSensor electricity monitors are individually calibrated to Class 1 standard.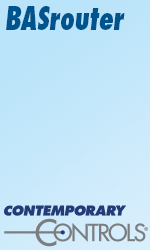 Sinclair: Where do you see energy management going in the next few years?

Carroll: We believe that we need to change the way we use energy, and that this presents one of the most significant engineering challenges of our generation. The way we produce, distribute and consume energy has not significantly changed for over half a century.

We are faced with a situation where finite energy resources are being consumed at an alarming pace, with no clear alternative in sight. This problem will be solved by producing energy more cleanly and distributing energy more effectively but we also need to consume energy more efficiently. The first step towards improving how we consume energy is to get accurate, real-time, accessible information on where, when and how energy is consumed. This information can then be used to influence behaviours and drive change, which will have a positive impact on our environment and reduce energy costs.

---


[Click Banner To Learn More]
[Home Page] [The Automator] [About] [Subscribe ] [Contact Us]