Autodidacticism (also autodidactism) or self-education is the act of teaching oneself about a subject or subjects in which one has had little to no formal education. (http://en.wikipedia.org/wiki/Autodidacticism)

This word accurately describes the how, why and what we have all self-learned in 2014, and what our focus for 2015 needs to be. As IoT propels our entry into interactive social media as an input and output of our building automation systems we need to rapidly self-educate ourselves in an area that we all have no formal education.

Of course this autodidactism is now rapidly spreading to the self-learning being part of our devices and cloud based services. Our survival depends on our ability to embrace and achieve our self-education of this brave new world.

Our authors have done an amazing job of capturing subject matter that we all need to better understand. We hope that AutomatedBuildings.com will be part of your autodidactism. I love that this word contains these three words Auto……..Did…….. Act. This provides us an easy way to remember this unusual word that is becoming our future.

I am looking forward to using this word in encouraging the attendees of our free education sessions at AHRExpo 2015 in Chicago to keep on the self-education theme, please drop in and join us.
As always this issue is a nest of great articles, columns, reviews, new products, interviews and of course the steady stream of news depicting our rapidly evolution and journey to "IOT Openness and Interaction".

We welcome our newest sponsor Neptronic. Neptronic is a HVAC BACnet products manufacturer offering a complete line of HVAC controls that provide configurable, cost-effective and time saving solutions for all your building management needs.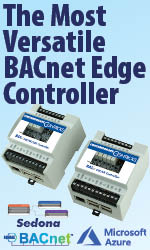 Tell all our sponsors you saw their ads on the AutomatedBuildings.com web site and thank them for supporting your free access to evolving Automated Building Industry information. Click on their ads and view their valuable products and services. Please review all Our Sponsors.

The news just keeps flowing thru our web site and RSS feeds daily, and of course the only way to truly find what you are looking for in the vast quantity of information on our site is with our site search engine http://www.automatedbuildings.com/search/sitesearch.htm

As always lots of new products, plus be sure to check our event calendar to see the number of events we have in our future.


---

[Click Banner To Learn More]
[Home Page] [The Automator] [About] [Subscribe ] [Contact Us]