---
Open Software – and now Open Hardware



While at AHR Expo 2018, we encourage attendees to stop by our booth (4118) to see how open hardware is going to influence our industry.






George Thomas,




President,


Contemporary Controls
I just returned from the SPS/IPC/Drives show in Nuremberg, Germany with its 1700 exhibitors and 70,000 visitors. Its focus was industrial automation, and its reach was worldwide. Although the giants were there like Siemens completely consuming Hall 11, and Phoenix Contact with equally large companies in Hall 9, there were many smaller stands in the other halls where you can see innovation taking place. I was curious that within a show displaying highly engineered industrial equipment if hobbyist computing platforms such as Raspberry Pi and BeagleBoard would appear and they did.
One company was completely committed to Raspberry Pi designs as I/O controllers and protocol converters. Another company with a well-known name in the industry was showing a Raspberry Pi design that was not made by them—but made by the Raspberry Pi people themselves to the requirements of this OEM. It is not a stretch to call these hobbyist platforms or micro PCs open hardware that could eventually influence the design of future industrial and building controls.

Contemporary Controls has both captive hardware and software engineering and captive SMT manufacturing so we can develop and test designs around these micro PCs. We are testing both the Raspberry Pi and BeagleBoard technologies. With Raspberry Pi, you are required to purchase board assemblies—the CPU chips are not for sale. However, with BeagleBoard, you can simply buy the chips and roll your own designs. Although these micro PCs are exciting, you still need to incorporate them into real products that pass all regulatory requirements. Here are two examples of what we have accomplished so far at Contemporary Controls.

The BASpi is best considered a BAS trainer or home automation platform. It utilizes the open style Raspberry Pi micro PC with a Contemporary Controls designed top-mounted 12-point I/O module with six relay outputs and six universal inputs. Inputs can be configured for 0-10VDC analog, contact closure or thermistor. For protocols, it supports BACnet/IP server over Ethernet and Wi-Fi. Configuration is via a web server. For control, we ported over a Sedona virtual machine (SVM) to the Raspberry PI 3. To program the device, you use our drag-and-drop Sedona Application Editor (SAE) which you can download from our website. The complete assembly can be powered by a 5VDC wall-wart. This is an open-frame platform which can be used for simple control and Sedona training. In this example, we married the micro PC to a custom I/O board and loaded in software to ready the unit as a freely-programmable BACnet/IP Sedona controller.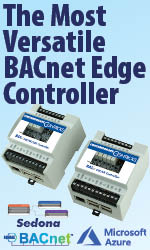 The second example called the Automation Platform demonstrates how the micro PC fits into a proprietary product ready for regulatory submission. Instead of using the Raspberry Pi, the Compute Module is used instead. This plug-in module in the Raspberry Pi family has the same CPU and memory as the Raspberry Pi but not all the peripherals including Ethernet. What is missing is replicated on the main board. Included on the main board are two isolated serial ports that can be used for BACnet MS/TP or Modbus RTU integration plus two Ethernet MACs instead of the one MAC found on the Raspberry Pi. Included on the main board is eMMC memory which is felt to be more robust. The unit is powered by a 24 VAC/VDC source. No additional software is provided beyond the Linux operating system. Applications developed by an OEM on a Raspberry Pi can easily be ported to the Automation Platform which has been tested to comply with industrial EMC compliance.
While at AHR Expo 2018, we encourage attendees to stop by our booth (4118) to see how open hardware is going to influence our industry. We welcome your comments.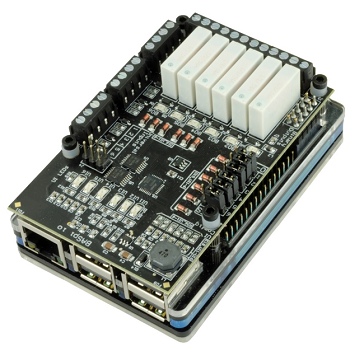 BASpi board mounted on top of the Raspberry Pi provides six universal inputs and six relay outputs and executes Sedona code.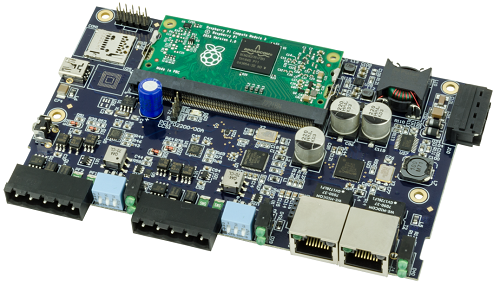 Automation Platform with the Compute module mounted on the main board has the same functionality as the Raspberry Pi along with two isolated serial ports and a second Ethernet MAC.


---


[Click Banner To Learn More]
[Home Page] [The Automator] [About] [Subscribe ] [Contact Us]