---
Web Servers come in many flavours these days and the majority of manufacturers who incorporate controls in their products have them in some form or another. 'Web Serving' is being promoted as an added value feature to manufacturers products in a wide variety of applications and quite rightly so as the benefits of using the Internet are now widely accepted within our industry. As products and applications evolve based upon Internet technology, what should end users and integrators look for when selecting a Web Serving Solution?












At one end of the scale are Web Servers that provide you with very little other than connectivity to the Internet, while at the other end there are extremely comprehensive solutions designed specifically for effective engineering and maintenance of diverse projects and applications.
There are four basic criteria that need to be considered when selecting a web serving solution in order to maintain maximum benefits with the engineering, commissioning and future maintenance of projects.
Applications
Does the Web Server provide such functionality as Alarm Handling, Data Logging, Data Presentation and Time Scheduling straight out of the box? These applications will all be needed to manage a building via the Internet, using nothing more than a Web browser. Not only should these applications be supported, but it also needs to be understood to what degree they can be can modified, added to and deleted through the Web browser. Does the solution provide Web based configuration and how simple is it? Is there a need to go back to basics and generate script and low level code to achieve the desired application needs such as time schedule changes, add a data logging point or reconfigure an alarm? The effectiveness of the data collection and aggregation capability is fundamental if maximum benefit is to be obtained from the data provided by the system. The solution needs to be easy to use and manage by the client after it has been implemented, hence the need to ensure all such data is available through Web based configuration.
Engineering Tools
The Web Browser is becoming the User Interface of choice, but how can great looking web pages be achieved and maintained when the Systems Integrator / Controls Contractor has no experience of web page development? The answer is simple. The product must provide the necessary software tools to meet this requirement automatically. Web Servers exist that incorporate engineering tools that can create dynamic web pages within 2-3 clicks of the mouse using simple 'Drag and drop' principles, with no-requirement for low level coding. Project engineering costs can therefore be substantially reduced.
Scalability
When planning to install multiple Web Servers into a facility it is necessary to ensure that there is a strategy to manage them once implemented. A Web Serving Solution needs to be considered that addresses the wider scope of 'Enterprise Management'. Such functions as common Alarm Lists, download of User Names and Passwords to multiple Web servers, project engineering and sharing of Client Connections for multiple Web Servers are all key aspects of Enterprise Management. With a truly scalable solution the facility whether local, national or global should never grow beyond the capability of the system to control it. As the system grows upgrades and management need to be easily maintained through a single interface. This capability will "future proof" the investment and maintain competitive advantage.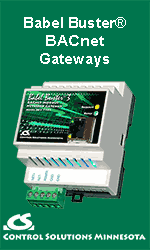 Thin Client
To maximise the benefits from a Web Serving Solution, it may well need to hook into an existing IT Network. This will need to get the buy-in of an IT department. This aspect needs to be considered very carefully. There are many different ways of displaying data in a web page. HTML can be used in which case the data will be static, alternatively an Active-X Control can be used with the benefit of dynamic data but will require software to be loaded onto the Client PC (An IT department will in many cases not allow this). Alternatively a Java based Web server can be used to address these applications. Java has the benefit of being very secure, it's dynamic and it doesn't require any software loading on the Client machine and is also operating system independent (works with Microsoft, MAC, Sun, etc). With a Java based solution remote monitoring, diagnostics and support are available in real time providing maximum control over the application. This will enable more effective operation and faster response times while providing a solution that the IT department will be comfortable with.
Through an understanding of the above four key criteria you can make a valued decision on the best Web serving solution for your application that will provide maximum benefits to the integrator and end user alike.
Plexus Technology Ltd has developed a range of comprehensive Web Serving products that address all of the above issues as standard and can communicate with many Open Protocols such as LonWork (LNS), BACnet, Modbus, OPC, etc as well as a number of proprietary protocols e.g. Trend Control Systems. The products have been designed and optimised for the Web from the outset and as such provide an excellent solution to bridge the gap between a control system and an IT Network.
---


[Click Banner To Learn More]
[Home Page] [The Automator] [About] [Subscribe ] [Contact Us]