---
Integration solutions are becoming sought after commodities
and the market for them is here now.

Ken Sinclair, AutomatedBuildings.com
Even though I have my head deep into industry integration solutions, I have to admit that I did not see this one coming, or at least not so fast. I think if I had thought about it I would have predicted that "Buying Integration Solutions from a Control's Warehouse" would occur 4 or 5 years after the integration industry matured. But integration solutions are becoming sought after commodities and the market for them is here now.












What the heck am I talking about? Let me explain. It started with an interview in our May issue with Jim Hayman who is part of the Management Team at Controls Group North America (CGNA) (http://www.cgnacontrols.com) in Brea, California. CGNA is a national network of 34 independent wholesale HVAC/R Controls Distributors with 118 branches throughout the U.S. and Canada.
Sinclair: How involved are CGNA Distributors in building automation at the integration level?

Hayman: Many of them have distributed products and provided support for commercial systems applications for years. However, the new high-end integration products in the marketplace today require a level of certification and engineering expertise that exceeds what wholesale distributors traditionally offer. CGNA Distributors now have engineers and staff that understand and support the complex integration applications available for commercial buildings.

Sinclair: How do those services impact the contractors who buy from them?

Hayman: It is very difficult for contractors to stay up with the rapid technology changes in building automation without losing valuable time on the job site. Commercial buildings can have synchronized products from multiple manufacturers, making training for each installation a huge investment. CGNA Distributors doing integration provide a single source for contractors to get the information and answers they need to keep working.

Sinclair: Are manufacturers of integration products embracing the value of two-step distribution?

Hayman: Yes. Two-step distributors in a network the size of CGNA is a very strong way to go to market. Manufacturers can get their products quickly into the hands of a larger number of end-users while reducing the amount of support they are required to provide from the factory. Installation questions and warranty issues can be addressed locally by the distributor resulting in increased sales and greater customer satisfaction.

Sinclair: What is the "Integration Forum" in New Orleans?

Hayman: The forum is a half-day event during our annual conference for our Members and Preferred Vendors. There will be speakers and a panel discussion made up of distributors, contractors, a building engineer and several manufacturers. Honeywell's Building Control Systems and Tridium are both participating. The title, "Building Automation Solutions through Distribution" communicates the focus: two-step distribution for integration offers more than parts – they offer solutions.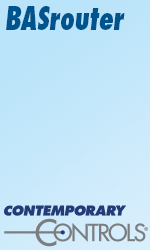 Hayman has written a review of this event for our June issue www.automatedbuildings.com/news/jun05/reviews/hayman.htm. Following is a brief overview of what his speakers were talking about.
Brian Turner, of Controlco started with an "Industry Introduction – Integration Defined."

Scott Cochrane Cochrane Supply and Engineering continued with "Industry Direction – Multiple Manufacturers."

Ed Merwin, Director, Field Sales, for Tridium, brought a manufacturers' perspective entitled, "Driving Advanced Technology Through Distribution."

Terry Turner, President and CEO of Controlco, concluded the speaker portion of the morning with "Technology – Driving the Industry."
In summation:
Contractors need support for high-end applications and appreciate their local distributors' on-site experience. Engineers are looking for a single source for products to minimize the number of suppliers they work with and recommend. Manufacturers welcome the technical support and warranty service that a distributor provides for the installers. In each case, an integration services distributor adds value as a one-stop resource with the staff and expertise to move a job to a successful completion. The added value increases significantly when you combine those distributors into a national network of companies that mentor and cooperate with one another.

The distributor/Members of CGNA and their Preferred Vendors, Honeywell and Tridium, intend to continue to pursue a prominent role as the leading network of integration distributors in the U.S. and Canada.
Wow integration is now a distributed mainstream commodity. It will be interesting to see how CGNA approaches the complex task of educating the masses about the power of Enterprise Based Building Automation. Their problem is an industry wide problem that we all share; re-educating ourselves as IT professionals and working together to find the best overall solutions to bring real time data to our clients' enterprise. I feel that our AutomatedBuildings.com online magazine, ES, and BNP's new venture Intelligent Building Today will all be instrumental in distributing information about the many industry integration trends.
---


[Click Banner To Learn More]
[Home Page] [The Automator] [About] [Subscribe ] [Contact Us]