---

EMAIL INTERVIEW Bob Zak & Ken Sinclair
Bob Zak
President
Powerit Solutions
---
Emerging Demand Response Opportunities
Some very small changes in our consumption behavior, widely adopted, would ease our energy concerns to a level that is almost unbelievable.











Sinclair: What make your solutions unique within the collection of "cleantech" solutions that put themselves in the category of "energy efficiency"?
Zak: There are many good analytical notification solutions on the market today that provide building and plant managers information they can use to make decisions as to how to increase the efficiency of their use of electricity. Powerit's uniqueness stems from providing a solution that not only enables the user to make better decisions but also automatically takes control of connected equipment to directly produce these savings. More importantly, Powerit enables these managers to strike a balance between their savings goals and necessary equipment performance. In simple terms, the end users want to implement a solution for energy savings without losing control of building comfort or productivity levels. Powerit's product solution has done this and is doing it now. This capability is especially important to those end users wanting to participate in the emerging Demand Response opportunities. Demand Response, in its simplest form, is when an end user lowers their use of electricity on-demand, or in response to a specific event such as a pricing incentive or an emergency utility shortage. Typically these events mean lucrative earnings opportunities for those end user that can curtail. Powerit can tightly orchestrate an end user's actions during these events such that participation is now not only possible, but more reliable and can be accomplished while maintaining tight control over the building or process.
Sinclair: How is this done?
Zak: One of the key ingredients of this method of control we call, "embedded operator intelligence". This simply means that the control system must be developed to accept, organize and strategically use operating constraint data from the users to ensure load or equipment will limit their energy saving curtailment actions to "safe" amounts, relative to the up-time required to meet minimum productivity requirements. Also, Powerit's years of experience and thousands of applications in Scandinavia and the US have been very much "productized" or integrated into how these curtailment strategies are gathered, configured, and finally implemented. The end result is a product solution that is not only standardized & pre-conditioned for certain types of users (commercial buildings, food processing plants, metal foundries, etc….) but is also customizable to accept the specific criteria every site operator wants. The final result is a smart, automated system that the user trusts; one that ultimately get used and that is what is most important.
Sinclair: Can you give me some examples?
Zak: Certainly. Our system at San Jose Mercury News headquarters and printing facility was installed to reduce peak demand by manipulating existing building controls and wound up creating significant monthly electric bill savings totaling over $65K per year. This was done while maintaining the desired comfort levels dictated by the building staff, even during some extremely warm San Jose summers. This system paid for itself in 20 months.

The system installed at Guadalupe Cooling Company, a fresh food processor, was installed to provide this California food plant a way to participate in lucrative demand response programs offered by the utility while at the same time reducing monthly peak demand charges. Guadalupe had tried several times to take advantage of available DR opportunities by implementing manual curtailment processes but had to "opt out" each time due to the risk that these inconsistent and open-ended interruptions in productivity would get out of control and negate any possible savings on the electric bill. Guadalupe installed energy management system last winter and has since participated successfully in the utility's first DR test event this spring. On top of that, the system is configured and ready to allow Guadalupe to realize significant monthly demand charge savings this summer.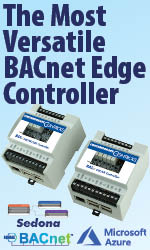 Sinclair: In light of all the talk about wind farms and solar power and smart grid, why isn't energy efficiency getting more attention?
Zak: That is a great question. As a society, some of the biggest moments in our history were driven by innovation and invention. We should and are putting major collective resources into finding new ways to generate power. It is in our nature to fix a situation by inventing our way out of it. That is not a bad thing but, the raw truth is that we are extremely inefficient in our use of electricity and we shouldn't walk by that fact on our way to invent the newest source of power. Some very small changes in our consumption behavior, widely adopted, would ease our energy concerns to a level that is almost unbelievable. The grid is "in trouble" because we are forecasting the electrical load to grow so much. The average US citizen uses 9 times the worldwide average for annual kWh consumption per capita. OK, that includes some undeveloped countries so, to be fair, let's compare that to someone like Europe. Europe consumes 6,000 kWh per year, per capita and the US averages 18,000 of kWh per year. Our buildings and manufacturing plants and homes, on average, have much improvement potential. Currently, less than 1% of all commercial & industrial companies use advanced technology to measure and manage power. Manufacturing plants are some of the most automated and technically impressive facilities that exist. Even so, most do not utilize the sophisticated automation technology that is available today or is already installed within their plant to control their use of energy even nearly as well as they do the other raw materials that enter the plant. We can do much better and the technology exists today to make it happen. We need to continue to innovate and, our company is certainly a part of ensuring innovation built on the smart usage of existing resources continues to be a priority. We have a summary document, a short White Paper that explains how Demand Response works and the benefits to companies. I'd be happy to email a copy to your readers. Requests for the White Paper can be emailed to me, Bob Zak, President, Powerit Solutions: Bobz@poweritsolutions.com
Sinclair: Typically, what type of clients do you work with?
Zak: The technology is applicable to anyone that seeks to achieve savings from better managing and coordinating their use of power. We really stand out and tend to spend a lot of our time with customers who have a more challenging time of it because of processes or equipment that are more critical or must be managed very carefully. Prime examples are buildings with tight comfort goals and most all manufacturing facilities. Powerit's technology is producing savings at over 600 installations globally in sectors including Metal/Foundries, Fabrication/ Manufacturing, Food/Beverage, Petrochemical/Plastics, Wood/Paper, Agriculture, Water/Wastewater, Printing/Publishing, and Commercial/Retail amongst others. Customers include Gallo and Paul Masson Wines, Pacific Steel Castings, Frito Lay, P&O Cold Logistics, San Jose Mercury News, California Steel, Patterson Frozen Foods and many others.

More information at: www.poweritsolutions.com.
---


[Click Banner To Learn More]
[Home Page] [The Automator] [About] [Subscribe ] [Contact Us]