---
Build it with Wireless



Wireless is a 'now' movement in the building automation industry that we

all need to better understand



The present and future impact of wireless in the building automation industry is huge. If you have not already become unwired, this article is a great opportunity to see where the industry is today.

Wireless certainly provides an ideal solution for the last few hundred meters in buildings. The "softness" of wireless makes it a great solution for that part of the building that is always under renovation, the tenant space. Self-powered peel-and- stick sensors and wireless devices that are part of a strong network that interacts with existing networks will forever change the building automation industry.
If you, like me, tried wireless many years ago, you probably found the freedom of wireless quickly over shadowed by the battery blues. But now there are new technologies with innovative self-powering schemes that connect with virtual networks. Combining miniaturized energy harvesters and highly efficientwireless technology creates service-free wireless sensor solutions for use in the extension of building automation systems.
According to Cory Vanderpool, business development director North America, EnOcean Alliance, although wireless building systems arebecoming commonplace, no wireless system alone can satisfy all the different, and often changing, requirements.
"The landscape of offerings includes wireless systems from groups like EnOcean, Z-Wave, ZigBee, Bluetooth and WLAN. Each of these standards plays a role in the building automation marketplace, but the majority of these players have seen limited success. Factors such as frequency, interference risk, range, interoperability and life cycle costs are all important considerations and will help determine which standard ultimately "wins" the wireless race," he says.
Finding benefits
Jim O'Callaghan, EnOcean Alliance president, points out that adoption of building automation has been hindered by many factors, primarily the following:
Existing buildings have been expensive to retrofit – because of installation costs, slow payback.
Retrofitting existing buildings with BAS is invasive, often complicated and potentially risky – e.g., building closures, unknown variables behind walls/ceilings, exposure to asbestos.
"These classic barriers have been overcome by an ecosystem of wireless controls that power themselves using energy infinitely available in office building spaces – indoor light, motion and temperature differences," says O'Callaghan.
"It is now possible, with low investment and minimal disruption, to outfit buildings with self-powered, 'peel & stick' sensors and switches that seamlessly connect into TCP/IP communications. The newfound simplicity and low cost are important catalysts to make buildings more energy efficient," he notes.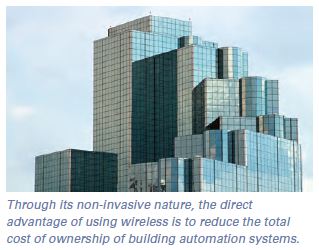 David Lamarche, director, marketing & communications, SCL Elements/CAN2GO, believes that the direct advantage of using wireless in building automation is to lower the total cost of ownership of systems; which translates into faster payback periods. This can vary depending on the project type, but wireless does reduce labor, repair, wiring and conduit installation costs.
"Traditionally, installing a building automation system has always been an invasive process that created inconvenience for building owners, managers and occupants. Closing a store, a wing, a floor, a department, a classroom or an office just for system installation means losing productivity; losing money. Wireless allows for speedier and more discreet installations, reducing the indirect costs of productivity loss. Less wires, more value," he explains.
The permanent advantage of wireless systems is lowcost scalability and flexibility. Adding more points to a wireless enabled system is easy. It can be done at any point during the lifetime of the system for minimal cost.
"No need to add gateways, inputs/outputs extenders and pull wire. Just add the new points in range of your existing system," advises Lamarche. "The same is true for point relocation. If a sensor is deemed to be in the wrong place, wireless devices can be relocated with minimal labor. This is why building owners, facility managers and engineering firms are increasingly specifying wireless components for their projects."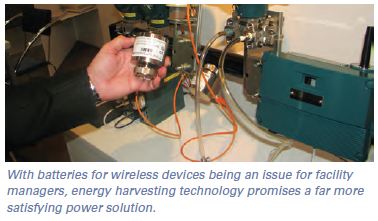 Harvesting energy
When it comes to wireless, traditional solutions include batteries to provide devices with power, but batteries are of particular concern to facility managers since they are time consuming to replace and costly to dispose of properly.
"Utilizing batteries is ultimately not a 'green' solution. Today, wireless systems can instead make use of energy harvesting
technology, as they are not required to route messages for other sensors, allowing devices to operate on significantly less power," adds Vanderpool.
Paul Balazovjech, president, Spartan Peripheral Devices, explains that a change in temperature contains a lot of latent energy. Thus, using "energy harvesting" wireless thermo sensor technology, a sensor can collect and save even the tiniest amounts of energy from the environment to provide enough power to send a radio signal or be amplified and stored to be used to move a control valve actuator.
"Until recently, remote-controlled heating valves typically needed a cable on which the power supply was fed to their motor actuator. Some new radio-controlled devices are powered by batteries. However, a heating valve takes a relatively large amount of energy to adjust the temperature, resulting in constant battery swap-outs. In larger buildings, this is not only bothersome and costly but alsois a burden on the environment."
"The alternative is a battery-less or self-powered wireless solution, meaning that the energy needed to power a device is derived from the process itself or the environment. This is made possible by a Peltier element – an electronic component that generates electric current when there is a difference in temperature between its twosides."
Making light work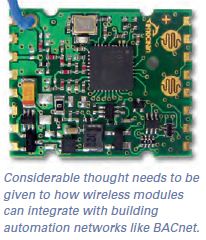 Lighting typically accounts for up to 40 percent of commercial buildings' total energy cost. Reducing this energy consumption has become a major goal for building owners, governments, utilities and many other stakeholders. But how do you manage something with so many diffuse points?
According to Josh Slobin, director solutions marketing, Daintree Networks, the answer is you network it, wirelessly. "Advances in wireless communications standards and energy-efficient lighting equipment have made it possible to effectively combine mesh networking with lighting control to create reliable, large-scale, vendor-agnostic wireless lighting networks. The results are impressive, providing enhanced control and reductions of up to 70 percent in lighting energy consumption for commercial and industrial buildings."
Slobin also points to an interesting side-effect: "When done right, if each of your lighting devices is a node in this mesh network, you now have a robust and pervasive infrastructure through which othercomponents of your 'intelligent building' can communicate."
David Laurence, marketing manager, Adaptive Wireless Solutions, agrees that wireless communication technology opens up a wealth of opportunities for monitoring and controlling conditions within a building by easing the retrofit installation of sensors and control outputs.
"Wireless technology enables increased numbers of sensors, actuators, and controllers in a building by drastically reducing the cost, effort and disruption of installation. The elimination of signal wire also provides greater flexibility within spaces with adaptable configurations," he says.
Standards issues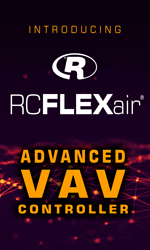 For an insight on how wireless may fit into existing standards, Steve Jones, founder and managing partner, The S4 Group, recalls his involvement in discussions between the EnOcean Alliance and the BACnet Wireless Working Group exploring how the EnOcean technology could become a part of the BACnet standard.
"The most basic things that became obvious within the Wireless Working Group were that we were not just talking about bringing a protocol variation, or another network transport option, into BACnet, but we had to consider how the entire EnOcean buildingautomation system technology fit under the BACnet umbrella."
"EnOcean devices implemented various traditional HVAC control, access control, and lighting control algorithms and communicated wirelessly to their inputs and outputs, and to each other, via a method that EnOcean refers to as 'telegrams'. It was simply not practical to force the EnOcean telegrams (very short bursts of wireless transmissions powered by energy harvesting devices) to follow the BACnet standards. The EnOcean controllers, sensors, actuators, and the underlying wireless protocol wereinseparable," he explains.
Conversely, the feature-rich and verbose BACnet application layer constructs would not fit within an EnOcean telegram. In addition, the intrinsic characteristic of powering EnOcean devices only when needed did not fit well into the BACnet way of implementing 'always on' systems. The bottom line is that the EnOcean "standard" and the BACnet standard are two very different approaches to building automation that complement each other.
"Even given the above facts, everyone involved recognized the value delivered by the EnOcean technology, that it held an important place in the industry, and determined that we should instead pursue a gateway approach whereby the power of both BACnet and EnOcean technologies would be available to the building automation industry in a standards based way," suggests Steve Jones.
He goes on to add that to provide an effective gateway between the two technologies it is up to the gateway developer to: guarantee that the BACnet side of the gateway follows the BACnet standard; guarantee that the EnOcean side of the gateway adheres to all EnOcean Alliance requirements; and provide a reliable and robust implementation of the code necessary to have the two environments co-exist and cooperate with each other.


---


[Click Banner To Learn More]
[Home Page] [The Automator] [About] [Subscribe ] [Contact Us]