---
Should You Sole-Source a BAS?

As with many BAS issues, the answer to this question is "it depends."

Ira Goldschmidt, P.E., LEEDŽAP
Engineering Consultant,
Goldschmidt Engineering Solutions
ira.goldschmidt@comcast.net

July Issue - BAS Column
In many situations, there are some definite advantages to sole-sourcing a BAS as long as you can skirt around any requirement to bid the work out, and then there's also some possible disadvantages. Therefore, as with many BAS issues, the answer to this question is "it depends." In my recent two columns, I covered the challenge of integrating new BAS additions or upgrades to existing BAS's. In these cases, the advantages to sole-sourcing are extremely compelling. This month's column addresses this question for new and/or fully renovated buildings where an all-new BASs will be installed.

If a new building is not part of a campus and is the owner's sole building, then there is little advantage to sole-sourcing the BAS. Otherwise, a campus or multi-building owner will want to strongly consider the sole-sourcing of a BAS for a new or renovated building.

Should You Sole-Source the Manufacturer or the Contractor?
Does sole-sourcing a BAS mean limiting the bidding to a single manufacturer or a single contractor or both? Most BAS manufacturers select a single contractor (or have a factory branch) to represent their products within a given geographical area. Therefore limiting the manufacturer to a single choice will also, in turn, limit the contractor to a single choice…but not always. So listing both the sole-source manufacturer and associated contractor within the spec is usually a good idea given that the manufacturer cannot lawfully refuse any other contractor from purchasing their product (though not at the pricing usually afforded to an authorized rep). It's also possible that an out-of-town contractor may try setting up a "beach head" in a new location by low-balling the project price.

An owner that has standardized on the Tridium platform has a unique opportunity of considering multiple contractors to bid using essentially the same manufacturer. I say "Essentially" because the Tridium platform generally refers to only a web-server operator interface and various IP-level controllers but not lower-level controllers (e.g., for terminal equipment). So it is possible to end up with multiple manufacturers of lower-level controllers when using this approach.

What Are the Advantages of Sole-Sourcing a BAS?
If the same manufacturer's products are used, there will be full integration with the existing system (assuming that there hasn't been a change in that manufacturer's products that did not properly address backward compatibility). Using a different manufacturer will always result in less complete integration even if the existing and new BASs both use BACnet. In particular, a centralized operator interface (i.e., for all of the owner's buildings) may not be able to interact with the new BAS as completely as with a BAS of the same manufacturer. Further a whole different and separate set of programming tools will be needed for the new BAS. Finally, more spare parts will need to be stocked for any in-house service efforts. All of this will require additional training for facility staff and may add unneeded confusion troubleshooting an off-normal condition or failure.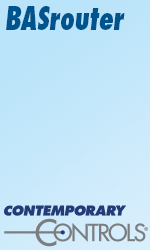 If the contractor is sole-sourced, then there will be improved consistency in the installation, setup programming, and resulting sequences. Only having to call one BAS contractor when there's an issue is also simpler than dealing with multiple BAS contractors.

What Are the Disadvantages?
The first is of course price. How do you know if you are getting the best price if you are only getting one price (then again is the low-bid price the "best" price)? Developing unit and/or open-book pricing with the contractor can help reduce this concern. There's also the "fat cats don't hunt" belief that a contractor won't respond well to your needs once they know that you are a "captured" client. There is undoubtedly some truth to these issues, but I'd argue that they are typically outweighed by the advantages.

Conclusion
Most multi-building owners would benefit greatly from sole-sourcing the BAS manufacturer and contractor. This approach can also serve as a great platform for standardizing many aspects to BAS design and installation so that it better serves the owner.



---


[Click Banner To Learn More]
[Home Page] [The Automator] [About] [Subscribe ] [Contact Us]