---

EMAIL INTERVIEW – Ken Sinclair and Rick LeBlanc
Rick LeBlanc, Operating Partner, Huron Capital, Board Member, Albireo
---
Enhancing the Customer and Employee Experience

We plan to continue acquiring good companies as we proceed to develop ourselves
as a recognized leader in the smart building services sector.


Sinclair: I understand your firm has been quite active in M&A in the building services sector.

LeBlanc: Yes, our strategy is to '"buy & build" companies in the smart building sector. One is Albireo Energy which focuses on building automation and energy services. The other is Sciens Building Solutions who specializes in fire detection and protection services. Both companies are system integrators who deliver world-class solutions by bringing together systems from different manufacturers.

Sinclair: So what is your strategy for these businesses?
LeBlanc: We look to acquire profitable independent companies that are well established in their local markets with an excellent reputation for customer service. We give them the opportunity to become part of a rapidly growing, well-managed business with strong financial backing. Our "buy & build" strategy is to invest in the people and systems, unlike a 'roll-up' or 'consolidation' which typically cuts costs and centralizes key functions which often destroys the culture of good companies.

Sinclair: What is your approach to handling the existing customers and employees?
LeBlanc: Our Management Teams are very sensitive to both customers and employees. For example, the CEO of Sciens is totally focused on protecting employee loyalty and customer relationships. "Employees and customers are both essential assets of these businesses," says Terry Heath, CEO of Sciens "we have specific programs to ensure we protect the special culture of these organizations while remaining firmly committed to delivering exceptional customer service after we complete acquisitions."

Sinclair: How do you do to enhance the Customer and Employee experience?

LeBlanc: First of all we respect the customer relationships and employee loyalty that these firms have created over many years, and it is that core value that we look to preserve and enhance. We strive to improve the customer experience while also giving the employees better career opportunities.

For customers, we invest in systems and resources to keep our customers safe and make sure their buildings are fully code compliant. We ensure that they are well informed about their systems with on-line system records, service history, as-builts, compliance reports, etc.

For employees, we provide better career growth opportunities and professional development and training in their current roles. We also provide better tools and support for them to do their jobs. Our fast growing multi-location organizations offer many more career opportunities. We offer selected key managers the opportunity to become shareholders in the business which allows them to participate in the upside as the company grows through acquisition.

For the business owners: We help to monetize their years of hard work, and we often recapitalize the business and relieve the previous owners of personal guarantees on bank debt, bonding, etc.

We bring numerous resources to the acquired businesses including better processes and productivity tools that are best-in-class. These are things that smaller independent contractors and service companies may know how to do but often don't get around to because they are too busy bidding projects, installing systems and serving their customers.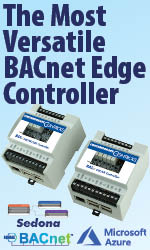 Sinclair: So what kind of success are you having?
LeBlanc: Formal surveys indicate that customer satisfaction has risen significantly and employees are more content in their jobs. We have had a succession of really good acquisitions, and we are seeing excellent top-line growth and improved profitability that rewards all shareholders.

Sinclair: So how do you find the right companies to acquire?

LeBlanc: Most of our potential acquisitions come from referrals from the business owners we have already acquired. There are lots of independent firms in the building automation or fire detection sector's that were formed 20-25 years ago where the owners have been thinking about a succession plan. Sometimes they just want to slow down a bit and enjoy their life, let their trusted employees do most of the work. We give them a way to monetize their years of hard work.

Sinclair: So what comes next?

LeBlanc: We plan to continue acquiring good companies as we proceed to develop ourselves as a recognized leader in the smart building services sector. We believe we can distinguish ourselves by providing superior customer service while giving our employees exceptional career opportunities.
---
Two Company Leaders

Rick LeBlanc is a smart building veteran with more than 40 years in the industry. He served as Division President at Siemens Building Technologies but also has founded and run VC-backed companies in the clean tech and renewable energy sectors. Now as Operating Partner at Huron Capital, Mr. LeBlanc sits on the Board of Albireo Energy, a building controls company and Sciens Building Solutions.

Terry Heath is an accomplished veteran of the building technology industry with more than 25 years of experience in both field and HQ roles. Subsequent to his role of Division President for Siemens Building Technologies, Mr. Heath has founded Sciens Building Solutions, which is building a national platform of fire and security service companies dedicated to Protecting Lives and Protecting Businesses.


---

[Click Banner To Learn More]
[Home Page] [The Automator] [About] [Subscribe ] [Contact Us]