---
Use of Artificial Intelligence in Building Automation
Has Now Become a Trend- Explore Why?

Author's Bio- Koyel Ghosh is a blogger with a strong passion and enjoys writing on miscellaneous domains, as she believes it lets her explore a wide variety of niches.

Building automation can be defined as the automatic centralized control for a number of different purposes such as aeration, heating, air conditioning, security control systems, and so on. With the help of feelers, detectors, beams, relays, radars, and other smart components combined with intelligent electronics, building automation technology takes recourse to central computing system to operate effectually. They have now been in use in several verticals including hospitality, residential, commercial, and others. And, in order to get the smart building system work efficiently, the data on building system status should be evaluated perceptively. It calls for concentrated processing of huge amount of data, with different variables to be taken into consideration. AI tends to dole out several tailor-made solutions that are highly suited for effective & well-organized building management.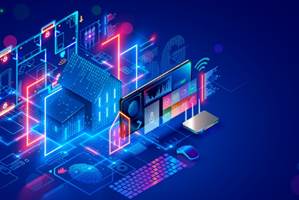 Artificial intelligence does have the potential not only to systematize building structures, but also to make them highly smart and adaptive. AI analytics are meant to help enhance operations, minimize inefficiencies, and curtail the overall building management costs altogether.
The concept of smart building is typically run through flexible IT-based management systems. It not only offers high-end programming using modern IT lingos and tools, but also gives way to safe integration with other IT solutions. The smart acclimatization of sensor-driven data into the IT-based management level paves the way for more innovative data processing solutions to come into the scenario - for example, AI tools. This can be termed as the pre- condition for the assimilation of any projection-based form of building management. The urbane concoction of sensor-generated data supports the concept of cognitive building as well.
As mentioned before, the AI platform calls for a rich set of data from a number of different radars around the building to operate commendably. When traditional smart building systems take resort to a specific sensor network to define the status of a building, cognitive buildings happen to accumulate and assess historical sensor data to make perfect estimates for the future.
Building management systems come up with integrated machine learning solutions along with other relevant statistical methods. The set-up would then automatically fine-tune the required subsystem settings. However, it's worth mentioning that most AI solutions turn up with the potential to operate in more or less every modern building set ups, and are increasingly being utilized across the building industry for more effectual operations.
According to Allied Market Research, the global building automation and controls market is projected to register a noreworthy CAGR from 2020 to 2027. In the last few years, there's been a significant deployment of building automation systems in building structures, for instance in large office set ups, shopping facilities, and public transport extents. This, in turn, has boosted the market growth in more than one way. At the same time, rising security concerns has led to increase in adoption of HVAC control and security control systems in residential and commercial zones. This factor has supplemented the growth yet more.
Author's Bio- Koyel Ghosh is a blogger with a strong passion and enjoys writing on miscellaneous domains, as she believes it lets her explore a wide variety of niches. She has an innate interest for creativity and enjoys experimenting with different writing styles. A writer who never stops imagining, she has been serving the corporate industry for the last four years.
koyel.ghosh@alliedmarketresearch.net
---


[Click Banner To Learn More]
[Home Page] [The Automator] [About] [Subscribe ] [Contact Us]