---
| | |
| --- | --- |
| but please make it a digital sign. | Ken Sinclair, AutomatedBuildings.com |
What's new and what's hot? "Digital Signage" It is appearing in our buildings at zero cost to the owners and has the potential of being a very active part of our truly integrated intelligent iBuildings.












From an article on our web site Buildings Are Generating "New Found" Revenue
http://www.automatedbuildings.com/news/apr05/articles/dssummit/dssummit.htm

Fundamental change is transforming a building's ability to generate "new found" revenue through digital signage advertising. Digital signage is appearing everywhere: in elevators, walkways and virtually any place with heavy people traffic. It is a windfall for regular building operators, and government institutions looking to generate extra income.
As I write this column the Digital Advertising Summit is on in New York, NY. From the Summit web site I have extracted these comments
DIGITAL SIGNAGE IS TRANSFORMING THE WAY YOU DO BUSINESS! CAN YOU AFFORD NOT TO BE A PART OF THIS SUCCESS? You see it everywhere! Digital signage is a new way of communicating with customers, employees and the public at large. It presents vast opportunities for industries from retail and banking to hospitality and government, and also for the advertising agencies and media buyers who serve these clients.
Digital signage is TARGETED technology. It can be tailored to deliver the RIGHT message to the RIGHT audience at the RIGHT time.
WHY HAS THIS OPPORTUNITY EMERGED NOW? Recent technology breakthroughs and the dramatic drop in hardware costs have now made digital signage an affordable and potently effective way to drive product lift, enhance corporate branding and improve the customer experience.
From another seemingly unrelated article The Changing Face of Security Video Management Record numbers of people are creating an extraordinary demand for cutting-edge security innovations that deal with a new world. Chris Hills, Managing Partner, D3Data, LLC
I have extracted the following;
Also impressive is the fact that the pre-existence of these networks and the people who understand them make the new solutions downright cost-efficient. New developments in fiber optics, IP switches and the like promise to reduce consumer costs further still. Bandwidth is increasing correspondingly. This formation of faster and stronger computer technology significantly increases the capabilities of analytics and biometrics, heralding exciting industry expansions in terms of facial, object and behaviour recognition.

The technology is destined to stay, pushed furiously not only by the drive for security, but by dozens of other interests and industries. Take, as one example, medicine. Some doctors are using high-speed Internet access to supervise, in real time, surgeries occurring thousands of miles away. A remote-controlled microscope can send video images to a computer in another hospital. Assuming the proliferation of broadband technologies can keep up with the demand, doctors could one day soon view live video streams of patients in ambulance en route to the hospital. Well then, how will these powerful networks apply to business, rural education, the entertainment industry, and more? The possibilities are endless.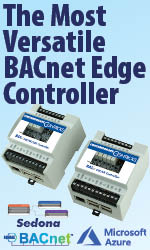 It seems to me the digital signage, security video, building life safety, virtual interaction with our environment and the normal array of common intelligent building functions are all about to collide. The global home entertainment market has greatly lowered the cost of flat screen devices and video/internet servers. When this is coupled with the video camera functionality explosion it provides the necessary feedstock for the video gaming kids to provide a new level of virtual integration. It is still early in the evolution of all these pieces and work is needed to bring these exciting new virtual sensory and presentation models into our truly intelligent buildings.
Much work is being done; from another article on our site from September of 2004 Electronic Signage for Safer Buildings by Lyle Bunn, Senior Partner, Apogee Partners
I have extracted to following;
Control software has emerged at a new plateau of functionality as the "Dynamic Image Provisioning Application" (DIPA). The DIPA backoffice system being specified into electronic signage networks can accommodate display screen-splitting, triggered and override messaging, interoperability and file format handling and scalability to several thousand displays. This allows for "dual use" deployment; displays used for both commerce (retail, advertising, branding, pricing, training, etc.) and public safety and information (alerts, direction, etc.).
When all of these pieces come together the capability of this integration will look like that of a corporate owned TV broadcast company with instant feedback from cameras and other sensors, but all will have the rapid online programmability of a web site. WOW is our industry ready for the next big wave? Oh BTW (by the way) much of this will be accomplished all wireless.
---


[Click Banner To Learn More]
[Home Page] [The Automator] [About] [Subscribe ] [Contact Us]