---
Everyone is thinking about energy management these days. Who can blame them? With energy costs soaring, implementing some form of energy use reduction is fast becoming essential. But for those managing smaller buildings, installing an energy management system can be hard to rationalize in terms of up-front costs. The return on investment with a traditional system may take years to realize, so, often, energy management falls by the wayside. In addition, concerns about business disruption during an installation feed resistance by building owners towards implementing an EMS. The perception remains that EMS is too complex and costly for small buildings, and owners may be reluctant to commit to it.











With wireless energy management, however, saving energy costs can become a reality-not sometime, but this fiscal quarter. Wireless systems offer a group of advantages that make installation feasible in a far wider range of buildings than is the case with traditional hard-wired systems.
The overwhelming majority of commercial buildings in use today are smaller buildings: 53% of commercial buildings in the United States are between 1,000 and 5,000 square feet. Even in sectors where average square footage tends to be higher, median building sizes are still fairly small: the median size of US educational facilities is 7,000 square feet, while lodging facilities average a 12,500 square foot median size. Smaller commercial spaces thus represent the single largest building automation and energy retrofit market.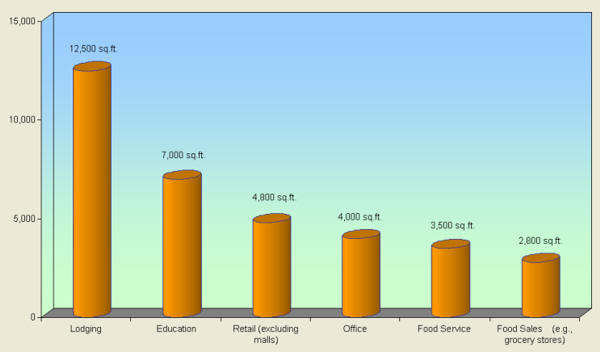 Median Size of Commercial Spaces in US
Data Source: US Dept. of Energy. Chart: Christina Inge
Wireless energy management systems, consisting of flexible configurations of sensors, controls, and submetering devices, solve many of the issues that hold facilities managers and owners back from installing an EMS:
Affordability: Wireless is significantly more affordable to install than a hard-wired solution. It eliminates the hours of labor needed to pull miles of wire, often reducing costs to a quarter of what a hard-wired installation would run.

Speed and Convenience: With higher ease of installation come not only lowered costs, but also reduced to no downtimes for building occupants' daily operations. Installations can go forward without having to move people out of their offices or rooms. They can also be completed in a very timely manner. Indeed, many installations can be done within a few days, so energy management can be implemented within weeks of getting the go-ahead to proceed.

Flexibility: With the growth of wireless technology over the past several years, applications can now fit a wide range of buildings and business goals. The strongest feature of wireless mesh networking in an energy management application is its scalability: a few sensing devices and a single control module can be installed in a small retail store, or hundreds of nodes and scores of controls can be used throughout a college campus. Systems can also be installed on a trial basis in part of a building, so if management wants to test out a system before committing to a full installation, wireless makes it fully possible to start small. Additional devices can be added to the trial installation at any time and will integrate seamlessly with the existing components.

Reliability: Advances in technology, including Spinwave's patent-pending A3 frequency agility (available in the A3 product line), and long battery life, mean that wireless mesh functions dependably, in structures of all sizes. Mesh networking's noted ability to self-form and self-heal further enhances this reliability. Wireless mesh has performed reliably in virtually every type of commercial building, including hotels, restaurants, transportation facilities, commercial offices, health care facilities, and historic structures.
Most energy management systems being planned today are retrofits; wireless is the technology that often makes these installations possible. Installing a wired energy management system is frequently prohibitive in terms of costs, as well as disruption to business. No one has the time to inconvenience their staff for extended periods of time while wires are run throughout a multi-story building. The downtime is just not practical. And for some installations, it's simply impossible. There is no way to shut down parts of an assisted living facility while retrofits take place, for example. Construction materials themselves often mandate the use of a wireless solution. Over 80% of hotels in the US are constructed of concrete, for instance, making wired products very difficult to install. Wireless sensors and controls make energy management installations feasible in a number of buildings where nothing else would be possible.
As wireless technology becomes more widely adopted, the potential exists to dramatically reduce the energy consumption of commercial buildings. Smaller buildings can now be a part of this transformation, as wireless technology's flexibility and affordability make energy management more possible on an unprecedented level.
About Spinwave Systems' Wireless Energy Management
Spinwave Systems' wireless energy management system has been specifically designed to be scalable to many different size buildings, from relatively small commercial facilities to large industrial and residential properties.
The network features a large possible mesh size: up to 75 full function devices plus 150 reduced function devices.

Browser-based remote configuration and maintenance for convenient real-time monitoring and remote system control.

Self-forming network is easy to start up.

Integrates to open protocol automation systems via Modbus RTU and Modbus TCP

Self-healing mesh makes the network outstandingly reliable.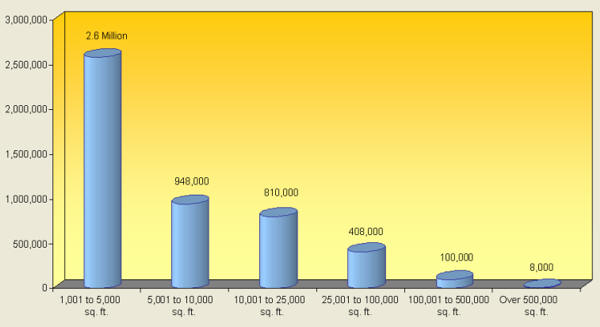 Number of Commercial Buildings in US by Size
Data Source: US Dept. of Energy. Chart: Christina Inge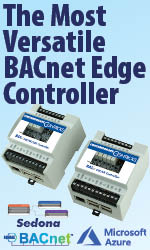 Spinwave's energy management products consist of:
Wireless Controls: Wireless I/O modules are available with 2 analog inputs/2 relay outputs, 8 analog inputs/8 analog outputs, 8 analog inputs/13 relay outputs, and 32 analog inputs. The wireless I/O modules are connected through Spinwave's wireless gateway to open protocol automation systems via Modbus.

Wireless Thermostat Controller: The wireless thermostat controller is a drop-in replacement for almost any existing non-communicating thermostat. A full-function wireless mesh device with integrated radio, it can be configured to control heat pump systems, and gas/oil systems with add-on cooling.

Wireless Sensors: Wireless temperature and relative humidity sensors are battery-powered, with an available optional power supply. They are available with or without LCD and button array; with internal or external sensor. LCD/button versions support the display of all measured variables, set-point adjustment (temperature and relative humidity), override, and offer 2 programmable buttons. Additionally the LCD/button versions have an integrated site survey tool function. In this mode, the display will show the RF link quality at the sensor's position.

Wireless Gateway: Consists of a radio module with integrated antenna and a Linux-based embedded gateway. The gateway features an embedded Web server for browser-based wireless mesh network configuration, commissioning, and maintenance. You can configure the energy management system with just a Web browser.

Wireless Modbus RTU Radio: The radio features a Modbus RTU port, which allows users to wirelessly enable existing Modbus devices, including:

Power meters

Sensors

Controllers

HVAC equipment
The Modbus radio enables the use of a broad number of devices in a wireless automation or energy management system. Adding the Modbus radio to existing device installations greatly expands control capabilities. Increases functionality, and allows the collection of more building and energy usage data.
For more information, visit http://www.spinwavesystems.com, or contact Spinwave Systems directly at 978-392-9000, ext. 225 or info@spinwavesystems.com
---
About the Author
Christina Inge is the marketing manager for Spinwave Systems, Inc., a leader in developing wireless sensors and controls for the energy management and building automation markets. She can be reached at cinge@spinwavesystems.com.
---


[Click Banner To Learn More]
[Home Page] [The Automator] [About] [Subscribe ] [Contact Us]