---

EMAIL INTERVIEW – Marc Petock and Ken Sinclair
Marc Petock, Vice President Marketing, Lynxspring

As Vice President, Marketing for Lynxspring, Marc Petock leads corporate and product marketing strategy and execution, brand management, public relations and communications to support the company's strategic and growth initiatives. Marc is a contributing author, noted speaker and recognized industry leader having earned Realcomm's Top 35 People to Watch for the last six years in a row, M2M Magazines Who's Who in M2M, a Digital Impact Award and several other industry accolades. He also is a recipient of the Niagara Community Spirit Award and most recently, the recipient of Control Trends CTA "Petock Award", an annual industry award named in his honor. Marc also serves on the board of directors of Connexx Energy and as an advisor to Realcomm. Marc is an active participant in project-haystack.org and one of the volunteers that helped produce Haystack Connect.

---
Haystack Connect Event Review

The ability to automatically interpret the meaning of data enables best of breed applications to be implemented, quickly and at lower cost. This gives owners more choice and a faster path to financial return.

Sinclair: Can you provide us with an update on the Haystack Connect event?

Petock: The inaugural
Haystack Connect
event was a tremendous success. The attendees have responded that it was one of the most productive conferences they have attended and exceeded their expectations. The quality of the presentations was top notch. We had experts from a wide range of fields directly address topics that are critical to our industry: cyber security, analytics, demand response, visualization, impact of utility and smart grid programs, wireless solutions, lighting control, and of course, utilizing Project-Haystack data modeling techniques to streamline implementation of intelligent building solutions.
Sinclair: Tell us a bit about the work being done by project-haystack.org community.

Petock:
Project-haystack
is an open source community working together to address the challenge of defining what the data in our smart systems means. In techno speak it's called semantics. But the simplest way to think of it is "how could I know what all of the points in a BAS mean if I didn't have any prior knowledge of the project." There needs to be a defined, machine readable methodology to be able to interpret the meaning of data so that applications can easily consume it without a lot of manual work.
Project-haystack defines a methodology for defining standard models for things like sites, equipment, and points related to energy, HVAC, lighting, and other environmental systems. In addition, the standard now includes a simple REST API to facilitate exchange of Haystack data over HTTP. This lets software applications connect and understand the meaning of data in smart systems. For readers that want more detail on tagging and data modeling I highly recommend this Automated Buildings article:
Finding the Needle
, and AutomatedBuildings.com Interview:
An Update on Project Haystack
Sinclair: Can you give us examples of products that have been developed by the people participating in the effort?

Petock: Beyond the standards work, members of the community are developing tools and products that help people easily use the data for BAS and equipment systems. One contributor developed a reference implementation of the haystack HTTP communication protocol in Java. That means that if you have an application that wants to consume data that includes Haystack tagging you can download this open source software and plug it into your software application.
Another contributor has created a software module (a "jar" file) that makes Niagara systems communicate with the Haystack protocol, and a tool that allows an application engineer to define the tags in the control system when it is programmed. That enables external applications to "get the data" and know what it means.
There are also commercial products coming to market such as engineering tools that streamline the tagging process. Activelogix introduced their new tool – "Needle" at the Haystack Connect event. Needle enables rapid searching and tagging of Niagara AX databases through an intuitive HTML5 interface. Needle also assists users by recommending tags and auto-correcting historical data. URL for more information:
http://www.activelogix.com/news_reader.asp?i=51
Another engineering tool that has been out for a while is "Project Builder Plus" from BASSG, which enables tagging of data from a variety of source formats including SQL databases, CSV files, Niagara-based systems, etc. URL for more information:
http://bassg.com/energy-analytics/project-builder-plus.html
.
There are engineering tools to implement tagging of other vendors systems as well. The community is free to develop this stuff as it sees fit. The information needed is open source and well documented.
The release of these products is a very significant indicator. They show that the standard can be used to create solutions to real problems, and that the standard is comprehensive enough for independent developers to create working products from the documentation, which can be freely downloaded from the project-haystack site:
project-haystack.org
.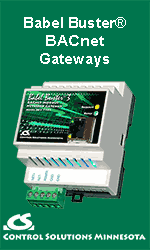 Sinclair: With a lot of standards work it can take years to see it added into products. Can Haystack techniques shorten that time so people can take advantage of this capability?

Petock: The answer is a resounding yes. As noted above, products are already coming to market. Haystack doesn't require a large effort to get started. You can start off modeling your equipment and points using a very simple set of tags. Then you can gradually add more tags for more complex modeling as the project requires.
It's also important to note that Haystack doesn't have to be embedded in an end device for it to be useful. For example, one of the demonstrations presented at the Haystack Connect event showed products from six different suppliers being integrated with a software application that was able to discover the data in controllers and automatically build a database that a user could navigate even including automatically assembling graphic displays of the equipment (an air handler and VAVs). (The software demonstrated was
J2 Innovation
's new "Finstack" product, which utilizes Haystack data modeling techniques throughout.)
Many of the devices in the demo did not have haystack tags embedded in them. Instead an external definition file contained the description of the data in the controller. The graphics software looked up the file in much the same way your PC will go and find a printer driver on the Internet when you buy a printer.
The ability to use Haystack tagging techniques external to the device means that Haystack can be used without waiting for manufacturers to build it into future products. That's a huge difference to other approaches.
Sinclair: So where is data modeling taking us as an industry?

Petock: The ability to automatically interpret the meaning of data enables best of breed applications to be implemented, quickly and at lower cost. This gives owners more choice and a faster path to financial return. Haystack is the methodology for defining what the data items in systems "mean" so they can be understood without a lot of manual effort. It can be applied to virtually any system or data source.

Sinclair: Let's get back to the event. What's the future for the Haystack Connect event?

Petock: The response has been overwhelmingly positive. Attendees felt it was very worthwhile. It's up to the community volunteers, but the expectation is that the event will continue and most likely be held every other year. You will be hearing from the Haystack Community on an ongoing basis as the community continues to grow and advance the technology and tools. We plan to join you at your Connection Communities session at AHR as well.

---


[Click Banner To Learn More]
[Home Page] [The Automator] [About] [Subscribe ] [Contact Us]