---
EMAIL INTERVIEW


Lynxspring's Chief Marketing & Communications Officer discusses the company's new Onyxx® LX line of ASC controllers, digital room sensors and thermostats with Ken Sinclair.
---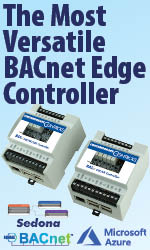 "Today's buildings demand simple integration across systems, equipment and devices. Onyxx LX delivers with quick ROI, long-term scalability and reliability."
Sinclair: Last month you released a new product offering portfolio called Onyxx® LX. Tell me about it.
Petock: Onyxx LX is a modular and scalable portfolio of BACnet® enabled configurable ASC controllers, digital room sensors and thermostats that deliver control, connectivity, and visualization for buildings. They natively support BACnet MS/TP, are BTL listed, and UL and ETL certified. Furthermore, the devices are factory delivered with application programs on-board and are Niagara Framework® configurable.
With their built-in, simple configuration parameters, pre-built graphics, scheduling, and accompanying user interface, Onyxx LX products can adapt their control logic to meet the requirements of most terminal HVAC equipment such as variable air volume systems, heat pumps, roof top units, fan coil units, and small air handling units.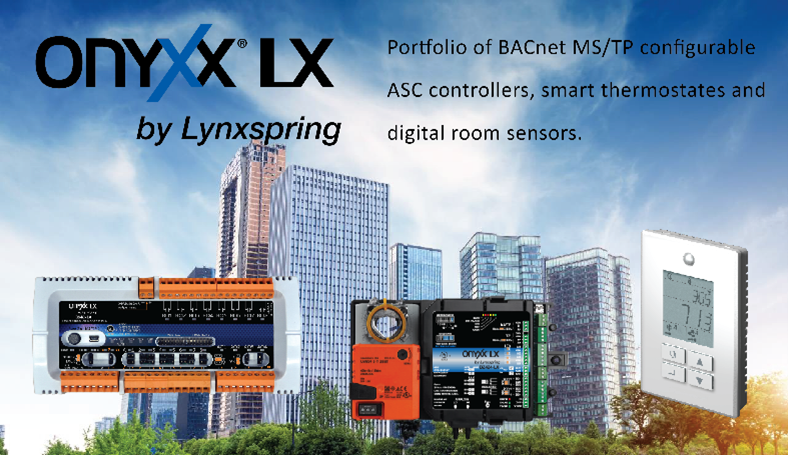 Sinclair: What makes up the portfolio?
Petock:
The portfolio consists of two types of ASC controllers for RTU's and AHU's, two types of configurable zone VAV controllers,
two
configurable thermostats—one designed for FCU's and one for RTU's, a pressure velocity transmitter, and a digital IAQ sensor.
Sinclair: What is the Onyxx LX UI?
Petock: It is the prebuilt, configurable user interface that was created specifically for the product line. It is a simple, light commercial interface that allows you to create, configure and utilize the Onyxx LX controllers. It was designed to swiftly configure all the attributes in an extremely intuitive format, and to create graphics for a standalone project automatically.
Sinclair: Why BACnet MS/TP?
Petock: First of all, when it comes to BACnet®, it continues to grow and gain deployment acceptance. Current market estimates show that BACnet's global market share has continued to rise over the last five years and now exceeds 60%. With MS/TP, it is cost effective. It presents itself as a good solution for retrofits especially when there are existing wires and new wires do not have to be pulled. And it makes for a good solution for terminal device control such as VAV's and thermostats.
Sinclair: Do you have plans to expand and add new products within the portfolio?
Petock: Absolutely. We are already at work identifying what is next as well as adding additional feature sets.
Sinclair: How do I learn more about Onyxx LX?
Petock: Our web site, https://www.lynxspring.com/technology/onyxx-lx and contact me at: sales@lynxspring.com.
Marc Petock
As Chief Marketing & Communications Officer for Lynxspring, Marc leads corporate and product marketing, strategy, brand management and communications that support the company's strategic and growth initiatives. Prior to Lynxspring, Marc was the Vice President, Global Marketing and Communications at Tridium. Marc is a contributing editor for Automatedbuildings.com and industry at large contributor for Control Talk Now and Realcomm's Advisory. Marc also serves on the board of directors of Project Haystack and an advisor to the Realcomm Organization and other companies in the building technology environment.
---


[Click Banner To Learn More]
[Home Page] [The Automator] [About] [Subscribe ] [Contact Us]