---
EMAIL INTERVIEW – with Jan Peterson, General Manager of XCSpec, Inc. & Ken Sinclair

---
Sinclair - Can you give us some general background on XCSpec?
Jan Peterson -

XCSpec is a Marin County, California-based company founded in 2013 by my husband, Pete Peterson, and I. Our goal was, and remains, improving commercial and institutional building air quality and energy efficiency through applied technology. Our initial impetus was developing technology to respond to requirements for the American Disabilities Act, which specifies the pressure to be maintained inside the building to assure doors open readily for handicapped individuals. In this use case, we controlled a power exhaust fan to maintain building pressure.
Basically, we design, manufacture, and distribute transformative HVAC controls that leverage four emerging-mainstream technologies:
1. Wireless communication for device set up and commissioning.
2. Cloud-based monitoring/control is optional. Our controls work locally and do not depend on a cloud.
3. CO2 sensing (a tracer gas that mirrors human contaminant loads, including COVID-19).
4. MicroElectro Mechanical (MEM) Sensors: absolute pressure sensing (no pneumatic tubes), volatile gases, temperature, humidity, and dewpoint.
Early research into applying MEMs technology, which are used by smart watches, for pressure measurement came out of a Small Business Innovative Research (SBIR) grant XCSpec received in 2016 from the National Institute of Technology (NIST). The research centered around solving the problem of performing building leakage testing (still the largest energy loss in a building) without disruption to the tenants. Currently to test for leakage, ducts are sealed off and large blowers are used to pressurize the buildings, which is very disruptive. XCSpec proposed the use of small MEMs-based, absolute pressure sensors inside and outside the building. The Western Cooling Efficiency Center (WCEC) has substantial experience in duct leakage. Working with the WCEC confirmed the feasibility of this approach for both building and duct leakage detection.
We continue working with academic, laboratory, and research partners plus also pay close attention to the emerging requirements in California, Michigan and elsewhere; driven by government regulation and utility rebate programs. These inputs help drive our product development focus. Starting with our work with Lawrence Berkeley National Labs to integrate the first Wi-Fi module into a thermostat for Demand Control, through our current work with the WCEC at UC Davis (University of California, Davis) XCSpec seeks to apply our pressure measurement system to measure and isolate duct leakage in buildings.
Our technology has primarily been developed for the control of HVAC systems: thermostats, Demand Control Ventilation (based on measured CO-2 levels), economizer control and monitoring, and exhaust fan control (based on building pressure) typify our offering. These sub-systems are often integrated into the buildings' HVAC control or building automation system.
Our new AirWatch System, while centered around monitoring of indoor air quality (IAQ), provides an easy-to-install and low-cost path to integrating the controls at any time after the monitor is fielded. As Lord Kelvin stated, "You cannot control what you cannot measure." We provide products that support both control as well as measurement.
Sinclair - Who is on the team and what is their experience?
Jan Peterson -

Pete Peterson and I are Bay Area tech industry veterans with over 50 years of collective experience in designing hardware and software and creating wireless platforms with robust reliability and security. We understand how to adapt emerging technology in ways that minimize installed cost. We've built a network of partner companies and skilled professionals to bring to bear on any product development challenge. Ken and I met a number of years ago while we were working on the Wi-Fi thermostat project for Demand Control by utilities.
Sinclair - I understand you have a product family that can help schools reopen safely as the pandemic eases, and beyond. Can you tell us about that?
Jan Peterson -
Our AirWatch solution is the first of its kind visual display allowing teachers and others to see that classroom air is fresh and healthy. AirWatch is a low-cost and easy-to-install CO2 and airflow monitor. It provides at-a-glance red, amber, and green LEDs to show CO2 safety levels, and a blue LED that shows fresh air flow based on positive pressure in the classroom. An outdoor "weather station," which connects via wireless to the classroom displays, provides the outdoor conditions and pressure.The AirWatch solution is constantly determining the pressure difference between the outside air and the classroom. It is also constantly measuring the CO2 parts per million (PPM) in the classroom. This information is provided through the visual interface or may be monitoring through a cloud for trending data.
Measuring and monitoring is the first step towards truly healthy air and effective ventilation systems. Because this solution arose from a controls product first, HVAC professionals can easily upgrade to the AirWatch Pro offering advanced controls for fresh air dampers, power exhaust, and demand control ventilation. The controls can be added to the HVAC system at any time after the monitor is installed, allowing an upgrade path that is also low cost and takes advantage of the units already installed. The combination of controlling input air based on the CO2 PPM count and the exhaust air based on pressure within the building, while easy to install and low cost, is a very comprehensive ventilation control solution. It supports introducing fresh outside air input while actively exhausting the stale, lingering air.
For classrooms we are applying this as a monitor in accordance with requirements the California Energy Commission is recommending in bill AB841.
https://www.energy.ca.gov/programs-and-topics/programs/school-energy-efficiency-stimulus-sees-program-assembly-bill-841
The University of California at Davis has a white paper that is driving these requirements.
https://wcec.ucdavis.edu/wp-content/uploads/White-Paper-on-Proposed-School-Ventilation-and-Efficiency-Verification-and-Repair-Program_Energy-Focus_V3_200827.pdf
Sinclair - How is the AirWatch solution different from other available ways to address airborne virus?
Jan Peterson -
What makes this product particularly unique is the capability to measure the air pressure within each individual classroom, relative to the outside air. When the pressure inside a room is higher than the outside pressure the classroom air will move out towards the lower pressure outside. If the air is moving, you have confidence that the air content - CO2 and other molecules such as contaminants and virus - are also moving out with the air. This is a key objective of the school reopening guidance from the California Energy Commission (CEC) AB841 bill. This bill was greatly influenced by the WCEC.
The AirWatch depicts the positive pressurization inside the classroom with a blue-LED, keeping with the at-a-glance visual display for teachers, students or other tenants. Incidentally Ken, we chose a blue LED because it is the color of the sky on a day with clear, fresh air. Coupled with the use of CO2 that displays the count of CO2 molecules in the air, it provides an easy-to-understand reference for the freshness of the room's air. AirWatch is the ideal answer for today's concerns and new standards designed to decrease the spread of COVID-19, save energy, and improve living conditions for inhabitants.
Sinclair - Is it easy to install and set-up?
Jan Peterson -
All AirWatch components are Wi-Fi-enabled and are easily configured with a mobile device or laptop. Wi-Fi is a widely accepted and familiar technology to many people today. However, if needed for a specific application we can incorporate other radio technologies. We have learned to pay close attention to creating robust and reliable systems. Cloud-based software allows easy monitoring, troubleshooting, and editing parameters when needed.
Sinclair - Where can anyone from a consumer to a system integrator get AirWatch?
Jan Peterson -
Our business model until now has focused on OEM, System Integrators, and utilities. With the pandemic-driven concerns about airborne virus and IAQ, we see a need in schools and other buildings for this offering. So, we are currently expanding our network of contractors, building owners, and integrators we work with. In June, the AirWatch product and a starter kit will be available on Amazon.com.
For more information on sales and distribution opportunities, visit www.XCSpec.com, email sales@xcspec.com, or call 1-415-497-4191.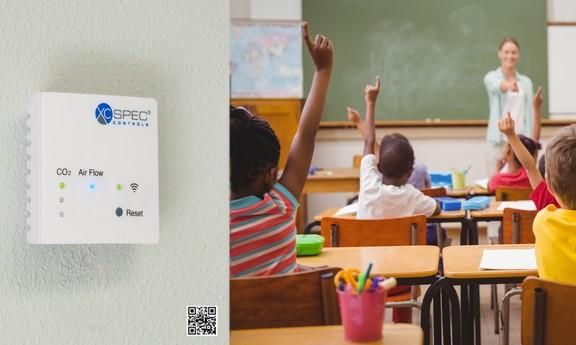 AirWatch helps make classroom air quality visible for safety, health, and learning. It is equally well-suited for other facility applications. AirWatch incorporates Wi-Fi wireless technology and integrates seamlessly into higher-level HVAC control and building automation systems.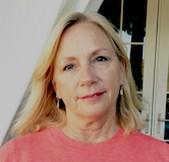 Jan Peterson's background includes over 6 years creating solutions for the Internet of Things (IoT) such as mobile apps, cloud computing and wireless hardware devices. She has deep experience in a start-up, leading all aspects of product development, working with engineering and outside partners, from concept through high volume manufacturing. She manages interdisciplinary teams to deliver field-ready IoT products for commercial and institutional building instrumentation and development of smart rooftop equipment. Jan has been a guest lecturer at the IEEE 802 Energy Symposium. She resides with her husband and business partner, Pete, in Marin County, California.
---


[Click Banner To Learn More]
[Home Page] [The Automator] [About] [Subscribe ] [Contact Us]