---
Because of the evolving reach and complexities of building automation, these solutions need to be several services, not one all-encompassing service.

Ken Sinclair, AutomatedBuildings.com
Editor

Published
Energy Management Canada

We just returned from a very successful Air-Conditioning, Heating, Refrigerating Exposition - AHR Expo - in Orlando, and the buzz was all about how powerful cloud-based web services are radically changing building automation industry. Several vendors demonstrated augmented realities with close-coupled web services that provided iPhone-type mind expanding services at lower than before costs.















Another common theme was that, because of the evolving reach and complexities of building automation, these solutions need to be several services, not one all-encompassing service. This is known as Building Automation Deployment as Several Services, or "BAD-ASS" for short.

Preference will be given to open web services rather than proprietary ones as the rate of change of web services is not something that can be maintained. We find ourselves in a time when it is difficult to keep up with the rapid changes and growth in today's web services. We are not sure that we are ready to rebuild the Industry on the new term Building Automation Deployment As Several Services, with its acronym "BAD-ASS", but maybe we can all have some fun while changing the world.

Our education sessions at AHRExpo 2010 (which are on the automatedbuildings.com website) were all well received and the mood was that folks are ready to accept and be part of the necessary change.

So what did we see in Orlando that confirmed the pace of change? Cloud web services were everywhere we looked — not just talked about, but actual products powered from the cloud. The iPhone model that uses many cloud web services, or applications (apps, for short) is making rapid inroads in the building automation industry. Here are a few examples of the many that were at AHR Expo Orlando demonstrating what I call BAD-ASS.

ecobee
ecobee, the award-winning green technology company, has just released a new iPhone and iPod touch app for the ecobee Smart Thermostat. The new application, which is free of charge, further distinguishes the ecobee Smart Thermostat from other programmable thermostats on the market.

ecobee Smart Thermostat owners can now use an iPhone or iPod touch to remotely adjust the thermostat's temperature, schedule or update a vacation event, change the system and/or fan operating settings and receive alerts. This application converts the screen of the device to a clone of the ecobee Smart Thermostat interface. Users can adjust their homes' climate control settings at anytime from anywhere to ensure their home comfort.

Advanced Telemetry's EcoView Commercial energy efficiency solutions
Advanced Telemetry, developer of the EcoView smart energy management system, introduced its EcoView Commercial and EcoView Residential energy and resource efficiency solutions to HVAC&R distributors at the AHR Expo.

"EcoView offers HVAC&R distributors a unique opportunity to become energy efficiency experts and establish themselves as the go-to conservation and cost control source among their own customer base increasingly seeking to reduce energy and resource usage, utility bills and carbon emissions," said Gus Ezcurra, CEO of Advanced Telemetry, in a news release. "The system also fosters closer engagement between these distributors and their customer bases, leading to far greater insight into real-time HVAC-related consumption behaviors and the performance of related mechanicals. Ultimately, this technology enables distributors serving customers with small- to mid-size facilities like restaurants, convenience stores, retail shops, and bank branch offices to readily create new, recurring and highly lucrative revenue streams."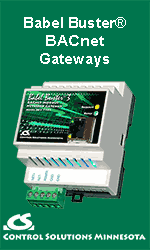 Activelogix' Periscope 1.2
Activelogix introduced Periscope 1.2 at AHR Expo 2010. Periscope is fundamentally different in that it was designed to enable individualized dashboards that could be "created, owned and managed" by the individual. So an energy manager might focus his dashboard on energy-related items, while an owner might be more interested in ranking financial performance of similar structures. The university might want to set up "energy-wise" competitions across the housing facilities to encourage friendly kWh consumption competition between the dorms, with the students having their own dashboard access to see how the contest is faring. The consultant might want to use his dashboard to verify his projections on energy efficiency for the new project were met or exceeded. So lots of different agendas can be easily accommodated.

Lynxspring
Lynxspring has developed appliances for branch banks and other light commercial buildings that automate HVAC, lighting, metering and other applications for those facilities combined with the drivers to the Diebold services. These appliances enable new and existing buildings to take advantage of Diebold's monitoring services.

For more on what we saw at the show, visit www.automatedbuildings.com and read "Twenty Ten to be a BAD-ASS year."

And be sure to read Smart Grid and Buildings connected in Orlando. A key part of the future of B2G is how the BAS industry will develop over the next few years. - We were fortunate at the Summit to have representation from two of the major BAS companies (Siemens and Schneider) and a perspective from one of the industry's leading thought leaders in John Petze. Anto Budiardjo, President & CEO, Clasma Events Inc.

These are just a few of the technologies and individuals pushing building automation into web services. Other advertisers and traditional control folks are hard at creating cloud connection equipment that converts the reality that is our industry into formats that allow the necessary myriad of web services to evolve. Some are building these services as closely coupled parts of their offerings. As they move to web ways, the implied standards force them to a common sameness that allows BAD-ASS interaction beyond their domains, freeing the data to be reused in several services both defined and not yet defined.

We have started building a Cloud Connections, Web Services, and SaaS Directory. Please join us in the expansion of this as we move forward.
---


[Click Banner To Learn More]
[Home Page] [The Automator] [About] [Subscribe ] [Contact Us]