---
Pocket tech and a Car wash
help build the case for OPC UA

For the Building Automation industry the future is in the intelligent device, and embedding the connectivity needed to securely expose that data to the systems and devices that we need to consume and access it.


Manny Mandrusiak
Vice President OPC Marketing,
OPC Foundation
I was recently getting ready for a business trip to Houston, Texas and I was packing at my girlfriend's house. She had mentioned that I had taken way less time to pack than I normally do, and that my computer case (or man-purse as she refers to it) was way less stuffed than normal. As we were going through things she noticed that I had not packed my portable DVD player on this trip. It is normally the second thing in the bag right after the laptop as I am addicted to the television drama NCIS. I told her that I had brought some NCIS shows. I had gotten myself an iPod touch and downloaded them. Now NCIS fits in my pocket, and if I want a new episode, I access iTunes and download what I want. Complete entertainment "on demand".















We live in an age where we thrive on instant access to information, and "on demand" applications for entertainment, commerce, and social applications. There is no getting away from it. This trip to Houston for example, I wanted to know what the five day forecast would be so I knew what to pack. Instead of flipping on the Weather Channel, I simply browsed a weather application on the iPod and got the weather forecast for Houston instantly. I received the information that I needed to make critical decisions using "pocket tech". Pocket tech is influencing all aspects of our lives, and the world of Automation and Building Automation are no exception.
I was recently in a meeting where I was asked where I saw OPC really being employed as the Building Automation vertical evolves. I pondered the question for a while, and then I found my answer. I would like to see Google Alerts for my home. I received some really puzzled looks. Think about it really. What if I received Google Alerts (or Alarms) for everyday activities concerning my home? What if the house that I lived in was powered by intelligent devices that had the open connectivity of OPC UA? Open Connectivity that transforms data produced by smart devices in my home into useful information; which can be viewed on a pocket tech device like an iPhone or Blackberry.
Take a typical house with a communal style mailbox on the corner like we find in most new suburbs. Mail delivery occurs at the green box, and a smart sensor in the box send me an alert on my pocket tech device indicating that I should stop by and pick up my mail on the way home from work.
I could also access my home's HVAC system from my hand held and look at its power consumption in real-time, or look at a historical trend. By examining a trend of the past six months of power usage, I could determine if I should change energy payment plans, or upgrade to a more energy efficient furnace or AC unit. There are varieties of products from OPC vendors which can be easily integrated to store this historical data, and used to run these trends. Since the underlying technology is all OPC based, data from the home's HVAC system can easily be accessed in real-time, historically, or set-up to provide alarm and event messages. Complete control over the energy efficiency of the home all from the technology that is in my pocket.
That covers the home, but what about a business application? An old boss of mine used to tell me the story of the car wash powered by OPC connectivity. I think that in these times where everyone is looking to save money, improve business, and still look out for the environment, it is extremely prudent.
A typical drive-thru car wash already has a dozen or so automated systems running at any one given time. A car enters the car wash and is picked up by conveyor systems that control the movement of the car throughout the entire washing process. The car then has soapy water applied to it. Then the brushes, then the rinse, wax, and finally the drying process. If the robots that were performing these actions had OPC UA embedded in them, the data could be streamed into a variety of OPC Client and HMI applications. A complete performance could be compiled and trended for greater material tracking.
Take the amount of wax used by the car wash for example. The amount of wax utilized per car per visit, multiplied by the average number of cars going through the car wash would determine the amount of wax used by the car wash per week. This historical data could be transferred into an OPC calculation engine for predictions on how much wax could be utilized over the next six months. Wax could then be ordered at a better price, and money saved for the car wash.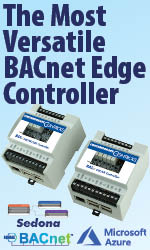 Power usages could also be analyzed. The time when the car wash was idle could be trended to determine if greater effort should be placed on marketing special promotions to generate business for the car wash, or the car wash systems could be powered down to save money on energy usage.
If a system in the car wash becomes defective, or is operating outside of tolerance, an alert is generated and sent right to a manager's handheld device. Devices could also send notifications when they are getting close to failure, or to the next maintenance period.
The day has arrived where "pocket tech" is king, and it is influencing not only the way that we entertain ourselves, but also the way that we conduct both our personal and business lives. For the Building Automation industry the future is in the intelligent device, and embedding the connectivity needed to securely expose that data to the systems and devices that we need to consume and access it.
OPC UA is a technology that offers exactly those capabilities. Companies in Europe and Japan are currently working hard to take advantage of OPC UA's light footprint to embed it in robotic assembly lines for auto-manufacturing. The purpose being greater control over the line's energy consumption to ensure that no power is wasted. This benefits the environment, and the business.
Device manufacturers in the Building Automation space would do well to embrace OPC UA technology early, and gain the advantage of scalability and a future facing technology profile to remain competitive for the future. The demand for more intelligent devices and more accessible data is here, and being engrained in us every day through our handhelds, social media applications, and entertainment options. It is only a short matter of time before Industrial systems catch the wave and want the same secure instant access.
For me it is time to land in Houston where I will use my Blackberry to set my DVR to record the latest episode of NCIS while I am away. You simply have to love the trend that pocket tech has set for society.
Building Automation professionals wanting more information about OPC UA can find it on the OPC Foundation website www.opcfoundation.org, or they can register to attend one of the upcoming OPC Foundation Training Classes in their area. The next Training Class is in Santa Clara, but interested parties can click here to view the entire schedule.
---


[Click Banner To Learn More]
[Home Page] [The Automator] [About] [Subscribe ] [Contact Us]