---
| | |
| --- | --- |
| the monthly blizzard of information | Ken Sinclair Editor / Owner |
Every month there is a blizzard of information contained in the emails that cross my desk on their way to AutomatedBuildings.com. Some of this information is not in the form of any type of content we can publish but I feel I should share with you these snippets, blog bits, and url links that are about to fall off my desktop.
---















Check out our Infometrics ongoing commissioning results at MIT.
http://web.mit.edu/mitei/campus/spotlights/real-time.html
Thanks, Jim Lee
President/CEO
Cimetrics Inc.
www.cimetrics.com
---
Blue Ridge Technologies advocates specifying integrated lighting controls in the way that moves the expertise and accountability to those who are best positioned to be successful.
Look at the use of flash here
to show concepts http://anybas.com/Tech_DDN.html#DDNOverview
---
Software Frameworks
Automation Infrastructure Technology
Security Solutions
Energy Management
Smart Home Technology
Drivers
http://www.tridium.com/galleries/brochures/2010_Tridium_Flipbook_LoRez.pdf
---
The market is poised for change. Increased emphasis on energy efficiency at organisational and governmental levels has combined with a push for more open systems supporting multi-vendor deployments and both are bringing in new providers to the BAS space. Extending BAS management to enterprise IT networks at the control level and adding wireless connectivity to traditionally wired field devices is expanding the role and reach of the BASs. This report examines the potential impact of these and other key factors upon the BAS market and provides market forecasts for equipment, software and services as well as wired and wireless connectivity out to 2015.
http://www.abiresearch.com/research/1004649-Energy+Management+and+Commercial+Building+Automation
---
Things that will disappear by 2030
February 8, 2010 by Sridhar Karnam
http://scienceofbusiness.wordpress.com/2010/02/08/things-that-will-disappear-by-2030/
---
OASIS Web Services Calendar (WS-Calendar) TC to Create Common Scheduling Standard.
http://xml.coverpages.org/ni2010-02-08-a.html
---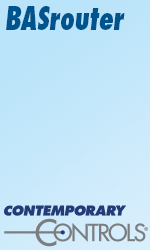 What's Driving Consolidation (And What it Means for Integrators)
http://www.experteditorial.net/securitysquared/2010/02/security-industry-consolidation-integrators.html
---
USA Today editions in New York, Chicago, Los Angeles and Washington on Jan. 29th include a 16-page special supplement on Digital Signage - Digital Out-of-Home (DS/DOOH).

Download a .pdf version of the full supplement from www.LyleBunn.com - RESOURCES (made available by permission of MediaPlanet, the supplement publisher - no registration or fee required).
---
http://www.docstoc.com/docs/23780716/What-is-oBIX
---
Longwatch releases "Tuning the Forgotten Loop" White Paper

We can tune PID controllers, but what about tuning operators? This white paper describes a new method for combining archived video, recordings of operator actions and process historians for training and tuning operators. You are welcome to host the white paper on your web site, run this as a "literature item" with a link to the PDF http://longwatch.com/thedocs/Forgotten%20Loop.pdf
---


[Click Banner To Learn More]
[Home Page] [The Automator] [About] [Subscribe ] [Contact Us]