---
Information Technology (IT) professionals may be surprised at how quickly buildings are changing, and more importantly, how much computing power is deployed in buildings. State of Information Technology in buildings today is outlined here emphasizing hospitality. Intelligent building concepts have seen a revitalization recently because of the proliferation of IT and Internet Services. Many of these developments have begun to elevate average structures to Intelligent Buildings.












High level system technology isn't in every facility yet, but there's a growing number of Intelligent Buildings in the mainstream.
One indication of this trend is widespread use of the same terms when referring to IT and building technology. Convergence is used to describe how building systems are blending with IT and the Internet. IT people use convergence to refer to blending of data and functionality from several software applications. The terms standard, E business and real-time are used the same way for buildings and IT. Grid is a common term, but IT people are talking about grid computing and buildings people mean the national electric system. Other terms like; Integration, collaboration, optimize, Internet ready, or enabled, and intelligent have varied meanings and cause confusion in both worlds. Nonetheless both industries are using the same language.
THE EMERGENCE OF IIT
Intelligent Buildings are real, but more important is the integration of IT, including business processes like finance, with independent special systems for building automation and other functions. Integrated information Technology, the new IT or (IIT) is just another way of saying "Intelligent Building".
IIT, also called convergence, is like a highway interchange allowing seamless flow of information between disparate systems. IIT is the logical extension of building automation, which has grown from Heating, Ventilation, Air Conditioning (HVAC) control to Direct Digital Control (DDC). IIT will integrate DDC and other systems like fire and security to enhance facility management. The next step for DDC is beyond Internet access to IIT. IIT means facilities, HVAC and process automation using integrated systems migrating to the enterprise level via networks, i.e. Ethernet, and offering a larger set of Integrated Services. That entrée combined with Gartner projections for e-business over the next few years sets the stage for a transformation of Building and Energy Management.
Intelligent Buildings leverage IIT, but this requires that building and IT infrastructure support it. This infrastructure represents a tremendous investment and significant operating cost. Understanding and managing this is key to day-to-day operations and optimizing the full benefit of IIT.
IIT is not just about the computing inside the building, but extending services to the Internet. This is significant given that Harbor Research projects deployment of billions of Internet-based smart devices and web appliances over the next five years. Leveraging the power of these devices and keeping building data systems robust requires addressing many issues that are of mutual interest to IT and buildings. Every one of those billion devices will request network access so it is essential to deal with public and private Internet Protocol address requirements, data security, interface requirements, etc. The definition of Collaborative Processing will very soon include integrated sequences for all facility devices that have a processor and Network / Internet Access.
HOTELS AS INTELLIGENT BUILDINGS
Intelligent Buildings truly embody Integrated Information Technology, and there is an award designed to highlight such buildings. The "Buildy Awards" are given annually at the BuilConn Forum (www.builconn.com). Buildy's recognize building owners and system integrators who have created integrated and interoperable systems that are in a word intelligent. Though a hotel has not won a Buildy yet, the three discussed here would be good candidates.
Beyond the concepts of building comfort, security and other fundamental requirements this supplement considers how information technology is being integrated into customer service. The emphasis is on hotels, but this technology is being applied in many building types. Hotels like those discussed here are interesting because they are starting to explore hospitality of the future. Nick Price is Director of Technology and CTO for Mandarin Oriental Hotel Group, such a hotel company, and one of the few to have built hotels using IP networks for all major in-room systems. Price said "Hotels have become famous for implementing yesterday's technology today, just as the consumer traded today's technology for tomorrow's. No place is this more evident than in the guest room where, for example, even many middle-income consumers now have, at home, high-definition televisions with 400 channels, quality on-demand programming, digital video recorders, searchable program guides, and high-end sound systems. But you can't find many of these things even in high-end hotel rooms."
Mandarin Oriental and many other hotel companies are working to move the hospitality industry into the future by joining Hotel Technology – Next Generation www.htng.org. Price's views plus a great deal of relevant information on future hotel technology can be found on their Website. HTNG has enlisted some of the best minds from some of the companies to work on defining the future of hospitality. Price cited an example of implementing yesterday's technology, noting that many hotels have recently installed compact disc players, just as consumers have moved en masse to carrying their own music and other entertainment on MP3 players, iPods, Portable Media Centers, Tablet PCs, and laptop computers. "They can plug these into their audio systems at home or in their car, and that is how they listen to music. How can we call a hotel room a 'home away from home,' when we not only fail to give guests the variety of entertainment that they want, but we can't even support what they already carry with them?"
Ken Martinez, Hospitality Market Business Manager with Paradyne Corporation is also an HTNG member. Martinez said "The evolution of IP-based networks has created new opportunities to deliver technology-based services to guest rooms over a single set of wires. In the past, you needed two or even three sets of wires – coaxial cable, twisted-pair, and often Category 5 cable – to deliver entertainment, telephone service, and wired or wireless high-speed networks. Today, all of the traditional services – and many new ones – can be delivered over a single network."
HTNG is working on new technology and collaborative applications for hotels or Integration Information Technology for hospitality. HTNG is working on "customer-centric systems" for hotels globally. Douglas Rice, Executive Director of HTNG told System Integrators at the BuilConn Forum 2005 in Dallas that this is a challenge because there are more than 100 categories of systems commonly used in hotels. The hotel industry also spends $25 million per year on IT.
ENHANCED CUSTOMER SERVICE
Htng.org is visionary in their view of future hotels. Their goal is not to simply reduce cost, but to create a completely new level of customer service. The vision is that guests would be recognized and called by name on arrival and that a room that meets their expectations would be waiting for them. The mini-bar would be stocked with their preferred brands of drinks and snacks, as well as a room that is conditioned to the desired temperature. Readers may have had the experience of having hotel staff answer the phone and call them by name when calling from the front desk from a hotel room. This simple personalization is a very powerful form of customer service, but HTNG has more in mind. The hotel should also create a guest profile in the database so that they can offer better service, including information like preferred mini bar contents and room temperature.
It is important for hotels to provide services that everyone wants, like high speed wireless available throughout the hotel and in every room. Going a step beyond this type of service by blending those features with personal service is the next generation of hotel intelligence. Rice said "Most of the major hotel companies are re-evaluating the entire networking strategy for guest rooms – and even how they will build and operate new hotels – in anticipation of the move to all-IP-based in-room technology, including telephony, video-on-demand, and wireless services, in addition to traditional high-speed Internet service." At BuilConn Rice shared some exciting insights on the integration of hotel systems with the business process. Hospitality focuses on achieving consistent quality of guest experience, but the goal is to make it both consistent and personal for each guest. Some hotels are experimenting with VIP guest programs. They send out an RFID labelled confirmation and welcome card. When the customer arrives the RFID label triggers a message to front desk or bell stand staff with the customer's picture, etc. so that they can be greeted by name. These programs have a goal of integrating room space conditioning for comfort when the guest checks in, and to monitor guest arrival and departure so cleaning and service is done when the guest is out of the room. Another concept is a multi-modal wake up call that integrates several technologies including a phone call, turning on the TV to your preferred station, opening the drapes and making coffee. Technology developments in Voice-over-IP (VoIP) telephony have also created new capabilities and guest expectations including personalized speed dial, call forwarding, follow-me, multi-line ringing, multi-party conferencing, and use of the phone handset as a text messaging device. The challenge is integrating the hotel's telephony infrastructure in two ways: with hotel services, to enable the guest and the staff to interact in a much richer and more personalized way; and with the various devices that guests bring with them – mobile phones, PDAs, music players, and notebook computers. The hotels discussed here have leveraged intelligent building functions and are on the way to next generation hospitality.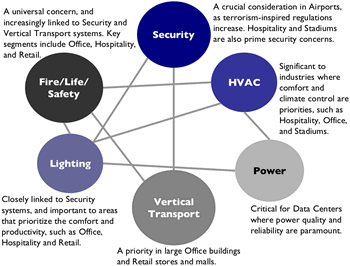 Exploiting building intelligence to achieve a competitive advantage and build customer loyalty is not unique to hotels. Glen Allendinger of Harbor Research sees buildings as "pervasive microcosms" for implementation of Smart Building Internet-enabled devices to offer a wide range of functionality. He believes "the buildings space is a test-bed for machine to machine (M2M) and pervasive systems—a vast "staging area" for what's to come in the M2M space overall." M2M refers to Harbors' Pervasive Internet projections that there will be trillions of new Internet users over the next five years, and that these devices will be do collaborative processing. Given that trend, Allendinger believes that Smart Devices in buildings are a microcosm of the entire M2M business. This concept of Integrated Information Technology (IIT) goes beyond simply installing these devices in Intelligent Buildings. The excitement in IIT is this concept of collaborative processing that will leverage the power and information in these devices to improve building performance, and enhance the business process. The accompanying chart here outlines some of the systems found in Intelligent Buildings that can be leveraged to achieve these goals.
Based on concepts presented by Gartner and Harbor it is clear that Intelligent Buildings are not just about building functions. There are a dramatic number of companies in this space working on and developing technology offerings. Also the companies developing these offerings are not just manufacturers; they are integrators, contractors, software companies and more, because this technology is accessible to large and small companies. HTNG is counting on these suppliers to develop robust and intelligent hospitality solutions, but a wide range of building types will benefit from these technology services. The markets in larger commercial buildings, shopping malls, and campus environments can improve the ROI, and help justify the cost of developing technology and linking heterogeneous systems. There is industry consensus that as costs of smart devices, Internet Services, networks and automation systems continue to drop, the market for smaller Intelligent Buildings will grow, particularly with the opportunity to improve business processes via software applications and smart devices.
HOTELS ON THE CUTTING EDGE
Hospitality industry technology adoption has not been rapid, but the three properties discussed here have benefited from forward looking management. These properties are providing better guest experiences, while also making use of Intelligent building and even sustainability technology. The core components of IIT are being used by these hotels including; standardized data networks for building systems, local area network communication, especially Ethernet, and having high speed Internet access. This technology creates an exciting picture of how Information technology, Interoperable Systems and System Integration are redefining all buildings including hotels.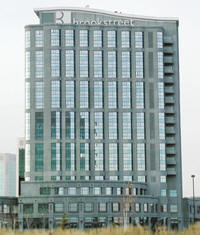 The Brookstreet Hotel is in the heart of Silicon Valley North—Ottawa, Ontario Canada. It is appropriate that this hotel is in Ottawa's thriving high-tech community. Brookstreet has won numerous awards and is a pre-eminent boutique hotel, business center and resort. It features 16,000 square feet of elegant meeting space and has high-speed Internet access in each of its 276 guest rooms. It is interesting that many upscale hotels have not routinely offered high speed Internet, while most budget hotels have offered this feature for some time. Brookstreet's management was forward looking to offer this feature and it is one more way to make hotels' desirable. Brookstreet caters to a sophisticated clientele, and extra effort was added during construction to ensure occupants maximum comfort and control on demand.
The Brookstreet installed a Delta Controls Direct Digital Control (DDC) system for optimum comfort and a quality environment in guest rooms, as well as to ensure intelligent system operation and cost efficiency. The BACnet® solution allows guests to control their own room temperatures. DDC controls meeting rooms and common areas including 29 air handlers, heat exchangers, pumps, swimming pool, and exterior lighting. DDC was integrated with the hotel's booking system so that hotel can optimize comfort and also monitor unoccupied areas, setback rooms as needed and save energy. Delta's system has graphics customized to Brookstreet specifications to monitor the hotel. With this level of technology the hotel to operates flawlessly and to cater to distinguishing guests. Manager Patrice Basille, Brookstreet's says "the system solution has been trouble free since opening, and these systems will included in future developments." Clearly this hotel manager sees IIT as a valuable tool to improve business performance.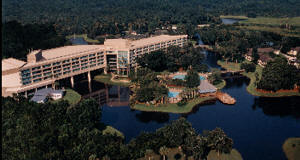 Another leading edge hospitality application is the Sawgrass Marriott, an exclusive resort community between Jacksonville and St. Augustine, in Ponte Vedra Beach, Florida. The Sawgrass Marriott offers an alternative to the conventional Jacksonville Florida resorts. Their event facilities welcome corporate groups with an all-new, state-of-the-art, 56,000-square-foot meeting complex. As the largest conference resort between Atlanta and Orlando, and the home of two prestigious TPC golf courses, the Sawgrass Marriott has earned numerous honors as a premier setting for conventions and meetings.
The new 56,000 square foot meeting complex and convention center is certainly up to par with this highly acclaimed golf resort. This facility has a Delta Controls DDC System integrated to Marriott's construction standards, which far exceed standard construction requirements. The facility mechanical systems are networked together over a high-speed Ethernet backbone and Fiber Optics. The Delta Native BACnet solution is part of a high speed architecture. It is coupled with an automated smoke evacuation system, a Marriott's Standard, BACnet communication to the new Carrier centrifugal chiller plant over Ethernet and Delta's ORCAweb™ for Internet monitoring.
Integrated Information Management requires Internet access and is critical to meeting and exceeding the demanding requirements of this high tech facility. "The ability for my staff to access the system from virtually any computer (anywhere, anytime) over a high-speed network enables them the ability to provide immediate response and service to our guests", says Ayres. This system leverages building systems to improve business processes and positioning Marriott Sawgrass as a next generation facility.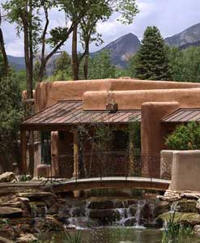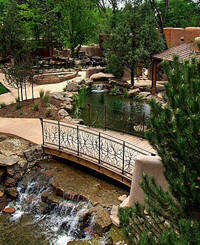 El Monte Sagrado is a resort and spa in Taos New Mexico, a luxury resort hotel complex that was featured in the Southwest Airlines Spirit Magazine in February 2005. This is an eco-friendly resort catering to guests that want a sustainable environment, but is completely high tech. The resort offers video conferencing, complimentary high speed Internet throughout its' buildings and guest rooms, and the entire property is a WiFi hotspot. Building Intelligence is provided by TAC Vista™ DDC system that maintains comfort throughout the complex. This resort went beyond Intelligent systems for the campus to implement sustainable technology throughout. Heating and Air Conditioning are provided by a ground-coupled or "Geothermal Heat Pump" (GHP) system, which is classified as renewable energy technology. GHP uses the earth as a heat exchanger through closed loop system with a network of boreholes located in the parking lot and surrounding field. The bore field was sized to handle expansion and connect into existing cabanas that existed on the property. The Spirit Magazine article emphasized the Building Intelligence and sustainability of this property with 36 guest rooms and common areas. The resorts owner Tom Worrell said this hotel is "green" and "guilt free" due to the renewable energy. This type of high tech sustainable hotel is definitely the way of the future.
As final note it is clear that IIT are here now, but in the near future the focus will likely transform from Intelligent Buildings to Intelligent Enterprises and ultimately the Intelligent Grid. An Intelligent Electric Grid effort has been commissioned by the Department of Energy through Pacific Northwest National Labs called GridWise. Gridwise envisions a smart national electricity distribution system or grid that would be more reliable by allowing for utilities to respond quickly and intelligently to emergencies. GridWise could also create tremendous savings opportunities for energy users like hotels that would not detract from their mission. Futurists talk about disruptive technologies that completely reshape markets, these new IIT and GridWise technologies have just that potential. Any such technology that blends cost savings with business process improvement will be worth watching.
---

About the Author
Jack Mc Gowan is president of Energy Control Inc., an energy service company and system integrator. He is an author and has published five books including Direct Digital Control on Fairmont Press. The Association of Energy Engineers admitted him to the International Energy Managers Hall of Fame in 2003. Mc Gowan sits on the GridWise Architecture Council under the DOE's Office of Electricity and Energy Assurance along with the Technical Advisory Boards of Engineered Systems and Energy User News. He is also a contributing editor with www.automatedbuildings.com.
---


[Click Banner To Learn More]
[Home Page] [The Automator] [About] [Subscribe ] [Contact Us]