---

I was pleased to be able to attend the first ever XML demo
based on evolving oBIX standards held at BuilConn 2005.

Ken Sinclair, AutomatedBuildings.com
I was pleased to be able to attend the first ever XML demo based on evolving oBIX standards held at BuilConn 2005. I have been chasing this industry goal since the inception of oBIX. Everyone could and has been using XML to exchange data between automation systems, but this was the first group demo acknowledging oBIX standards.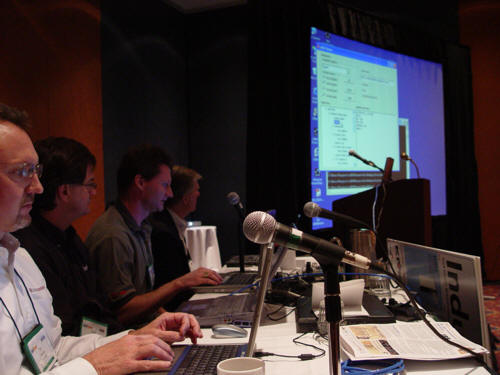 The picture above shows Tim Huneycutt, Gridlogix Inc., Anno Scholten, Plexus Technology Inc., Dave Richards, Trane Global Controls Systems, and Rob Zivney, Hirsch Electronics Corporation, in action. They are creating live demonstrations of connectivity between different systems using XML and Web services technology based on oBIX standards.












Each of the presenters demonstrated a different collection of nationally gathered web ready dynamic data which was formatted in XML based on oBIX's evolving standards. Each used a different software tool to build their demo live and on line and presented the resultant combined information in a standard browser, made ready for programming and calculation interaction on any server. This was an impressive demonstration. Most of the real problems were based on the presenters trying to remember where in the world the data was, "the URL", and what data was called, all of which increased the importance for named data conventions and organized oBIX standards. Even if oBIX provides nothing more than English subtitles to work within XML "gooblygook" it will be a tremendous success.
Why did these presenters conduct the demo?
It was not just because they could write XML, but because they all have experience in moving and exchanging automation data in our industry. Over the years they have come to believe that oBIX's standards can help our industry move forward and provide a graceful entrance to the enterprise. Let me provide you with a little insight to who these people are.
Tim Huneycutt is the Vice President of Engineering at Gridlogix, Inc., a provider of XML Web Services-based automation and application integration solutions. With 22 years of progressive leadership in the electric utility industry and emerging energy markets, specializing in the advancement of technology in the field of energy and demand side management. Huneycutt was featured in Utilities I.T. magazine as one of the top Chief Information Officers in the utility industry for his pioneering system integration work using Internet technologies.
Anno Scholten is Chief Technical Officer of Plexus Technology Inc. Prior to Plexus Technology, Mr. Scholten was VP of Engineering for CSI Control Systems International (now TAC), a tier-four building automation system provider. At CSI he ran the engineering department with a multi-million dollar budget and operations all over the world. He is experienced at management in both the start-up phase and large company environments and has more than 20 years experience in the building automation systems market.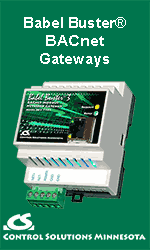 David Richards is a software architect with Trane Global Controls and Contracting. His areas of expertise in addition to software development are network communications, BACnet, and security as it relates to software and networking. Dave is currently serving on the XML Standards subcommittee of the oBIX TC at OASIS.
Aaron Hansen (not in Picture) is a senior software engineer with Tridium Inc. He has been in product development for the past decade and is currently responsible for open and enterprise technologies on Tridium's Niagara platform. Mr. Hansen is also serving as chairman of the XML Standards subcommittee of oBIX.
Rob Zivney has been in the integrated systems business for 30 years. Today, his focus is on leveraging IT technology for interoperability of security systems with the business and building systems for a more efficient enterprise. Mr. Zivney serves on the BACnet Life Safety sub-committee (developing standards for access control and CCTV), represents the physical security industry with oBIX, and is active in the SIA efforts to develop interoperable access control and digital video standards. He is a member of the Board of Directors of the Security Industry Association (SIA).
On behalf of the building automation industry I want to thank you extra ordinary gentlemen for your efforts in forging new standards that are connecting us to the IT world.
Definitions:
oBIX - Open Building Information Exchange
XML - Extensible Markup Language
BACnet - A Data Communication Protocol for Building Automation and Control Networks
---


[Click Banner To Learn More]
[Home Page] [The Automator] [About] [Subscribe ] [Contact Us]