---
A lot has been written in the last few years about the convergence of Building Automation and Information Technology. The business case for this convergence has been presented in many forms and forums. The technical issues have been dissected and analyzed from virtually every possible angle. Relevant standards have been identified and standards-based products developed. Buzzwords and acronyms have been created, promoted and in some cases, thankfully, faded into oblivion. By this time it should be clear to even the casual observer that it is both straight-forward and useful to implement building controls and energy management systems on standard IT infrastructure platforms. Even so, this technology convergence might have minimal impact on the market were it not for the fact it enables a second generation of convergence whose impact on the industry could be far greater.











Technology Convergence is Important, but …
Much of the discussion in the building automation and energy management arena regarding the impact of technology convergence has centered on the cost of deployment and/or the ability to link functionally disparate components. A long list of conference presentations and magazine articles have been published that outline opportunities for improving building operating efficiencies by linking access control, lighting, HVAC, security and life-safety information in real time. Another whole body of literature has been developed to promote the value of "openness" that converged systems allow, an openness facilitated by the standards (e.g. BACnet, Web Services, etc.) inherent in converged systems. This discussion is good (if one can tune out the marketing hype) but the largest impact of technology convergence may not be in the technology domain at all. Instead, we may find that the most dramatic impact of technology convergence is its ability to enable and perhaps drive business model convergence.
Business Model Convergence is the End Game
Comparing the traditional building automation and energy management business models with IT business models yields some interesting contrasts. For example, in building automation and energy management, open systems is often seen as mere compliance to a standard or implementation of a protocol. In the IT world, open systems is more often a business philosophy that promotes cooperation with other suppliers in the interest of building greater value for customers. Another interesting contrast is the IT approach of integrating "best in class" products and services to achieve high-value systems. The current direction of some major players in building automation and energy management seems to be focused on bundled, "single supplier" product and service offerings. So, what is going to happen when these two business models converge in the pursuit of enterprise applications that leverage building and energy information in new and innovative ways? It is hard to say without a crystal ball, but looking to similar transitions in other industries might offer some insights.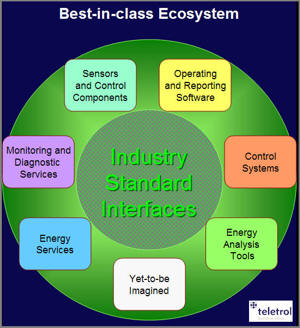 Disruptive Convergence is the Norm
Looking at the history of open systems adoption in other industries, including office automation, computer-aided design, industrial automation and process control suggest there might be some disruption associated with the convergence of business models (which we can call Convergence 2.0, in keeping with the community trend of creating a cheesy moniker at every opportunity). One historical observation is that adoption of open systems results in new players entering the market. In some cases new players came to dominate the market (office automation and CAD come to mind) and in others new players built success in niche products or market segments. An interesting question to consider is where new players in our market might come from and what they might look like.
Another historical observation is that successful suppliers in open systems seem to be those who master "coopetition" (cooperating and competing at the same time with other suppliers). In the same way, successful implementation of open systems seems to occur most often where customers view their suppliers as partners rather than just vendors. In other industries the result was the emergence of "eco-systems" of suppliers that partner in various ways to provide superior customer value. An interesting question to consider is what sort of supplier specialization and collaboration might evolve in our industry and how that might be impacted by enlightened customer buying behavior.
It Could be a Whole New World
Building-IT technology convergence has (and will) significantly impact on our industry. The effects on products, systems and applications are profound and irreversible. Even so, the greatest impact of technology convergence may be the way it enables Convergence 2.0 where the rules of the game (and most likely even some of the players) may be forever changed.
---
About the Author
Andy McMillan is president and CEO of Teletrol Systems Inc., a leading supplier of BACnet-based, IT-friendly building automation solutions. He also currently serves as president of BACnet International. Andy's background includes broad open systems marketing and industry development experience as well as strong technical knowledge of distributed automation and information management systems. Andy has been a featured speaker on open systems and automation-IT integration at conferences in North America, Europe, Japan and Australia. Andy has co-authored a book on open systems networking and holds a dozen patents in sensors, automation and software. He has MBA and BSEE degrees from the University of Michigan and is a member of ASHRAE, AEE, PRSM, and IEEE.
---


[Click Banner To Learn More]
[Home Page] [The Automator] [About] [Subscribe ] [Contact Us]