---

EMAIL INTERVIEW Jeff Seewald & Ken Sinclair
Jeff Seewald, PE, Intelligent Building Systems Engineer
Jeff Seewald is a licensed professional engineer who brings nearly 20 years of experience in commercial buildings systems applications engineering and systems optimization to Building Intelligence Group. He is experienced in IT networks, integrated controls, HVAC equipment and applications engineering. Most recently, Jeff has been involved in the definition, development, and deployment of next generation web based building automation products. Prior experience includes supporting building systems applications and engineering analysis involving heat transfer and fluid dynamics for which he has been awarded several patents. His work reflects a passion for energy efficiency, renewable energy, and sustainability. At Building Intelligence Group, Jeff provides commercial building clients with analysis and solutions to help them achieve greater levels of functionality, efficiency, and intelligence in buildings. Jeff earned his Bachelor of Science in Mechanical Engineering from The Pennsylvania State University.
---
CABA Intelligent Buildings Leadership Forum
From the Conference Room to the Boiler Room, and Beyond











Sinclair: What is the CABA Intelligent Buildings Leadership Forum?
Seewald: CABA (Continental Automated Buildings Association) and Building Intelligence Group will be conducting the 2008 Intelligent Buildings Leadership Forum, in Las Vegas on June 17 at InfoComm08 and in conjunction with NXTcomm08. It is a one-day educational seminar focused on intelligent buildings, the opportunity they present, and how they deliver on sustainability.
Sinclair: Who will benefit from participation in this event?
Seewald: This full day event will provide a chance for attendees to learn from industry leaders and experts, and it is intended for building owners and operators, suppliers, contractors, and systems integrators. Since it is held at InfoComm, it presents a convenient opportunity for leading A/V contractors to learn about intelligent buildings and associated technology.
Sinclair: What is meant by "From the Conference Room to the Boiler Room"?
Seewald: This year's event is structured around a theme that aims to provide an overview of Intelligent Buildings, and illustrate how Intelligent Buildings deliver on sustainability. The theme, Transitions: From the Conference Room to the Boiler Room, And Beyond, is designed to show successful A/V contractors as well as those already involved in building automation, controls, and energy management, exciting and profitable opportunities to expand their business into new areas related to sustainability and integration.
Sinclair: What will attendees learn at the CABA Intelligent Buildings Leadership Forum?
Seewald: A keynote talk on the importance of Intelligent Buildings as The Key to Delivering Sustainability will kick off the event. Then, starting with conferencing, sessions will branch out to explore key intelligent building systems and technologies, including building automation, open and integrated systems, lighting control, and structured cabling and networking, all the while drawing a strong connection between Intelligent Buildings and sustainability. Finally, an industry programs update will provide attendees with the latest on critical work being conducted by CABA and the Intelligent and Integrated Building Council.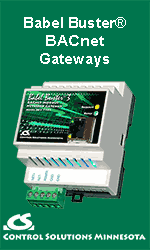 Sinclair: What companies or organizations are showing interest in and supporting the CABA Intelligent Buildings Leadership Forum?
Seewald: A number of companies are sponsoring the event, including:
• Cloud Systems
• Global Environment Fund
• Simtra Cables
• Isotec Inc.

In addition, organizations providing expertise at the seminar include:
• IP Design Group
• Waveguide Consulting, Inc.

The CABA Intelligent Buildings Leadership Forum also has strong support from industry organizations, including BACnet International, LonMark International, and OASIS.
Sinclair: How does one learn more about the CABA Intelligent Buildings Leadership Forum?
Seewald: To learn more, or to register, please visit the event web site at: www.caba.org/leadersforum.
---

[Click Banner To Learn More]
[Home Page] [The Automator] [About] [Subscribe ] [Contact Us]