---

Open protocols ease installation of new systems and interoperability of legacy controls




Paul Harris
Sales Director
Proliphix
When it comes to energy management systems most in the industry know the stalwarts of the trade, built on legacy systems, protocols and overlay networks. Such proprietary protocols grew popular decades ago prior to the advent of the Internet as we know it today. As these technologies continue to age, it is becoming apparent that new technologies exist that accomplish the same or similar benefits at a far more affordable cost. That's not to say, however, that these legacy systems should be abandoned completely. It may be more prudent, though, to consider non-proprietary systems for new installations or retrofits since non-proprietary systems support open standards installation and interoperability comes with ease. So what should you know about IP (Internet-Protocol) and how it may change or integrate into your energy management interface?















Whether you are looking for a completely new energy management system interface, or looking to add to your existing system, you would be well served by investigating many of the new solutions that offer the easiest means of integration and the fewest possible points of failure. These solutions readily integrate with your existing solutions and require no proprietary or overlay networks to communicate with legacy systems or your interface of choice.
What is IP?
To some, IP is a scary term and they do not quite understand the benefit of a non-proprietary solution. Internet Protocol is the basis of the Internet itself and one of the most widely used forms of communication around the world. It is how the majority of systems you use every day connect to the Internet, your computer, email, DVR, Smartphone, corporate networks, video game systems and any other directly Internet connected devices. IP technology adds the familiarity of surfing the Web to your energy management needs. These solutions are basically plug-and-play out of the box.
IP based energy management interfaces provide many benefits for installers and end users alike. Since most buildings and businesses have existing high speed Internet like DSL, there is no need to pull cable or install an overlay network. You can easily shave hours, if not days off of an installation by leveraging the existing Internet connections. This means there is also no need for a central hub or brain to communicate with all of the remotely connected HVAC monitoring and control devices. Instead, simple Internet thermostats and networked equipment controllers are installed and directly connected to the facility's existing data network through an already installed switch, router, or wireless internet network.
IP in Energy Management Interfaces
The best of breed in IP thermostats and equipment controllers have built-in web servers on the devices so programming and interaction happens through a computer with a standard Web browser interface. Such an interface provides a graphical experience and a quick way to program, configure, and schedule a single device or many devices all at the same time. This is as easy and natural as surfing the Internet and streamlines facility and enterprise-wide deployment. You do not need any special equipment to connect each device via serial ports or other proprietary equipment for programming.
Today, you can get the majority of Energy Management System features from simple IP based network thermostats and networked equipment controllers. Aside from ease of installation, many IP based devices have a free energy management interface that is easily accessible from anywhere in the world. This adds even greater flexibility to remotely monitor and control facility HVAC and lighting energy consumption. However, if necessary, it is very easy to integrate IP-based devices into other systems. Proliphix Network Thermostats, for example, can be integrated into nearly all proprietary systems through the use of an open API. An API is an Application Programming Interface used to get one type of software to communicate with another type of software. In fact, there are entire user groups and online communities that share information, and often the custom drivers, eliminating any need to create your own driver.
IP Based Energy Management in the Real World
While a traditional Energy Management System makes sense in very large buildings, like hospitals and high-rise office buildings, much more flexible IP solutions are a natural fit when you need to monitor and control energy in many geographically dispersed locations. Such solutions are ideal in schools for the entire campus or for portable classrooms as well as retail and franchise locations. Even in schools, IP-based solutions typically cost one-tenth as much as a traditional EMS, yet still save schools 20-40 percent annually on utility bills.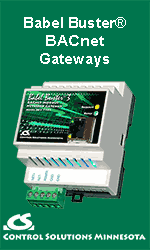 Schools with portable classrooms, retail facilities, and franchise facilities are some of the most underserved markets for energy saving solutions. Historically this has been due to the exorbitant costs of a traditional EMS and the difficulty to tie several EMS sites together. All this has changed now that a simple thermostat replacement can provide an internet connected energy control solution in which facility managers or their trusted service providers can monitor and control hundreds of facilities remotely. An additional benefit is that no formal, expensive training is needed to install or operate these IP solutions. Since IP equals Internet, most are experts before they even pick up their first controller.
Campbell Union School District (CUSD) estimates they will save 45 percent per year in natural gas costs while also achieving a 20 percent reduction in electricity costs following the installation of an energy control solution from Proliphix, Inc. The solution consists of Proliphix Uniphy network thermostats and the Proliphix UniVista device management software. Beyond the energy savings, the district also estimates it will save more than 200 man-hours annually with the Proliphix solution. The district deployed more than 500 Proliphix thermostats district wide at a cost of roughly 10-20 percent of a traditional EMS.
Many of the world's largest brands including franchisees and franchisors like McDonald's, Burger King, Jackson Hewitt and AAA have Proliphix solutions installed to monitor and control HVAC, lighting and refrigeration in geographically dispersed facilities. Such facilities benefit from a solution that readily installs and connects through the existing internet and data network onsite. Facility managers benefit from the IP-based solutions because they can have alarms generated through the energy control solution sent to the directly by email or sms text message. There is no need for special equipment to receive these messages.
Simplifying Savings and Service
For the building automation professional, IP technologies represent an exciting new opportunity to help a wider variety of businesses save money. Such technologies also provide smart and more efficient ways to operate service and recurring revenue models that benefit both service provider and end users alike. Any forward thinking facility manager, energy service provider, or building automation professional would be well served by educating themselves on the simple and affordable IP-based energy management solutions on the market today. Whether you need internet thermostats or networked equipment controllers, you'll be amazed at how easily IP-based solutions can be integrated with legacy systems or used as standalone EMS alternatives.
---
About the Author
Paul Harris is the sales director at Proliphix, Inc. and is responsible for direct sales and channel partner development. Paul works with system integrators as well as facility managers from the largest brands and municipalities in the country to help them find creative solutions to energy saving challenges.
---


[Click Banner To Learn More]
[Home Page] [The Automator] [About] [Subscribe ] [Contact Us]