---
New Opportunities for Building Automation

in the Middle East and Latin America





William Rhodes

Market Analyst

Building Technologies,

Security & Fire

IMS Research
The building automation market is heavily influenced by the construction market. As building automation systems offer energy savings, building automation systems are installed to save money despite the state of the construction market. However, the construction market remains an important driver and inhibitor for the growth of the building automation market.

Construction growth across Western Europe is currently stable but an element of uncertainty resides across the region because of the sovereign debt crisis. North America is certainly stronger than Western Europe, but the short term growth in the US and Canada is being driven by recovery after the sharp falls in 2009 and 2010. In comparison to the more developed nations, IHS Inc. (NYSE:IHS) forecast construction growth in emerging markets such as the Middle East and Latin America to remain strong for many years to come.
In its recently published report on building automation controllers, software and sensors, IMS Research (recently acquired by IHS Inc.) forecast the building automation markets in the Middle East and Latin America to be growing two to three times faster than nearby Western Europe and North America. For European and North American building automation vendors looking for longer term growth prospects, the emerging markets of the Middle East and Latin America could be the answer.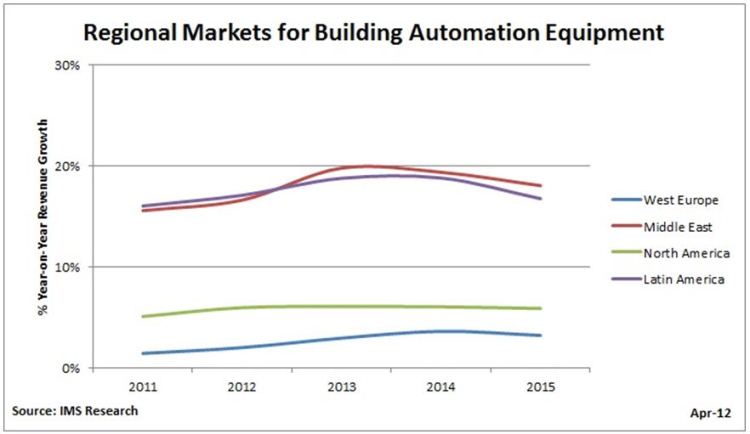 Latin America
The growth in Latin America for building automation systems and the wider construction market is being driven by improvements to aging infrastructure across the region. For example, the Brazilian Government is planning to invest $872.4 billion in improving infrastructure, housing and other construction across Brazil from 2011 to 2014. Large sporting events will also promote further investment in buildings across Brazil. These sporting events include the FIFA World Cup in 2014 and Olympic and Paralympic games in 2016.

The boom in new construction is driving the government and building owners alike to look at energy efficient technologies to save money. The Brazilian Green Building Council is planning for a 30% annual increase in the total amount of green building space in Brazil. Outside of Brazil, the commitment to energy savings is apparent in commercial buildings. For example, in 2007 HSBC's 'Torre' tower in Mexico was recognised by the Green Building Council as the 'greenest' office building in Latin America.

The Middle East is forecast to be the fastest growing region for building automation equipment in EMEA (Europe, Middle East and Africa). The Middle East market for building automation equipment has remained strong despite the economic uncertainty in Dubai and the political unrest that passed through the region in 2011.

Similar to Latin America, there is huge investment in buildings and infrastructure planned across the Middle East. For example, Plan Abu Dhabi 2030 contains a new $40 billion project to build a 4,500 hectare Capital District. There are also plans to expand Abu Dhabi's international airport at a cost of $6.8 billion. In Saudi Arabia a 1.6 km high Kingdom Tower has been proposed as the centre piece to a $26.6 billion Kingdom City.

Across the region there is a growing commitment to improving energy efficiency. The MASDAR city is expected to be completed by 2020 at a cost of $22 billion and will be a carbon neutral and zero waste city. Qatar is scheduled to host the FIFA World Cup in 2022. Early reports suggested open air stadiums would be air conditioned, however, reports in late 2011 suggested other cooling techniques may be employed. In both examples, building automation equipment will play a key part in ensuring the energy efficiency of the buildings.

Overall, both the Latin America and Middle East regions create opportunities for building automation equipment companies to take advantage of. The increasing investment in construction and commitment to energy savings will ensure that growth in the building automation market in the two emerging regions will remain strong for some years to come.


---


[Click Banner To Learn More]
[Home Page] [The Automator] [About] [Subscribe ] [Contact Us]