---
I have just finished a meeting regarding infrastructure Digital Twins and I am burning the midnight oil, again. I am waiting for the new domain for the Beyond Building Podcast to kick in. And it will be found at www.BeyondBuildings.online if everything goes smoothly (it never does…) or here.
The upcoming four episodes tell a tale about the past, present and future of building automation worldwide. It will be about the connectivity platform for all, how to work with ontologies and taxonomies at scale and building the foundational layers for AI to take charge. It will be about the much needed sense of urgency, where it will come from, and in depth discussions about the need for meaningful data and reducing friction for digital onboarding.
I have said on numerous occasions that the building automation industry is broken. I have heard about it. And of course, I know that we can do things better. But it always depends. Is the industry behind? And if it is, behind of which industry? And where? And what kind of assets?
My work includes doing research about almost everything and I have the privilege of at least trying to boldly go where not many others have gone before. And that is why I can say that the industry is not that much different than everything else. Healthcare, Automotive, Oil & Gas, Water, Energy, Construction, all of them are plagued with obsolete ways of working. Traditional decision making and companies might possibly be data rich, but most of them are information poor. The future is already here, but it is definitely distributed. And that also goes for all industries, internally and not just from industry to industry. The leaders in one industry might be far ahead of the laggards, and majority in other industries, when it comes to possibilities of utilizing AI at scale (if that is considered a leading metric). I know construction companies that are far more advanced than large healthcare giants, spending years taking drugs to market, and working with worse data management strategies than some of the worst construction companies.
In fact, building automation might be far ahead when it comes to a couple of things which we will discuss later.
A lack of standards + Manufacturer based controls
In this discussion on Linkedin we get to hear about the lack of standards in Australia whereupon I started an intense discussion with fellow building automation bodybuilders.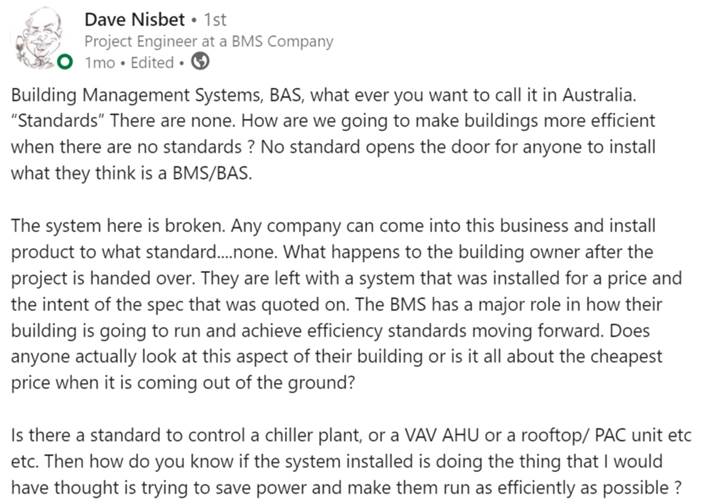 And there are amazing responses from all over the world.
Dave Lapsely from the UK commented that their BACnet/IP infrastructure and quite mature industry enables system integration at great speeds. He mentions that the three days spent, would have been month's with more "traditional" ways of working.
- In the UK we are pretty spoilt by the sounds of things. We get some very good performance specifications coming out of the door from the M&E Consultants that clearly identifies requirements. That said Rob Huntington has it about right in my opinion. The Model that I personally advocate is a packaged system approach, then add some tech that can make each system or item of plant interact with one another correctly.
- "We have completed 2 projects recently consisting of Intelligent Lighting, VRF/DX AC & Heat Pump HWS, packaged central Ventilation Plant complete with manufacturer programmed controls, IAQ Sensing on floor plates as well as fully metered water and electricity. The properties were each around 45,000 sq ft and the controls installation took 3 days from start to finish on each site and provided a fully interactive, auto optimised control system…

…if these were conventional systems with central BMS I think it would be fair to say that dependent upon project program we would be spending a month on each site."
Where he finishes a comment with some building automation poetry:
- The benefits of energy saving and reduced carbon footprint speaks for itself, mandates in the UK are not yet top of the agenda (maybe they should be though). ESG as a whole is though perhaps one of the biggest drivers. I think that Smart Technology will continue to evolve in providing novel solutions to meet the needs of the built environment from the owners right through to the occupiers in both the new build and retrofit markets. One thing that It does offer is complete freedom of choice and flexibility when selecting equipment and systems whilst providing a seamless look and feel for the user at all levels.
This is a very interesting and enjoyable discussion on its own and we will have the pleasure of hosting a panel discussion around the same topics in a month with people all over the world. Stay tuned.
Standing of the shoulders of giants
BACnet, BTL and the Rockstars of Building Automation.
What is also interesting is the fact that Dave Lapsley says that this is the norm in the UK (maybe parts of the UK) for quite some time. And when I say, "this is", I mean BACnet/IP, packaged controls and possibly more interoperable ways of working.
It is not the norm in Sweden for the most part where we are in Modbus land and absolutely no industry-wide respect, nor understanding of what BACnet is all about. KNX is somewhat out there but it is not easy to get meaningful data out of buildings. Not in the slightest.
But Terry Herr mentions in the upcoming podcast about Ontologies that he thinks that the industry has never fared better. It is possibly beyond that of industrial automation where they are struggling with a lot of different standards, and even a modern factory has challenges in both technical and semantic interoperability.
Possibly OPC UA being the closest of kin to BACnet, but they also got a lot of stuff to worry about. Most modern factories do not necessarily talk to each-other and it is challenging to get meaningful data out of a factory. Let alone making the integrations between the BAS/BMS and the production line.
Which goes back to my early predictions of having one API to buildings and creating that soon to be infamous "App-store" for buildings that I, and many others, have been dreaming about for ages.
The Future is bigger than the past
But maybe now is the time? And who do we need to thank?
I want to thank organizations like ASHRAE and people like Joel Bender, Mike Newman, John Petze, Anto Budiardjo, Ken Sinclair for AHU's sake, and everyone else in this industry. We are all standing on the shoulders of BACnet giants and the world is indebted to the early front-runners of BACnet and also the BACnet Testing Laboratory, and the members for the ongoing efforts of providing a robust, interoperable industry for all.
Getting data out from buildings is not that hard anymore thanks to the ones that built this for us. I know this for a fact since Sweden is quite far behind. We need interoperable ways of working, where newcomers like Erik Oskar Wallin, and Real Estate core are doing their part in providing meaningful relationships to the industry.
We will be talking more about these foundational layers in the next episodes of the Beyond Buildings Podcast, so stay tuned for more. And do connect with me on Linkedin if you haven't done so already!
And if you still need help with questions regarding strategy, innovation, and figuring out how modern technologies can help you where you are today. Look no further. WINNIIO will always be by your side. Just reach out to me, Nicolas Waern, on Linkedin or check out my Podcast Beyond Buildings if you need any assistance.
Sincerely,
Nicolas Waern
Nicolas Waern is the CEO, Strategy & Innovation Leader, and a Digital Twin Evangelist at the consulting firm WINNIIO. He is a firm believer that the Real Estate Industry needs more of a lifecycle focus where we need to go Beyond Buildings and come back with an understanding what tools and technology we could use. And to solve the jobs to be done, together, with an open mindset.
Nicolas is working with leaders in several industries to understand how they can succeed in the age of AI. Predicting what the world will do in a week, a month, a year from now and to best utilize strategies and solutions that pass the test of time. He does this through a Digitalization- on Demand approach for anyone that needs to change before they have to.

Nicolas is a Podcast Creator & Newsletter Editor for Beyond Buildings
Thought Leader regarding Smart Buildings & Building Automation for AutomatedBuildings
Speaker and Influencer Event Streaming Platforms as the Holy Grail for Industry 4.0 Applications
Subject Matter Expert Real Estate Digitalization Proptech Digitalization Expert
Active Member of Digital Twin working groups Digital Twin Subject Matter Expert
---


[Click Banner To Learn More]
[Home Page] [The Automator] [About] [Subscribe ] [Contact Us]