the next new thing in Building Automation

John J. "Jack" Mc Gowan, CEM
Energy Control Inc..
Contributing Editor
---
It has been hard to miss the buzz that Ken Sinclair created in the industry with his Internet treatise in Engineered Systems! The purpose of this article is to address a question that has been resonating throughout the industry since then …who is doing this? In fact there are many more questions including how and even a few why's?












As both author and a System Integrator this entire topic has been an ongoing focus. The result of those efforts is a product called the Real-time Energy Dashboard™. Please note that this is not intended to be an advertisement, but this concept is so new that it is easiest to describe it by showing a real example, and of course it also answers the question above. The concept of dashboards has been growing in popularity for several years in the Information Technology business. Much as Ken discussed in his Engineered Systems treatise, the dashboard can be, in effect, a home page for a building. However it has the potential to be much more! The simple fact is that there is data trapped, and sometimes hoarded, in microcosms throughout any organization. Facility managers have data that only they usually get to see, and so does accounting, finance, purchasing, etc. In most cases these and other groups are more than happy to share the information that they have, but in order to get at it a user must be proficient with special hardware and software, as well as go to someone's office. The dashboard concept is based upon the definition of Web Services, which simply stated is a process that makes it possible for information to be shared between many different systems, that was previously not shared and not available, via the Internet.
Combining the concept of Web Services with the concept of a Dashboard or home page for a building leads us to the genesis for a truly valuable tool. What makes that tool even more exciting is when it is designed to make information available via the Internet in real-time. The Dashboard then becomes a tool that brings together information so that managers can make effective decisions. So what is a Real-time Energy Dashboard™ or RED™? In a nutshell it is a portal that allows the manager to get access to real-time information about building operations, and to also link out to other systems, like Building Automation or Access Security, for interogation and update. The distinction between a traditional "front end" and a RED™ is that the home page allows the manager to link to other sites like the local utility or to internal software like the budget.
The illustration below shows a RED™ screen capture. On the left hand side, the screen provides energy costing data from the local utility and Internet energy resellers, as well as a breakeven calculation to trigger onsite generation. In the lower left hand corner there are hypertext hot links to launch from RED™ to the Building Automation and other systems, as well as a link to the customer's operating budget. On the right hand side of the screen there is current local weather and links to the customer's Web site including a message from the Headmaster. Also on the right side is a link to the System Integrators support site to email a work order and a service history button to access a database showing the status of work orders currently in process and completed. Finally in the center there is a quick snapshot of key events on campus and the user can link to a Web page for more information and a real-time report on M&V.
The illustration below shows the dashboard and future articles will discuss the myriad sources of information to populate the page.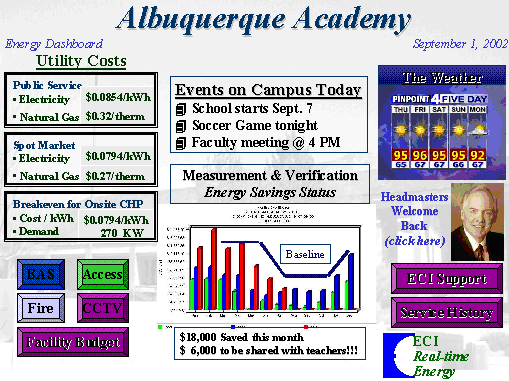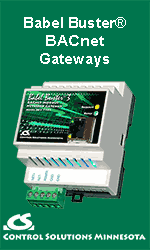 Recently the author was invited to speak at a TAC global sales conference held in Hollywood, Florida on topics relating to automation and Internet control. This topic was the logical conclusion to a presentation that covered the Internet and the impact of standard communication protocols, while addressing how control contractors and system integrators can leverage Web tools to deliver better projects. Internet Digital Control™, a term that has been trademarked by Mc Gowan was the basis for discussion of a growing opportunity for System Integrators to deliver highly diversified systems that include the traditional Building Automation offering and that are expanded to provide Internet driven solutions. The Real-time Energy Dashboard™ is the logical extension of this concept and is an idea that will clearly evolve as more integrators expand into Internet Digital Control™.
________________________________________________________________________
ABOUT THE AUTHOR
John J. "Jack" Mc Gowan, CEM is author and Vice President of Energy Control Inc., an Energy Service Company and System Integrator. Mc Gowan has worked on numerous multi-million dollar projects in every capacity from design through financing as an end user and ESCO. He has published 5 books including "Direct Digital Control" on Fairmont Press. The Association of Energy Engineers named him 1997 "International Energy Professional of the Year", and he is listed in Who's Who in Science and Engineering, Millenium edition, Marquis Press. Mc Gowan sits on the Energy User News Technical Advisory Board and is a Contributing Editor with www.AutomatedBuildings.com.
---

[Click Banner To Learn More]
[Home Page] [The Automator] [About] [Subscribe ] [Contact Us]