---

"a new scientific research center for intelligent automation in the construction industry"

Andrey A. Golovin, (golovin@bacnet.ru)
Executive Director of associations
BIG-RU (BACnet Interest Group Russia)
and KONNEX Russia,

Russia has successfully begun a unique integration project focused on training specialists for open protocols BACnet and KNX and raising modern building automation systems to a new level. The cooperation is the collaboration of Russian BACnet and KNX associations with a leading engineering school – the Moscow State University of Civil Engineering (MSUCE).















With support from the Russian national project "Education", a new scientific research center for intelligent automation in the construction industry was created and was named the "Smart City". We have decided to make the emphasis on two technologies; BACnet and EIB/KNX, as the core of the "Smart City".
BACnet Training Room
The idea of the BACnet training room is to present interoperability as one of main advantages of the BACnet protocol. The room has nine similar stands from eight BACnet companies (BIG-RU members): ALC, CAREL, Delta Controls, JCI, Kieback & Peter, Sauter, Siemens, Trend. The ninth stand is for additional equipment: BACnet-frequency drive from ABB, fire alarm equipment from Securiton (with a BACnet gateway), controller from LCN company, etc. Besides BACnet vendors who are not presently BIG-RU members can use this room for testing of the mutual work of their equipment with other BACnet hardware for real applications.
All eight BACnet stands are connected via BACnet/IP protocol into a single network. All stands have the same structure - three levels hierarchy (by ISO 16484-2 standard):
Management level (SCADA from a BACnet company)

Automation level (BACnet controllers and other network devices)

Field level (sensors, drives, actuators)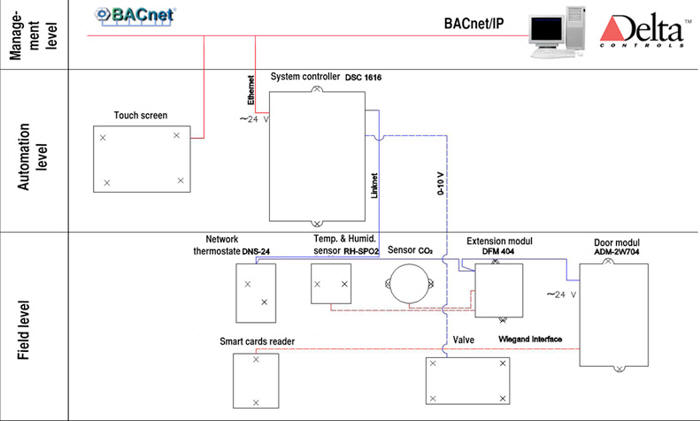 Every BACnet stand will have its own PC computer with a SCADA system from the supplier company. It means that we can test interoperability from any stand to another. By means of the SCADA system we can not only see another BACnet controller on the network, but also manipulate with its field level devices.
I see the practical usage of this training room not only in education. Some clients (developers or building owners) will want to try to simulate the situation they might have on a real construction site. When they have two or more brands on the project, they can test
the situation in the BACnet training room in order to escape potential problems in the future and to save time, money and efforts.
The BACnet training room is still under construction, but we hope to finish everything in the fall of 2009. Even now some BACnet companies have declared that they want to rent this room for their own training.
Unfortunately, the BACnet world wide society does not have a common system of certification (training) for BACnet specialists. All training seminars for BACnet are organized by enthusiasts in the USA and Europe and are not approved (legalized) officially by
the BACnet International Association.
BIG-RU would like to propose our BACnet training room and the MSUCE university as the platform for the creation of the common world wide BACnet certification program. We already have a multi-brand BACnet training class and we can test the certification program (bilingual: English and Russian) with MSUCE's students. I hope we can discuss our proposal in Orlando during the ASHRAE SSPC 135 annual meeting.
KNX Training Room
The training room consists of eight similar stands with multi-brand equipment from different KNX manufacturers. The class was equipped in February 2009, and all devices are brand new. Every month KNX Russia holds a KNX seminar (basic course) for 16 people.
Each stand has a sensor touch-screen, multifunction pushbuttons, motion and presence sensors, two different heating valves, relays, dimmer, blinds controls, USB-port, different lamps to control and many additional devices. Through the KNX training rooms they can
offer:
Light level control, turning on/off lights, dimming function, lighting scenarios, different types of lamps control.

Power supply control. Each appliance in the house consuming electricity could be under control (including timer function).

Blinds and shutter control (bi-directional connection).

Heating system control. PID (Proportional Integral Derivative control) and PDM (PDM – Pulse Duration Modulation) regulation.

Visualization of KNX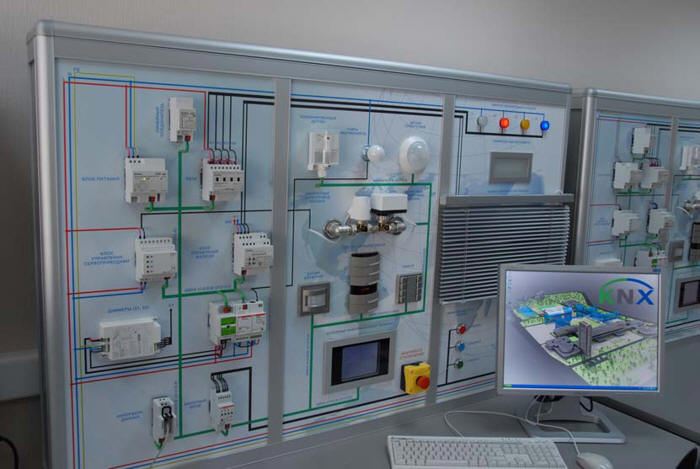 All stands in the training room are expandable. We are going to equip them in the near future to the level of KNX+ course (advanced course). Third party manufacturers are interested in being integrated with the KNX training room. We have received requests from AMX (Russia) and Axis (Russia) to organize two additional KNX training courses with the integration of their equipment. KNX Russia association is currently negotiating with Cisco about holding a mutual seminar/training.
Showroom
The KNX showroom is a 40 m2 area filled with KNX technology. Swarovsky lamps are controlled from touch-screens embedded into the wall. They have six light groups with an on/off function and two with a dimming function. Climate control in the room is supported by automatic valves on radiators and air-conditioning in the ceiling. Curtains and screen drives are linked with different scenarios (satellite TV watch, multimedia presentation, DVD video, TV-tuner). An outside weather station collects weather data and transmits it to the KNX system. Two ceiling video IP-cameras are linked to the KNX system, and pictures can be shown on the touch-screen computer. They can monitor the energy consumption of the room and enter trends on the touch screen.
All multimedia functions were linked to KNX by means of the AMX gateway. An additional remote control from AMX allows the same control as on a touch screen computer. Then MSUCE bought a unique device - a Microsoft Surface computer table with multi-touch interface (52 touches at the same time). This is the only such Microsoft unit in Russia sold specifically for the MSUCE "Smart City" project. On the screen of MS Surface, one can see the same KNX interface as on the touchscreen and control the entire room parameters.
Russian representatives of the following KNX companies gave their support to the "Smart City" project: ABB, Berker, Gira, Merten (Schneider Electric), Siemens, Jung, TheBen, ESYLUX, Somfy. In the near future, we are going to publish the results of the experiment
for energy savings with KNX in MSUCE class rooms.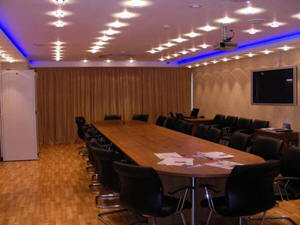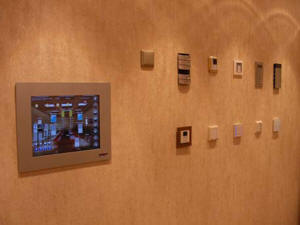 Future development
The "Smart City" project should become the most innovative place in Russia concerned with building automation systems. We are planning to expand our activities from training to national standards development. MSUCE is the main university in Russia responsible for the construction industry standards. With the assistance of BIG-RU and KNX Russia associations we are sure that latest trends in building automation will be accepted in Russia.
How to promote BAS solutions in Russia?
On the 21st of October, 2009 we had a VIP-visitor: Vice-premier minister of the Russian Government Mr. Dmitry Kozak visited the "Smart City". He is responsible for the development of Russian regions and "Sochi-2014" Winter Olympic Games project. We would like to believe that he was satisfied after his short visit in "Smart City".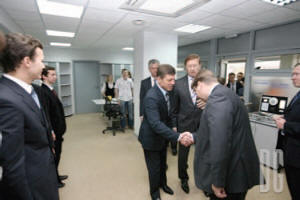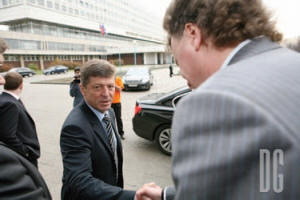 All these events make me sure that the Russian BAS market will be at the top of the construction industry, and that the latest achievements and developments will find application in real projects. Please, see the following YouTube videos about "Smart City".
---


[Click Banner To Learn More]
[Home Page] [The Automator] [About] [Subscribe ] [Contact Us]