---

Green has becomes a questionable color, the new true blue of an economical plus environmental bottom line supported with real dynamic data, presented virtually, anywhere, is the proof of our transformation.

Ken Sinclair, AutomatedBuildings.com
Editor

Published
Energy Management Canada

The convergence of Information & Integration must create Transformation of our buildings. Change is not enough we need complete transformation of our buildings into smart grid interactions, allowing all other functions to flow as active and visible assets of the corporate enterprise. Green has becomes a questionable color, the new true blue of an economical plus environmental bottom line supported with real dynamic data, presented virtually, anywhere, is the proof of our transformation.















Rick Huijbregts, Vice President, Vertical Industries Cisco Canada October article called;
The Real Value of Building Information, Integration and Transformation speaks of how Collaboration and communication has been re-defined, and video and mobility are some of the key instigators. Be sure to watch the youtube on this, it is a definite head shake.
Why do I need a workspace if I can appear virtually at any location? http://www.youtube.com/watch?v=rcfNC_x0VvE
It's about the ability to create and deliver new services and business models to those that own, operate and occupy our buildings -- beyond the unimaginable. We now have the ability to design and use our buildings as if it were an iPhone. Highly esthetic, combining form and function to its highest standards, while providing a platform over which new and exciting services can be delivered. Smart and connected real estate provides ways to program and configure spaces differently in order to meet the ever changing requirements and demands of its users.
(1) Essential: Look at the essential system's controls and ensure they are the latest version offered by the manufacturer and insist on open protocols. This provides the most flexibility for future enhancements, expansion and interoperability. Additionally, utilize an IT backbone infrastructure to connect the system's controllers to their management servers. This will provide greater reliability inside the building and more importantly increased security for systems that offer remote access, not to mention elimination of unnecessary overlap of conduit, cabling, switching and other components. Modern, open systems built around a backbone infrastructure cost no more than the traditional silo approach.

(2) ROI: Evaluate the growing number of systems that might not be considered essential but can offer a compelling return on investment such as intelligent lighting, daylight harvesting, demand response, fault detection, integrated parking and others. This category makes use of the latest technologies and offers significant financial and operational efficiencies.

(3) Experience: Experience or brand support systems can be very important but are more discretionary in nature and might include digital signage for messaging, way finding and multi-media, ambient music, selected wireless services, accent lighting etc.

Now the foundational technologies and infrastructure are in place for lower CAPEX and OPEX (helping save money in operations and energy), it's time to explore the un-explored. Let the transformation begin. Please keep reading our contributions to AutomatedBuildings.com as we explore the transformation of real estate over IP-based building networks.
Marc Petock Vice President Global Marketing & Communications of Tridium, Inc. an early adopter and implementer of these concepts reminds us "The biggest challenge currently facing existing buildings in reducing energy usage is the lack of manageability for efficiency and critical information about operating systems" in his article The Niagara Framework® and Energy.
Traditional building systems are characterized by highly proprietary offerings with limited ability to connect and interoperate with each other and manage them collectively as a fully integrated system. As a result, conventional buildings suffer from the inability to communicate and intelligently manage the data that they possess and use this information to drive energy efficiencies and reduce energy costs.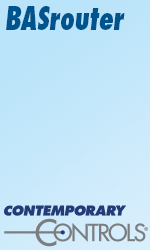 The vast majority of energy management activities are based on the financial impact they will have on the company. Today's rapidly evolving energy markets are forcing organizations to consider new ways to centrally manage the energy portfolio of the company. These two real-world conditions are causing building owners and energy managers to look for solutions to integrate and coexist with the rest of the enterprise building information network. Energy managers are looking for an Internet friendly, integration framework that bridges the gap between the business layer and the operational layer of the enterprise.
Roy Kok of Kepware Technologies tells us how a OPC Server is able to communicate with a variety of automation protocols to help create Arizona State University's energy monitoring system in his article ASU Gets Greener through Visibility
ASU takes it one large step further – they show it off to the world. http://cm.asu.edu/
Be sure to work with this demo to see how Visibility can add credibility to green while showing the world.
David Wolins, CEO, Scientific Conservation, Inc. (SCI) chimes in with "All automation systems deployed in the future will require data streams containing all available performance characteristics of a piece of equipment be made available to the customer in a highly useable format." in his article The Emergence of Proactive Building Management Automation
As we have noted in previous articles, moving building management from reacting to changes in building operations to proactively identifying potential sources of system failure and addressing these anomalies before they impact operations, is now reality. The use of diagnostics as a proactive analytical tool is now fully vetted, operational and reshaping the way facility managers perform operational duties.
Four authors sharing their visions of how they see the building transformation occurring, using several data flow vehicles to navigate the internet and present a valuable bottom blue line transformation. What is your vision of Building Transformation?
---

[Click Banner To Learn More]
[Home Page] [The Automator] [About] [Subscribe ] [Contact Us]