---
Hit Efficiency Out of the Park with Advanced Lighting Control
Toronto's Rogers Centre Achieves 56 to 79 Percent Energy Savings


Tony Marano,

President & CEO,

Encelium Technologies
Energy efficiency is potential opportunity residing in commercial building systems. If tapped, it is profit that grows annually as energy prices rise. Yet for as long as this opportunity is left untapped, it becomes more costly to implement.

In October 2009, the average cost per kilowatt-hour was approximately $0.10 for commercial buildings, 42 percent higher than the average for the year 1999. Typically the largest and least controllable load in a commercial building, lighting accounts for 20 to 40 percent of the average business' electric bill and 25 percent of an average building's total energy use (including electricity and all other fuels).

A large portion of this rising cost is avoidable. According to the Lawrence Berkeley National Laboratory, about $130 to135 billion, or 57 to 59 percent, of the some $230 billion annual cost of global lighting could be saved by using commercially available energy-efficient lighting technologies – with 25 to 40 percent of those savings achievable in the commercial sector.

Within this context, advanced lighting control provides a platform able to accomplish a broad spectrum of integrated strategies for the purpose of energy management, such as smart time scheduling, occupancy control, load shedding, daylighting control, task tuning and personal lighting control. Good systems are simple to design, install and use. They adapt to future needs and lend themselves to both retrofit and new building applications.

Considering that November is the month the sports world completes its seasonal transition from baseball to football, this is an opportune time to focus on a case study involving the implementation of advance lighting control in a high-profile stadium – namely, Rogers Centre in Toronto, Ontario.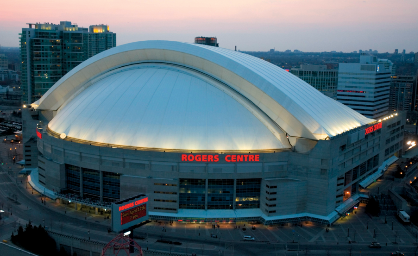 TASK: GAINING CONTROL
Rogers Centre (formerly the Skydome) is one of the world's premier sports and entertainment arenas. Since opening in 1989, it has hosted more than 2,000 events with more than 50 million visitors. Rogers Centre is home to two professional sports teams – The Toronto Blue Jays Baseball Club and The Toronto Argonauts Football Team of the Canadian Football League. From 2008 to 2012, the arena will also host eight Buffalo Bills football games.

The facility's versatility allows it to accommodate a variety of events with capacities from 5,000 to 60,000 spectators. As an arena, a domed stadium and an open air facility, it also hosts concerts, family shows, trade shows and conventions.

Entertainment and sports arenas are known for their heavy use of energy, in general, and lighting, in particular. Rogers Centre contains approximately 7,000 light fixtures distributed over a total area of 1.4 million square feet. Gaining control of that energy usage and related cost became imperative to its facility management team.

Rogers Centre tasked Encelium Technologies' engineering group with several priorities:
To reduce overall lighting energy consumption by 50 percent and deliver a simple payback from energy savings of less than five years
To provide computerized control of lighting from a central software application
To provide office staff with personal control of lighting from their desktop PC
To improve light levels and provide control in all stairways, luxury boxes, walkways, concourses and parking garage areas
To provide global control of lighting loads in order to manage peak demand
DESIGN APPROACH

Employing a customized approach, the advance lighting control system at Rogers Centre was designed to accommodate needs and usage in a number of distinct areas. For example, in the parking garage - where the lights previously had not been switched off in 18 years – it provided for occupancy sensor based switching control on a zone basis. Additionally, the eight-foot, T12, 96-watt lamps were changed out with two, four-foot T8, 32 watt lamps and electronic ballasts.

In the concourses and stairway areas, a combination of occupancy sensing and time-scheduled switching (based on building events) was employed. The existing, 175-watt metal halide fixtures were retrofitted with two, 32-watt T8 lamps and standard electronic ballasts.

All office areas and lounges were equipped with personal lighting control, time scheduling, daylight harvesting and occupancy sensing technologies. Additionally, all existing fluorescent fixtures were retrofitted with new dimming electronic ballasts. The approach in the luxury boxes involved control of lighting and television circuits by time schedule, based on Rogers Centre's scheduled events.

The project deployed a number of energy management strategies:

Personal control – Control of personal lighting space from a desktop PC
Task Tuning – Tuning light levels to suit the particular task or use in a workspace
Daylight Harvesting – Adjusting artificial light based on ambient natural light contribution
Smart Time-scheduling – Time scheduled switching based on zones as small as an individual workspace
Occupancy Control – Switching or dimming lighting based on occupancy, detected by sensors

Load shedding – Intelligent management of peak/non-peak lighting energy demand from a central control software application

The result? Rogers Centre's advance lighting control system delivered energy savings exceeding customer expectations. Savings ranged from 56 to 79 percent throughout the building, totaling approximately $303,000 annually*. The yearly reduction of 3,731,000 kWh takes enough energy off the grid to power more than 400 homes in Toronto.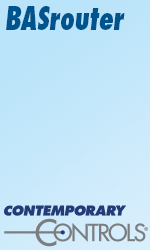 The success at Rogers Centre illustrates how advanced lighting control goes beyond conventional lighting control capability in terms of overall control, integration, capabilities, granularity and flexibility; and results in greater cost savings and overall cost effectiveness. In all cases, advanced lighting control should offer:
A choice of control method – dimming and switching – for different control tasks, enabling the full range of control strategies.
Individual control of light fixtures (via unique address), enabling greater flexibility and granularity, which allows personal dimming control and the potential for higher energy savings.
The ability to configure and reconfigure control zones as small as individual office or workspace as space needs change using software, avoiding the cost and hassle of rezoning by rewiring fixtures and controls.
Load shedding and demand response for complete demand control of typically the largest energy load in a commercial building.
Central management capability with remote access, allowing the facility operator to optimize the performance of the entire building (or campus) control system via software installed at a single work station.
Easy integration and data sharing with building automation and other building systems.

Energy reporting that can be used for management, department billing, benchmarking and measurement and verification purposes.
Ultimately, advanced lighting control systems must provide flexibility to continuously integrate new, powerful innovations. When it comes to stadiums and other commercial buildings, which take years to build and then continue to operate for decades, that type of versatility is essential in the ongoing quest for energy efficiency.

*Toronto Hydro Energy Services was contracted by Rogers Centre to undertake a Measurement and Verification (M&V) program to verify energy savings resulting from the lighting retrofit program. Pre- and post- construction measurements of energy use and power draw (demand) were taken and compared. Current data loggers were used to provide a means of verifying all lighting control strategies. Spot measurements of power, voltage, current and power factor were taken using an Elcontrol NanoVip Plus Power and Harmonic Analyzer. Trending data was logged using ACR Systems Smart Reader 3 Current data loggers.

---
About the Author

Tony Marano is president and chief executive officer of Encelium Technologies, a technology development company specializing in integrated lighting control systems for commercial buildings. He joined Encelium in 2009; the company has posted a nearly 100 percent annual sales increase in the last two years. Headquartered in Teaneck, N.J., the firm has additional operations in Canada and Europe. Previously, Marano was the chief executive officer of the Americas for Cushman & Wakefield in New York and had also served as that company's global chief operating officer. Prior to that, he was vice president of the business services division at Lucent Technologies as well as the vice president of global real estate for Lucent after its spinoff from AT&T.


---


[Click Banner To Learn More]
[Home Page] [The Automator] [About] [Subscribe ] [Contact Us]