---

EMAIL INTERVIEW – Brian Patterson and Ken Sinclair
Brian Patterson, Chairman, The EMerge Alliance
The EMerge Alliance is a 501c non-profit corporation established to create standards and promote the rapid adoption of safe, low-voltage DC power distribution and use in commercial buildings. The Alliance is a member funded organization focused on developing open standards that integrate infrastructures, power, controls and a wide variety of devices in a common hybrid AC-DC microgrid platform. Brian is also General Manager of Business Development for the Building Products Division of Armstrong World Industries, one of the original founders of the Alliance.
---
EMerge Alliance Update
We continue to make progress toward the vision of DC power throughout buildings.
Sinclair: What has the EMerge Alliance been up to recently?


Patterson: The Alliance participated in the GreenBuild International Conference & Expo in Toronto, Oct. 4-7. The booth (#4739S) illustrated the first multi-level DC power demonstration ever to illustrate the hybrid AC-DC power concept for a building. The display featured a DC ceiling cloud demo market-available products as well as DC-powered desktop concepts for commercial interior type spaces. It also highlighted a DC data center application that provided a side-by-side look at the benefits of using DC versus AC to power an Intel server by minimizing typical conversion losses. The display also showed how DC power can be incorporated outside buildings with on-site solar panels and electric vehicle charging. A total of 16 EMerge Alliance members exhibited in Toronto.

Sinclair: What milestones have you achieved since your launch in 2008?

Patterson: The Alliance completed its standard for the occupied space, which calls for using 24VDC at the user interface and has since registered 42 products that are now commercially available to support this EMerge Alliance Standard. We established another technical committee to develop a DC standard for data and telecommunication centers, which will call for using 380VDC as its main distribution voltage. Alliance members have helped to deploy more than 15 demonstration sites across the country incorporating DC applications for interiors and data centers, and EMerge Alliance registered products are now being specified and used in commercial interior projects. We continue to make progress toward the vision of DC power throughout buildings.

Sinclair: What does your membership look like today?

Patterson: Now more than 80 members strong, the EMerge Alliance represents a broad spectrum of the commercial and green building industry, including product manufacturers, architects, building owners and developers, lighting designers and engineering firms, environmental consultants, utilities, other codes and standards bodies, government agencies and related academic and industry groups.


Since our launch, we've added three membership tiers (Liaison, Corresponding and General Members), as well as an Advisory Council made up of 13 individual industry experts and representatives. From Intel, ABB, Juniper Networks, Emerson and GE Energy, to Underwriters Laboratories, university centers and NEMA, our membership continues to grow in support of DC power for greener buildings.

Sinclair: Why should commercial buildings be interested in adopting DC power distribution instead of relying solely on AC power? What does the level of interest look like today in this area?

Patterson: Today commercial buildings use between 33-50% of all AC electricity produced and distributed by public utilities in the U.S.

These same buildings also use a majority of digital electronic devices that are inherently DC powered. This means that most AC power must be converted to DC at the device level to power equipment like electronic lighting ballasts, solid state lighting (i.e. LEDs), lighting sensors and controls, HVAC controls, variable frequency drives and actuators, and assorted computer/IT equipment.

The increasing amount of native DC power generated from renewable energy sources like solar or wind must also be converted to AC electricity to be compatible with existing AC distribution methods.

These conversions, in both directions, result in significant losses of electricity and associated wasted energy. They also add to the complexity and reduced reliability of the overall electrical system.

Efforts to create a Smart Grid need "smarter buildings" that use more adaptable power infrastructures that can minimize these conversion losses and make measuring and controlling power easier to help reduce the overall load on our nation's energy resources, and make the use of alternate clean energy generation more likely.

The answer is the hybrid use of DC power distribution, and we believe that ongoing and increasing demand for improved reliability and energy efficiency across all areas of commercial buildings provides the need for our broad platform.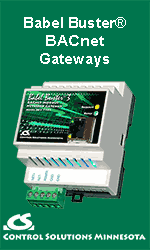 Sinclair: What are some particular areas of interest and opportunity with DC power distribution?

Patterson: We are particularly seeing interest and opportunities for DC power distribution in the nearest term in the following three areas:
Lighting Applications:
In a DC power system, LEDs and new energy efficient fluorescent lighting technologies can gain even greater efficiency (approximately 5-15%) with increased upgradeability and return on investment for users.
Data Centers:
A study by the Electric Power Research Institute (EPRI) of a DC power system at a Duke Energy data center in Charlotte, North Carolina, found that the DC system used 15% less electricity than the existing AC power system. Total energy savings in small to mid-sized data and telecommunications centers are estimated to reach from 10-30%. Other benefits of DC in data centers include improved power quality, reduced cooling needs, higher equipment densities, improved reliability and more efficient integration of renewable energy.
On-Site Renewable Energy
: By facilitating the integration of on-site DC generation sources, such as solar photovoltaics, and other renewable alternative sources, DC power distribution can help achieve net zero energy buildings from cleaner energy sources.
Sinclair: What are your next steps in fulfilling your vision for DC power throughout a building?

Patterson: Near term, the Alliance is focused on completing the data/telecom center standard and registering products for data and telecommunications centers, and then incorporating standards for outdoor applications, which include electric vehicle charger interfaces and building services, to achieve DC power throughout buildings.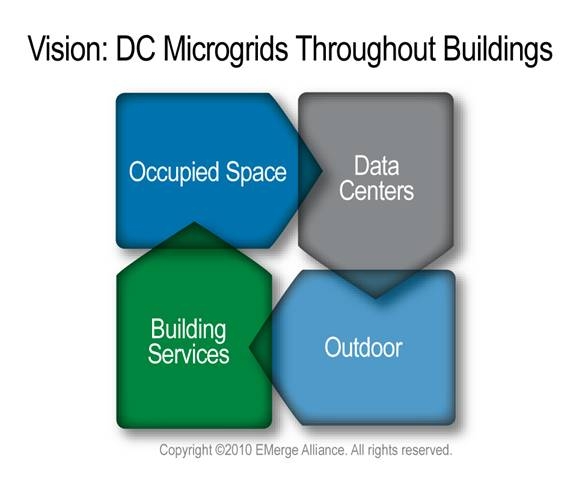 ---


[Click Banner To Learn More]
[Home Page] [The Automator] [About] [Subscribe ] [Contact Us]