---
System Integration for Energy Efficiency

Comprehensive building automation system (BAS) and energy management solutions help reduce energy, operational, and maintenance costs by up to 60% while optimizing occupant comfort and property value.

Dr. -Ing. Gert Ulrich Vack

General Manager

and Einat Shlomiuk

Product Manager

SysMik GmbH
Buildings' Effect on Energy Efficiency – Introduction

We all know that energy demands are increasing dramatically while energy resources remain limited, making costs grow steadily higher. Along with increasing energy demand, environment pollution is spreading around the world and already showing its deadly effect. Not everyone is aware that buildings account for 41% of primary energy consumption, of which 85% is used for room heating and cooling as well as 15% for electrical energy, in particular lighting (source: Siemens, Building automation – impact on energy efficiency). That amounts to a significant portion of energy global usage. Reducing these costs can play a major role in reducing pollution levels around the globe, and huge expenses reduction.

Comprehensive building automation system (BAS) and energy management solutions help reduce energy, operational, and maintenance costs by up to 60% while optimizing occupant comfort and property value. Building automation has an ever growing universal market which is estimated to top $36 Billion in 2015.
Along with the growth in the market, control solutions have also evolved rapidly the last decade.

The Evolution of Building Control Automation

A review of the development this field has been gone through the past decades shows the following picture:
Traditional BAS methodology comprise of several separately engineered stand-alone and control systems; HVAC, Lighting, Access control, fire alarm – are all separated from each other and work in parallel.
Proprietary protocols and vendor specific management systems are often applied, which results in data isolation between the different systems when each system is accessible only to its limited set of data.
Enterprise systems enter the market to collect data from the different control sub-systems and combine it together; however, data is collected only on a high level without enabling real data integration between the systems below. There is no real integration in the system.
Standardized open protocols such as LonMark and BACnet are successfully established, enabling for the first time data interfacing across different systems, in an open environment.
Room automation is being developed, offering smart and modern environment for building occupants. All environments' aspects including HVAC, Lighting control, access control and fire alarm, can be controlled and automated in light of presence detection, weather and temperature data.
Analytics software is entering the field, offering data analysis for failure detection, possible malfunctions and efficiency improvements; however, the operative data is being collected only "post mortem", long after the system was designed, built and implemented. At this point the architecture and components of the system are already fixed, and it requires great work to be modified.
Analytic systems can achieve a huge value by cutting energy costs while maximizing energy efficiency; however, optimal analytics require comprehensive data from all around the building – down to the lowest level of the room. Analytics require big data in order to provide fault detection and predict possible future problems, and as a top level add-on to an existing system, its capabilities are limited.
Today, it is clear that the highest level of energy efficiency requires a fully integrated and networked BAS, which is designed from the start to be networked all the way down to room level. As the technology and experience we have today open possibilities we never had before, seamless BAS integration is available and affordable. This, along with analytic capabilities and user friendly interface, make energy efficiency easy and quicker than ever and our environment greener and healthier.

The Future is here: Today's Building Automation Best Practices
The experience accumulated around the world along with major technological breakthroughs in this field, combine together and offer today highly advanced methodology and practices for design and construction of control automation systems.
An ideal automation system, which would provide the highest level of energy efficiency, shall follow these guidelines:
Full and real data analysis process – Data collected and analyzed in full, allowing seeing the big picture in one snapshot and discovering gaps and inefficiencies across the board on a timely manner.
Maximal energy efficiency – Data is shared between all sensors, controllers and actuators in the facility, allowing maximal energy sustainability and reuse of resources.
A great example for successful macro integration would be the 54 floors, 4.09 million sq. ft. Mori Tower in Tokyo, Japan. In this project's design, an emphasis was put on open system employment and full integration. The building's system points total more than 368,000, with 64 projects included into one common runtime database. Mori's initial estimates for energy savings attributed to the LonWorks based air conditioning system of 16,500 intelligent devices are over 20% per year. (Source: Schneider Electric and Business Wire).
Another success story would be the Ministry of Justice and Internal Affairs building in The Hague, The Netherlands, of 41 floors and 1.42 million sq. ft. In this impressive project, Celsius Benelux, a leading system integrator in the Netherlands, implemented the ComfortKey® system, which included Tridium JACE controller on the floor levels and SysMik's ICS controller on the room level. These ICS controlled 60,000 light devices as well as floor and water heating and cooling, sun-blinds and is also connected to Distech VAV controllers. The building's energy consumption is considered highly efficient and its maintenance costs are significantly low. The combined control of floor and water heating and cooling is a significant efficiency factor.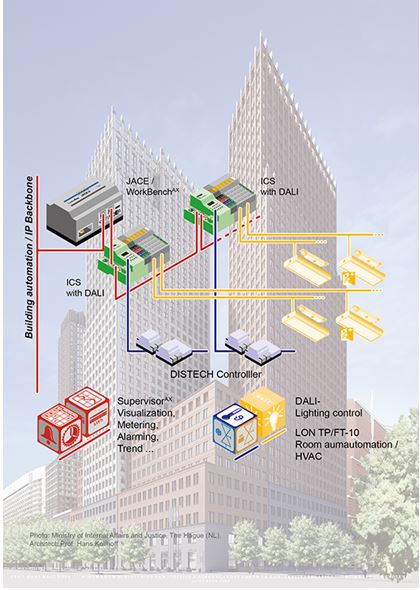 Figure 1: System Architecture, The Ministry of Justice and Internal Affairs building in The Hague

A popular implementation of room automation includes programming of HVAC and Lighting systems to turn on only in case of room occupancy, thus saving energy costs and extending the equipment life span.
Overall flexibility

: The control structure shall be decentralized in order to react flexibly to the specific requirements of the lowest level – the room level.

Room shall be handled as a singular entity, while its control is done locally based on sensors data and distinct requirements.
Supervisory functions for scheduling, trend logging and alarming shall be performed on the floor level, enabling local flexibility while allowing a higher viewpoint on a larger scale of requirements.
A perfect implementation of such a format can be seen in Berlin, Germany. Telekom Innovation Laboratories' building has been using the smart room and desk space booking LiteDesk system, which enables scheduling rooms for employees and configuring those rooms in advanced according to the occupant's preference of temperature and light. User's configurations are loaded automatically via oBIX based interface of the room automation and the booking system. The rooms are controlled by BACnet ICS controllers, via DALI sub networks. The central monitoring is done using Tridium's JACE via NiLS (Niagara Lighting Solution) protocol.

BMS level analytics

: The data collected from the entire facility shall be collected in a single advanced database, and analyzed by advanced algorithms; their goal is failure detection, beginning from the lowest scale of sensors and initiators. Based on such data system can be evaluated, improved and better maintained, saving millions of dollars.
An ideal BMS system will be designed based on open systems, will be fully integrated and cover all systems in the facility, will be networked, go all the way down to room level and will use the data for analytics and fault detection.

The value of such a system is huge: Research shows that room automation saves an average around 30% and more in energy expenses.

Return on Investment (ROI) using control automation systems varies from 1 to 7 years. The range is wide, depending on various factors, namely how deep is the system integrated. The deeper the control automation goes into the building down to room level, the more money is saved hence the ROI is achieved quicker.

Other returns take the form of increase in property value. Energy savings can be worth 10 times their annual value for potential buyers. An automated environment offers extreme comfort and less maintenance costs and hassle. In addition, lighting and HVAC systems are only used when needed, extending their life span and reducing maintenance costs.
Networked infrastructure for Analytics
Networked infrastructure in a decentralized architecture down to the room level side by side with powerful analytics capabilities are the ideal combination for every building automation system, of any scale, resulting with huge amounts of expenses cut and maximal energy efficiency.

The European example

The European Union has issued the mandatory "Energy Performance of Buildings Directive (EPBD)", which establishes a set of required measures for the promotion of energy efficiency in all new buildings. The directive's goal is to ensure the achievement of the Union's 2020 20 % headline target for 20% energy usage reduction.

The European Committee for Standardization issued "EN 15232 Standard: Energy Performance of Buildings – Impact of Building Automation, Controls, and Building Management" for use in conjunction with the EPBD. It defines conventions and methods for calculating the impact of building control automation on the energy performance of building, and classifies buildings on a scale from A-D. Class A is the most efficient class, which requires a fully networked control automation system and encompasses the need for demand response automation.
eu.bac – the European Building Automation and Controls Association defined an evaluation procedure for buildings which includes a checklist of factors, assessing how deeply the automation functionality is implemented in the building for better comfort and energy efficiency. Using this procedure, a building control system is classified as between A and C levels.

European integrators often use KPIs (key performance indicators) evaluation, to monitor which level of energy efficiency is reached in the building and how is it being improved.
In general, across Europe open standardized protocols and optimized functions in networked control systems are gaining great success and being broadly implemented.

The efficiency potential of fully integrated, networked and decentralized systems, along with the new Analytics technologies is amazing. Such methodology shall be used starting from the system's design, to achieve the best results and quickest return on investment.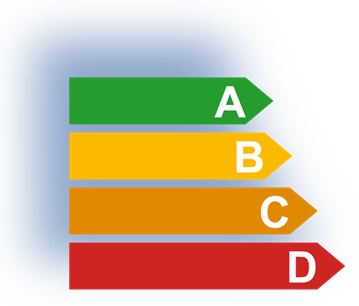 Figure 2: Energy Efficiency Labeling

Niagara AX with Sedona for Ideal Networked Infrastructure
Once reviewing the concept of system distribution and integration and their high value to building automation systems, it is easy to see why Niagara AX framework and Sedona programmable devices form the ideal solution for automated Control systems.
Using Niagara AX platform on top of field level Sedona controllers along with LonMark and BACnet enables true seamless integration of all control automation aspects of the room, floor, area, and building and Facility levels, while encompassing all building data and functions under one single system. In the case of using Niagara AX with Sedona – the entire project can be done using one single tool.
Niagara AX provides a unified development platform allowing integrating and programming networked products and software applications for controlling and automating programmable devices throughout an enterprise. The core concept of Niagara is transforming data from diverse external systems into uniform software components. These components form the foundation for building applications to manage and control the devices, across all layers of the device-to-enterprise solution stack.
Using one tool only, the Workbench AX, the entire system – from room / field level, through floor / management level, up to building / enterprise level - is being controlled and automated. The diverse protocols used for devices' communication are transparent: once connected to Niagara AX all data points are being treated and displayed equally, and can be linked to each other and easily managed.
Data from all levels of operation is being collected by the Niagara AX framework, allowing sophisticated analysis of the system's performance at real time. The data is collected in the cloud and can be managed everywhere, as the system at all levels of operation is fully web-enabled.

Sedona devices are the perfect solution for covering field level control, while seamlessly integrating into the Niagara AX system; they originate from the same stem, and are being programmed freely using the same tool used for Niagara AX. A project that begins with Sedona field controllers, Niagara AX floor and building controllers and on top of all one unified Niagara AX software covers the entire range of the building control management functions, using one single tool.

Figure 3: Structure model for a fully networked and integrated BSC
Conclusion - The Future of Automated Buildings is here

Across Europe, distributed automation from room level up to enterprise level is already widely standardized and being implemented throughout the continent. Organizations and system integrators already benefit the many values of a networked decentralized system for greatly improving energy efficiency, reducing maintenance and training costs and maximizing occupants comfort.
Using the Niagara AX framework, automation control down to room level is simpler than ever, and it is easy to build a system of smart devices that seamlessly integrate with each other. Data can be easily collected, processed and analyzed, allowing avoiding issues before they even happen, and reaching a great level of energy efficiency.

Today we have everything we need available for us: Advanced technologies, open protocols, excellent devices and breakthrough software. Let's integrate all those components together and build systems the right way to save lots of money, maximize our efficiency, optimize occupants comfort and make the world a greener place. Let's do it!

About SysMik
SysMik® Germany is a leading provider of control products and a pioneer of open systems since their inception. SysMik is Tridium's partner in Germany, and also offers training and system integration services. "Intesa", integrated server architecture, is our scalable solution suite for M2M and control applications; based upon the Niagara AX and Sedona frameworks, and open protocols such as LonWorks, BACnet, and web services. Our products answer the challenges of cost efficiency, flexibility, openness, and standardization in infrastructure und building automation and for distributed facilities.



---


[Click Banner To Learn More]
[Home Page] [The Automator] [About] [Subscribe ] [Contact Us]