---
Armin Anders,
Head of Product Marketing
EnOcean GmbH
Germany

This is a question which systems integrators, electrical installation planners and even architects and private house builders are having to consider more and more often. There are many aspects to bear in mind, and the decision is complicated by the wide range of systems on offer and the large number of relevant performance parameters. This article looks at a selection of radio technologies and considers the most important performance parameters – What are the key factors to watch out for?
A systematic analysis of individual requirements regarding the performance, costs and flexibility of the desired radio system quickly narrows down the choice. Let's take a closer look at this decision-making process.











DECISION 1:
LARGE OR SMALL DATA VOLUMES?
Do you want to transmit moving images by radio, link up computers wirelessly or operate your printer without cables? If so, you need a radio system with a high data rate which can transmit large volumes of data in a short time. This level of performance is achieved by the radio standards WLAN or Bluetooth - but they do require a lot of power. This means that they are not suitable for battery operation over longer periods.
However, most automation functions only require brief radio transfers of small amounts of information. Switching lights and equipment on and off, operating blinds, and in particular transmitting information from radio sensors such as climate control detectors, position sensors or smoke detectors all fall into this category. If you wish to implement applications like these, you have another decision to make to further narrow down your choice of technologies.
DECISION 2:
WHAT ENVIRONMENT?
This is a vital point when it comes to ensuring reliability of radio transmission. Radio data sent out simultaneously by several transmitters situated near a receiver will "collide", and cannot be evaluated by the receiver. This causes relatively few problems in a detached residential property because the radio channel is only used by a fairly small number of radio sensors and radio switches, so it is never overloaded. Proprietary battery-operated radio solutions offered by various installation technology manufacturers will work sufficiently well here, in spite of their relatively low data rates which makes the transmissions prone to collision. However, the situation is quite different in larger buildings. Here, there may be many radio components in a small space. It is therefore vital to select a radio system which is properly able to cope with this risk. A low-cost method of preventing unwanted data collision is to keep radio transmissions very short by increasing the data rate used for transmission. The "ZigBee" standard is a step in this direction.
DECISION 3:
IS ZERO-MAINTENANCE IMPORTANT?
If the maintenance input associated with changing batteries in radio sensors and radio switches is a disadvantage, battery-less systems are also available. EnOcean GmbH is currently the only technology provider for such products. The technology has been developed on the basis of practical experience with existing radio systems. It is well worth taking a closer look at the specific features of this radio system.
ENERGY REQUIREMENTS
The radio protocol requires just 0.12 µWs to reliably transmit 1 bit of data over 300 m (of open space). An EnOcean radio switch requires 50 µWs of energy for a complete radio command. Both these values are extremely low – around 100 times lower than standard battery-operated radio switches. This fact is the basis to realise wireless sensors driven by ambient energy: the single button press, light energy scavenged by small solar cells or temperature differences of 3K generate enough energy to operate maintenance free products.
TRANSMISSION RELIABILITY
The extremely short telegrams (one switch telegram lasts just 0.5 milliseconds) and an intelligent strategy of repeating each transmission step several times ensure excellent collision-resistance and provide protection from sporadic and periodic radio interference. Thus, over 99.9% of the signals sent by up to 500 EnOcean transmitters installed in close proximity to one another and each transmitting once a minute are actually received.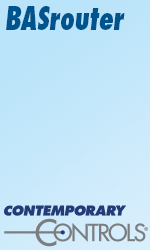 SCALABILITY AND RADIO TOPOLOGIES
The EnOcean telegram structure is very flexible and can be extended in terms of data structure, data volume, encryption procedures, frequency bands and modulation methods. In addition to the uni-directional switches and sensors, bi-directional EnOcean modules support more complex radio topologies including intelligent sensor systems such as star/mesh networks.
INTEROPERABILITY
The ever-expanding community of users of EnOcean radio technology has already created a wide range of compatible radio components. This means that products from different manufacturers can operate together via the radio interface. For example, signals from radio switches produced by PEHA, Bticino or Omnio, room thermostats made by Thermokon can be received and processed by radio receivers from WAGO, Beckhoff, Wieland, Phoenix Contact and Zumtobel so they are understood by the relevant bus system.
CONCLUSION
No radio system can fulfil all of the different requirements equally well. The WLAN and Bluetooth radio standards are suitable for applications with high data volumes. Controlling building functions or transmitting sensor data opens up the possibility of using wireless sensors or switches. However, in functional buildings it is not acceptable to have to maintain battery-operated devices. Here, maintenance-free systems based on the EnOcean radio system can also be created for large buildings where numerous radio devices are installed.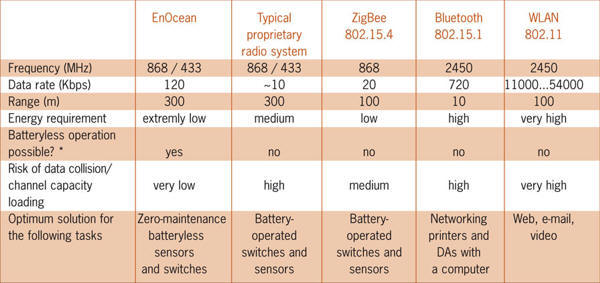 * Feasibility of implementation was evaluated as involving a small additional cost compared to battery systems.
---


[Click Banner To Learn More]
[Home Page] [The Automator] [About] [Subscribe ] [Contact Us]