---
| | |
| --- | --- |
| Do You Understand the ABC's of the OSI Model? | Ken Sinclair |
From an article called Do You Understand the ABC's of the OSI Model? by Dan Dunkel - President, New Era Associates, I extracted these statements
http://www.neweraassociates.com/html/research_art_01.htm











At the foundation is the OSI model. It is the Holy Grail of all things networking. Developed in 1984 by the International Organization for Standardization (ISO), a global federation of national standards organizations representing approximately 130 countries, it basically provides a standard for data communications. The core of this standard is the OSI Reference Model, a set of seven layers that define the different stages that data must go through to travel from one device to another over a network. If this model is news to you as a security integrator your convergence business is at risk.
I don't mean to be an alarmist but far too many physical security integrators and manufacturers still don't GET IT! The IT vendors are basing their competitive selling strategy around IP networking standards, an area where many physical security integrators and manufacturers are weak. It is also important to realize that the "five years" many of you think it will take for security convergence to gain traction is two product lifetimes for the IT competitors most of you still don't realize you have.
Take a simple networking test. Google the OSI Model and download the picture of the "pyramid" model. Distribute it to your technical staff and ask them to explain what it means. If they ask you what it is you have two choices; (1) find a buyer for your business, or (2) sign a partner agreement with an IT integrator. The good news is they need your physical security knowledge as much as you need IP networking skills. The bad news is they only need 20% of your industry to partner with. IT already has a worldwide sales channel and the Fortune 500 customer relationships.
So I did it. I took the simple networking test and Googled the OSI model, although I was not able to locate the "pyramid" model I got this which is very clear on the rules of the game. Because some of our industry's integrators and manufacturers still don't GET IT! I think Dan's message is cardinal.
http://computing-dictionary.thefreedictionary.com/Seven-layer+OSI+model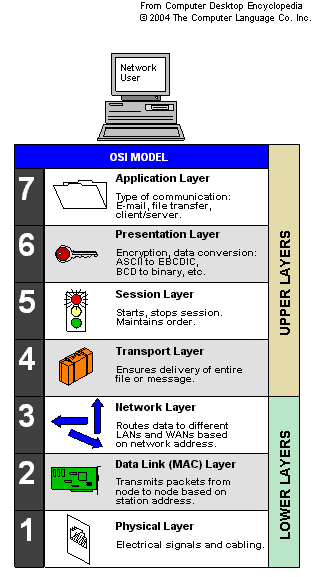 ---

[Click Banner To Learn More]
[Home Page] [The Automator] [About] [Subscribe ] [Contact Us]