---
EMAIL INTERVIEW Trevor Palmer & Ken Sinclair
---
New Products from Viconics Inc./BETA Partner Program
Essentially we have enhanced the VT7000 series communicating thermostats with new features and applications.











Sinclair: I see the Viconics product development team has been hard at work again.
Palmer: Indeed Ken, Viconics is getting ready to launch a plethora of advanced application specific controllers once again.
Sinclair: What are some of these products?
Palmer: Essentially we have enhanced the VT7000 series communicating thermostats with new features and applications. All of these new features and models have been tailored for the most used mechanical equipment, some of which have become more relevant over the past couple of years, such as combined temperature and humidity, IAQ in general, passive occupancy and of course a new wireless Zigbee product line.
Sinclair: When will these new products be available?
Palmer: Ken, naturally we are not launching all of the products at once, but rather using a new program to assist in the product development cycle we have recently launched.
Sinclair: Tell me about this new product development program?
Palmer: Ken, we have recently launched an online, Viconics BETA product program. This program allows interested contactors or manufactures familiar with our legacy product lines to sign-up and have exclusive access to pre-released products that will hit the market shortly.
Sinclair: Are all of these products fully tested and suitable for field installation?
Palmer: Of course, as in the past, these products are 100% tested prior to leaving the factory.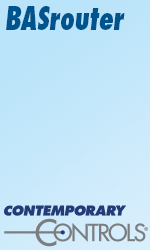 Sinclair: What is the principal purpose behind the program?
Palmer: Well Ken, as with other Viconics products, our latest additions have been designed with the contractor in mind. We need this valuable feedback for immediate, or future product features. We believe in satisfying the industry need for innovation, if itís possible we will incorporate these upgrades prior to product family release.
Sinclair: How do you get this information?
Palmer: Ken, thatís the great part, all of this information exchange is done online as to not take valuable time away from the customer. Forms, signup and feedback are all done using an online surveying system.
Sinclair: Where do interested potential partners go for additional information?
Palmer: Simply drop by the Viconics website and sign up at (http://www.viconics.com/beta_home.htm) for additional information or preliminary product details.
---


[Click Banner To Learn More]
[Home Page] [The Automator] [About] [Subscribe ] [Contact Us]