---

The mix is designed to plumb the depths of todayís intelligent buildings opportunities and challenges, with an eye toward making the most of energy and power management techniques in the real world today and a finger on the pulse of whatís coming down the pike for tomorrow.

Robert Beverly, Editor
Engineered Systems Magazine
Itís hard to know where to start talking about the value in the Fall Building Automation Conference, set for September 12-13 in San Diego, hosted by Engineered Systems and Energy & Power Management. Letís consider a few options, shall we?











We could start with some sponsors Ė Elodrive, Onicon, MAMAC Systems, Tridium, Trane. Conferences are every now and then, but of course these companies keep their eye on what works (and what will work) on a daily basis. Include endorsing entities -- like this fine publication, BACnet International, CABA, LonMark International, OASIS, and ZigBee Alliance -- and you have a whole lot of smart people recommending the two-day event as a good way to prepare you for the future.
We could start with San Diego, where the city is interesting and the weather is always nice. While the default definition of ďindustry eventĒ for many of us is shuffling to and from McCormack Place amid single-digit temperatures, thereís no law against having a productive work trip without losing the feeling in your toes, is there?
We could start with the speakers, where the lineup has built upon the great assortment of presenters and panelists that made our March conference in Baltimore such a success. Regular ES author and Building Intelligence Group founder Paul Ehrlich is again orchestrating and lending his insights. Our popular commissioning columnist Rebecca Ellis, founder of Questions & Solutions Engineering, Inc., has also agreed to come back and lead what will surely be more enlightening discussion.
Beyond those familiar names, the roster boasts experts from some of todayís best controls companies. In addition, this San Diego event brings in leaders from the commercial real estate and energy/utility sectors, such as Realcommís Jim Young, Tim Honeycutt of GridLogix, David Berndt of Southern California Edison, Ciscoís Dave Clute, and ES editorial advisor Jack Mc Gowan of Energy Control, Inc.
Combine their expertise with newcomers such as IDSí Bill Gnerre on enterprise software, our friend Keith Gipson of Impact Facility Solutions, and EYP Mission Critical Facilitiesí Bruce Myatt, and we can just about light the room with brainpower alone!
Cerebral alternative energy aside, you can see the mix is designed to plumb the depths of todayís intelligent buildings opportunities and challenges, with an eye toward making the most of energy and power management techniques in the real world today and a finger on the pulse of whatís coming down the pike for tomorrow.
We could start with the basic topics the conference will cover Ė wireless technology, design and specification, internet technology, system commissioning and operations, open standards, enterprise management systems integration, energy and comfort, and best practices. Sure, thatís a lot of ground to cover. But the two-track approach will let you emphasize the sessions that mean the most to you, while the manageable size of the event, the networking opportunities, and take-home reference CD-ROM will let you catch up on anything good you might have missed in the other track.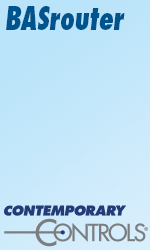 Or we could start with the other attendees themselves. What really made the Baltimore conference shine was the frank exchange of perspectives and problems among those in the room. Iím not just talking about the networking reception and meals, which can be professionally valuable in a whole other way. Iím talking about the lively Q&A in the sessions themselves, where prepared remarks gave way to real dialogue about concerns in the field, expert opinions on various solutions, and a comfortable environment where all felt welcome to throw their two cents into the conversation. Itís an enriching environment that you certainly donít get at every seminar; itís hard to put a price on the collective knowledge and experience that can get tossed around in situations like that.
But really, we should probably start with you. If youíre reading this site, perhaps you are in the automation business yourself as a designer or manufacturer, in which case San Diego is a great chance to tap the minds of facilities professionals who are interested enough to come to this kind of event. Or maybe you are an owner or manager, ready to hear the latest from industry experts and compare notes with your colleagues. Or you could be a developer or IT professional, trying to stay on top of how todayís market can juggle budget with technological opportunity.
Whichever sounds the most like you, one thing is for sure: you know that if you embrace it in ways that make sense for your particular circumstances, todayís enterprise or automation technology can save a lot of money and generate additional revenue for intelligent buildings in the years to come. Thatís the bottom line, and although we just figured out where to start, this is the bottom line, too. Visit www.bnpevents.com/ES/BAC and register to join us today!
---


[Click Banner To Learn More]
[Home Page] [The Automator] [About] [Subscribe ] [Contact Us]