---
Today's BIM and FM forecast:

Cloudy with a chance of models

Marty Chobot,
VP of BIM Initiatives,
FM:Systems
"I get the handover package three to six months after the building is done. Then it takes me about a year to wade through it to get the information I need."
Sound familiar? If you're a facility professional, it's the typical drill for dealing with the information you get from a building project.

The good news is that building information modeling, or BIM, is helping architecture, engineering and construction firms (AEC firms) and their clients radically change the management of building information throughout the lifecycle of the project and the building.

BIM for Design and Construction
Over the past few years, AEC firms have shown the value of BIM in design and construction. It helps architects better communicate design intent to reduce miscommunication and costly Requests for Information (RFIs). It helps engineers improve the design of building systems to optimize performance and reduce building energy costs. It helps contractors coordinate the efforts of the various subcontractors to find "clashes" in the model and reduce costly change orders from issues discovered in the field. At the end of the day, these benefits can deliver substantial savings for both the project team and the building owner.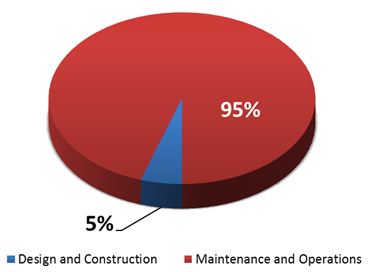 But, while building owners commit significant capital to new construction projects, did you realize that the first costs of a building are only a fraction of the lifecycle cost for the property? According to the International Journal of Facility Management, design and construction costs account for just 5-10% of the full lifecycle cost of a building. What's more, real estate and facilities costs typically represent the second largest expense for most organizations (behind personnel).

If we do the math, a building that costs $40 million to build could take as much as $800 million to maintain and operate over the course of its useful life. A problem of this scale means that even small improvements in the maintenance and operation of buildings can add up to millions saved over the lifecycle of the building.

Announcing FM:BIM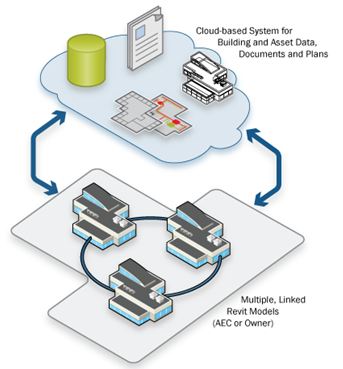 FM:BIM is a Cloud-based system that uses BIM data to improve communication between stakeholders as a project evolves. AEC firms can publish information and graphics from their Revit models to a secure, easy-to-use Web site. This provides an opportunity for architects, engineers, contractors and facility managers to share building information during initial design and construction, building operations, and renovation or retrofit projects.

Manage space and prepare for occupancy
Facility managers can build a detailed and accurate space inventory based on the AEC firms' BIM models. This data helps building owners make more efficient use of their real estate - significantly reducing costs.
How does FM:BIM help?

Space Classification: Planners classify space to understand how it's used – identifying areas for personnel, meeting space, circulation, etc. An example of how planners use space types to optimize space is looking at ratios of support to personnel space to benchmark their facilities. FM:BIM lets the owner's management team and architects or interior designers work together to classify space.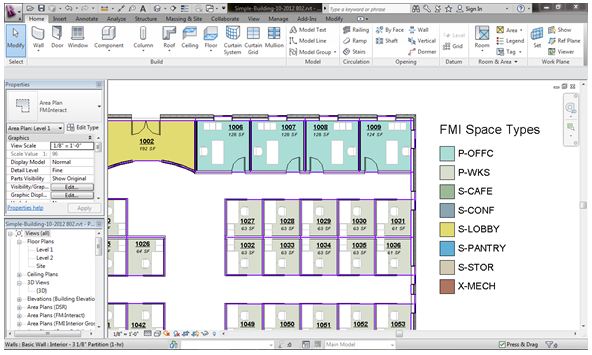 Space Standards: Planners use space standards to ensure occupants get the right space for their job function and to simplify configuration. One organization realized that, with a high percentage of contract workers in their buildings population, they could eliminate much of the filing and other desk space typically provided. Contract workers simply needed a place to sit with their laptops and coffee. By creating a new space standard with higher density, the facilities team was able to defer construction of a new building on campus – avoiding a $40 million capital expenditure. FM:BIM let you define and track space standards in Revit and in the FM:BIM web site.
Area Measurement Standards: Accurate and consistent area measurement is a key foundation of good space planning. For example, without good area measurement, analysis of occupant density is impossible. Understand the area measurement rules for the standard your client uses (BOMA, IFMA, FICM, RICS, etc.) and model rooms and areas accordingly. FM:BIM uses the detailed area data in the model to help owners create accurate area measurements.
Building Visualization: Once the room and area information is gathered from the model, anyone on the project team can use FM:BIM to find and analyze space data. Space management reports support detailed analysis; color-coded floor plans help the team visualize space types, standards and more.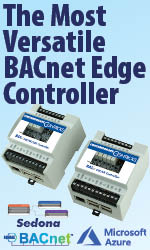 Manage and maintain building equipment
Facilities professionals can populate maintenance management systems with building equipment data from the models. One of the most costly aspects of maintenance management systems is keeping an accurate inventory of equipment. Integration with the model can help the facility maintenance team avoid this costly and time-consuming step.
There are a number of ways FM:BIM can help support operations and maintenance:
Asset Attributes and Data: The information needs of maintenance professionals are different from the information needs of design engineers. Engineers designing a system typically are concerned with the operating characteristics of the equipment and the overall performance of the building systems. For example, an engineer will model an air handler with certain air flow or other performance characteristics but a maintenance professional also needs to know the product manufacturer, model number, installation date, warranty expiration date and recommended maintenance schedules. FM:BIM lets project team members work with their clients to understand what systems and equipment they need to track and the key attributes for each type of equipment.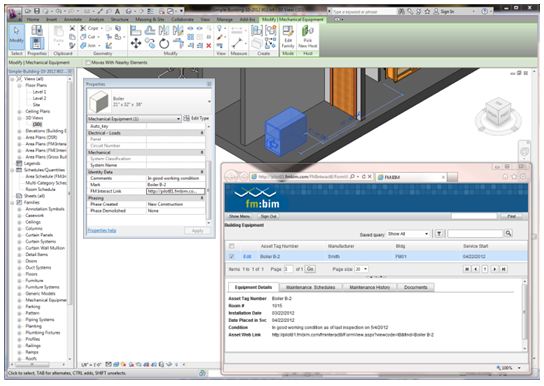 Links to Related Documents: Almost every piece of equipment has a library of documents associated with it. These documents are important reference points for O&M professionals, but providing them doesn't fully address the handover problem. Many documents such as installation manuals, specifications, and operating guides are easily available via the Web. FM:BIM lets you upload these critical documents into the FM:BIM web site so both AEC professionals and building owners will be able to easily find and access any necessary details. In this way, your BIM model becomes a hub of information that connects to a wide range of information.
Equipment Naming Standards: If you want to make the handoff process truly seamless, work with the building owner to understand their asset classification and tagging standards. By adopting the client's standards earlier in the process, information from a wide range of systems can be more readily joined together and, ultimately, the information in your models will be easier to integrate with their existing data. FM:BIM lets the facility professional check key asset information like naming standards during design and construction to ensure that BIM data will flow smoothly into their maintenance management system.
View floor plans from BIM models
Everyone in the building owner's organization can view color-coded floor plans published from your models in a Web browser. Visualizing space and facility data helps clients better understand how they are utilizing space and quickly locate building equipment. It also helps facility professionals communicate and share facility information with management and occupants.


---


[Click Banner To Learn More]
[Home Page] [The Automator] [About] [Subscribe ] [Contact Us]