---
Integrating Asset Management and Analytics Delivers Smarter Buildings

A smart building is a high functioning building where technology and human interface combine data and actions to keep occupants and building owners comfortable and productive.


John Petze,

Principal,

SkyFoundry

Harshad Shah

President

Eagle Technology, Inc.
There are many terms that float around that don't have a clear definition, and one of those terms is "Smart Buildings". Just because a building has a Building Management System (BMS) doesn't mean that building is "smart". A smart building is a high functioning building where technology and human interface combine data and actions to keep occupants and building owners comfortable and productive at the lowest possible cost.
Buildings contain a lot of systems, including HVAC, security, plumbing, fire alarm, and lighting systems to name a few. These systems generate a tremendous amount of data which can be stored in an asset management system to enable it to be used to improve overall operations. An asset management system is a repository for all of the information related to the assets of a building, from boilers to water fountains. Work order histories, preventive maintenance schedules, and vendor data are just some of the data contained in an asset management system.
Smart buildings use the data in an asset management system to drive improved performance. For example, this information can be used to automatically schedule a preventive maintenance activity for an asset based on a number of run hours. Similarly, alarms or abnormal conditions detected by the BMS can trigger a work order automatically from within the asset management system. Truly intelligent buildings go beyond responding to simple "out-of-state" or limit-based conditions or runtime notifications to actually look at patterns and correlations in the data from the various systems. For example, intelligent buildings combine real-time data from energy meters, heating and cooling systems, etc. to identify operational issues that represent inefficiency and waste. This is called "Analytics".

The new generation of analytics software enables us to do just that. Analytics software can automatically analyze real time and asset data to provide facility managers with actionable information. These include exception reports, energy performance summaries, and alerts that highlight inefficient operation of equipment systems. This information can be directly used by the facilities staff to fine tune asset performance and prioritize maintenance, repair, and capital investments. This will help optimize facility performance, enabling you to reduce costs and improve productivity.

Eagle Technology is a developer of Proteus facility asset management software and SkyFoundry is a developer of SkySpark analytics software. Recently, Eagle Technology teamed with Environmental Systems Inc.1 (a Value Added Reseller for both products) to integrate these software solutions using Eagle's web services; to achieve a complete Asset Management Solution for a smart building. Eagle's Proteus MMX asset management software is now seamlessly integrated with SkyFoundry's SkySpark analytics software, which provides automatic and continuous analytics of data available from various building systems. This integration turns the mountains of data generated by equipment and control systems into specific, actionable information and enables customers to understand exactly what issues their buildings systems are having, when they occur, how long they last, how often they occur, and what the cost impact of those issues is. The result is the ability to identify and prioritize actions to improve building performance to reduce energy and other facility maintenance costs.

Analytics detects the issue:

and a work order is automatically generated: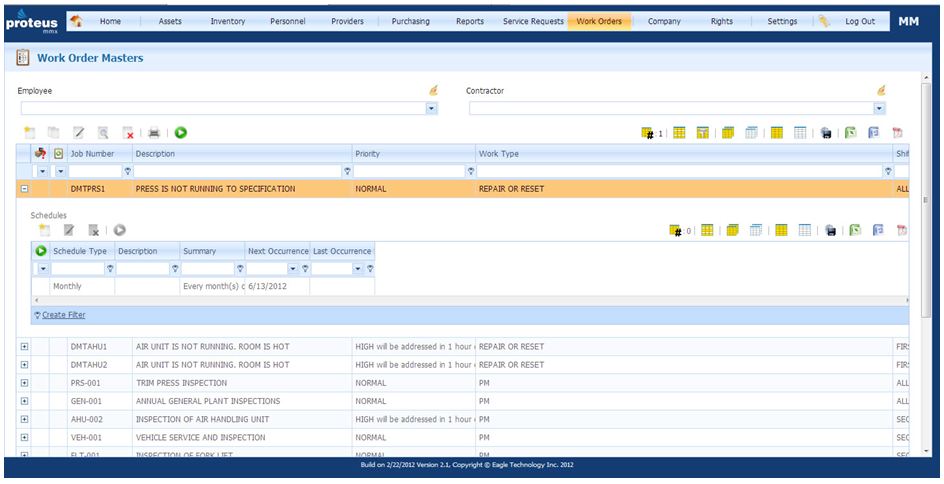 The integration of these two smart building technologies enables systems integrators to provide building operators with the tools to drive better performance and lower operational costs.


---
About the Authors
Harshad Shah is President of Eagle Technology, Inc. a leading developer of computerized maintenance management solutions (CMMS) and enterprise asset management (EAM) for the worldwide facility market. Eagle Technology, Inc.'s software increases efficiency and sustainability in any size organization by helping facility maintenance operations run smoothly and comfortably with minimum downtime and increased energy savings.

John Petze, C.E.M., is a partner in SkyFoundry, the developers of SkySpark™, an analytics platform for building, energy and equipment data. John has over 25 years of experience in building automation, energy management and M2M, having served in senior level positions for manufacturers of hardware and software products including Tridium, Andover Controls, and Cisco Systems. At SkyFoundry he rejoins Brian Frank, co-founder and chief architect of Tridium's Niagara Framework, as they look to bring the next generation of information analytics to the "Internet of Things".
---
References
1 Environmental Systems, Inc. (ESI), provides technology and services for facilities that improve energy efficiency and sustainability, reduce operating cost and environmental risk and increase comfort, productivity and safety. The company offers a wide range of technology and services in the areas of automation, system integration, energy management, security, life safety, building operations centers, software applications, support services and education. For more information, visit the company's website at: www.thinkesi.com.

---

[Click Banner To Learn More]
[Home Page] [The Automator] [About] [Subscribe ] [Contact Us]