---

EMAIL INTERVIEW – Ken Sinclair and Rod Rushing
Rod Rushing, Vice President and President, Building Solutions, North America, Johnson Controls
Rod Rushing is vice president and president of Building Solutions, North America, an $8.5 billion segment of Johnson Controls' global Building Technologies & Solutions business. The North America field organization delivers building technology solutions across HVAC, Controls, Fire and Security that create safe, smart and sustainable building environments for our customers.

Rushing first joined Johnson Controls as a member of the St. Louis branch office, and has held a number of progressing roles throughout our field and product organization over his career. Most recently, he served as global vice president and general manager of the Johnson Controls global Direct Expansion (DX) product business. In this Tokyo-based role, Rushing oversaw the successful integration of the company's joint venture with Hitachi Air Conditioning, now known as Johnson Controls – Hitachi Air Conditioning.

Rushing is the past executive sponsor of the Hispanic Business Resource Group at Johnson Controls, the Make-a-Wish of Wisconsin Board and is a member of the Air Conditioning, Heating and Refrigeration Institute (AHRI) executive committee, and the Johnson Controls – Hitachi Joint Venture Board. He holds a bachelor's degree in electrical engineering from the Missouri University of Science & Technology, and a master's of business and science degree from Southern Illinois University.
---
"Talent for Tomorrow"

We need to attract more people into the field and provide them with the training and education needed to be successful in their career.

Sinclair: Why is "Talent for Tomorrow" such an important topic for the automated buildings industry?
Rushing: We hear a lot about the skills gap and labor shortage that organizations in technical industries like building automation are facing today and in the future. To ensure there is enough talent to keep innovation thriving in the automated buildings industry and to continue solving new customer challenges around automation, security, and sustainability, we need to attract more people into the field and provide them with the training and education needed to be successful in their career.

This is not something that can be addressed in the future, because the need exists today and will only become more pronounced over time. Furthermore, automated building technologies are constantly evolving, and success in the industry requires knowledge not only of current systems but of what future systems will exist in five or 10 years.

Sinclair: Where are the skills gaps? What kind of talent does the industry need right now?
Rushing: It's reported that more than two million technical roles could go unfilled due to a lack of skilled workers. Meanwhile, the industry itself is booming and busier than ever before. For instance, The Bureau of Labor Statistics predicts demand for over 100,000 new HVAC specialists in the coming years.

At Johnson Controls, we feel this gap acutely. Technical workers who install and service equipment for our customers make up the largest segment of our workforce in North America, and we need to add significantly more to continue to meet demand and grow our business. In the last year, we added around 300 new technical roles in North America and plan to add as many or more in the coming years. But to meet this need, we have to start by addressing the skills gap, finding ways to connect young people to technical career paths they may not have considered – or been aware of - otherwise.

Sinclair: What is Johnson Controls doing to address the need for talent?
Rushing: Johnson Controls is engaged in a partnership with Lincoln Tech to build the technical workforce of the future. This partnership is part of larger hiring, and workforce development initiative within Johnson Controls designed to build a pipeline of talent that not only supports the growth of our business but helps change the lives of individuals and impact communities across the nation through meaningful careers.

The partnership is built around three key principles. First and foremost, providing career opportunities to graduates of Lincoln Tech's Heating, Ventilation and Air Conditioning (HVAC) and Electrical and Electronic Systems Technology (EEST) training programs. Second, attracting more people into the industry through a focus on recruiting new students for these programs. Third, growing and advancing these programs by ensuring that we deliver cutting-edge curriculum and hands-on training using the latest Johnson Controls technologies.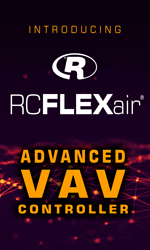 Sinclair: How can the industry work together to educate better, recruit, train and retain talent?
Rushing: Institutions like Lincoln Tech are vitally important to bridge the talent gap by arming people around the country with the skills necessary to enter the technical workforce and build a stable, lucrative and rewarding career. We need to work together to attract more people to the career, and showcase that these roles offer long-term job security and lots of room for growth.

To that end, it's critical that as an industry we foster partnerships with organizations like Lincoln Tech that are critical to not only filling that industry need but for shining a light on these stable career paths to make a difference in people's lives and in the local communities in which we work.

Sinclair: What can individuals do to help develop the Talent for Tomorrow?
Rushing: At the individual level, we all play a critical role in developing talent in our industry, and we all have the power to make a difference. We can make an impact, for example, by developing relationships with local organizations and institutions that influence young people who are considering their future path. We can speak to school-age children about the career, highlighting the exciting role our industry plays in shaping the future. And we should all welcome new employees into the industry and help them succeed by serving as mentors and role models, providing them with the support they need as they get started. Every individual effort makes a difference in the future of our industry.

For more information about "Talent for Tomorrow," visit https://www.youtube.com/watch?v=UC63al0ApuY
This just in,

Johnson Controls has launched the third episode in its podcast series "Building Connections."

In this episode on cybersecurity, Jason Christman, vice president and chief product security officer, discusses his cybersecurity background, his philosophy on implementing best practices and even how an aquarium thermostat was used to hack into a casino. He also discusses the importance of managing risk across the entire product lifecycle.

To listen to the podcast on YouTube, please visit https://www.youtube.com/watch?v=gd_wMFiXx8M


---


[Click Banner To Learn More]
[Home Page] [The Automator] [About] [Subscribe ] [Contact Us]