---
COVID-19 is Accelerating Digital Transformation
within the Built Environment

The built environment has been shaken by the COVID-19 pandemic


Marc Petock




Chief Marketing & Communications Officer,


Lynxspring, Inc.

Contributing Editor


Like every industry and business, the built environment has been shaken by the COVID-19 pandemic. COVID-19 is the largest change agent to hit the built environment in the last 25 years. Decisions made now will have a huge impact on how we manage and operate buildings, the health and safety of occupants and even how well our businesses do.
COVID-19 has changed the way we think about buildings. It has brought into sharp focus the need to harness and leverage our buildings digital infrastructure, optimize data and real-time information—key building blocks of digital transformation. In addition, it has driven the increased control and visibility to make buildings safer, reduce risk, infection protection and create trust.
Building owners and operators have understood the need for smarter operations, and in recent years have begun to take steps towards the digital transformation of their buildings.
The pandemic hit—and with it, a newfound urgency or shall we say a "forced to adapt and to do so fast". The results are having a significant impact on how facilities need to be managed and operated.
Addressing COVID-19 is now a key factor of digital transformation within the built environment. We are beyond seeking to build our way out of the crisis; we are now building our way out. Most owners and operators are in the early stages of their COVID-19 journey which includes physical distancing, the use of masks, and hand sanitizer. However, a COVID-19 digital transformation journey include that these hygiene practices are closely monitored via digital means with access to live data.
The journey also requires that the underlying functions and interoperability of the building environmental systems play their part in safeguarding employees' health with things such as indoor air quality, airflow, occupant density, space temperature, pressure and humidity, water quality, the generation of cleaning reports and no-touch solutions for things like doors, lights, towel dispensers, etc. are essential to reduce the spread of virus.
With COVID-19 transformation, the goals are risk mitigation, safety, crisis avoidance and trust. Driving this requires a Hierarchy of Controls that address short term, long term, and permanent strategies.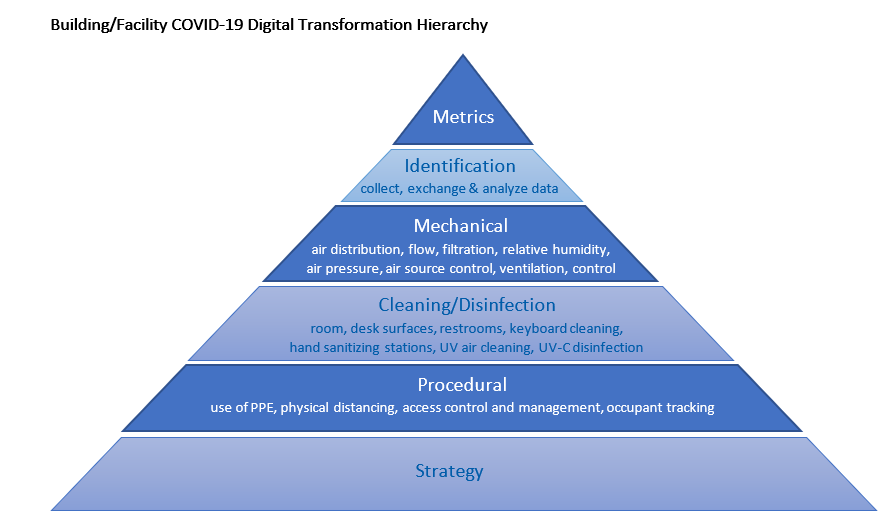 Today's building owners and operators are in a position where realizing sustainable success is going to depend on their ability to embrace a unique blend of strategy, agility, determination, and transformation.
Digital transformation is playing a pivotal role in helping to navigate COVID-19. One thing's for sure—COVID-19's impact in the workplace will keep changing over time. It has changed the way we approach what we do. It is reshaping how we manage, look at and evaluate our buildings and facilities. COVID-19 has sped up the process to adopt digital transformation and is changing the landscape in which buildings must operate and must be embraced to remain competitive.

---


[Click Banner To Learn More]
[Home Page] [The Automator] [About] [Subscribe ] [Contact Us]