NEW PRODUCTS


Measuring CO2 Safely in Harsh and Humid Environments
Introducing Vaisala's New GMT220 Transmitter Series
Vaisala introduces the new GMT221 and GMT222, the first CARBOCAP® transmitters available for a wide range of industrial CO2 applications such as horticulture and fruit storage, bottling and brewing, safety alarming and leakage monitoring, and demand controlled ventilation in harsh environments.
Designed for Harsh Environments
Woburn, MA - March 2000 Designed for harsh environments, the GMT220's housing is watertight (IP65/NEMA4) and corrosion-free. The materials in the transmitter were chosen for extended corrosion resistance. Measurement ranges for high CO2 concentrations: 0…20%; low concentrations 0…10,000 ppm. Operating temperature range: -20…+60°C. Operating humidity range: 0…100% RH.
Flexible, Compact Design
The transmitters can be ordered in a number of configurations. As a result users can select a transmitter suitable for their needs. The probes are truly interchangeable; they can be removed, reinstalled or replaced at any time - without need for calibration and adjustment. In addition, you can change the measuring range - just by changing the probe. The probes can be installed directly in the transmitter body or used remotely by cable. Attachment gear is available for installing remote probes in ducts and chambers, or on walls. Other optional features include a digital LCD display, LonWorks and RS485 interface units.
Easy to Use
The modular design of the GMT220 transmitters makes installation simple and straightforward. The mounting plate can be installed separately on a wall. A protective plastic film covering the electronics inside the housing includes instruction on how to make the electrical connections. Interchangeable probes afford easy field maintenance and calibration. The probe can either be replaced by a newly calibrated probe or reference measurements can be performed. Field maintenance can be done by the end user without heavy and expensive calibration equipment.
Superior Measurement Technology
The GMT220 series incorporates Vaisala's revolutionary silicon-based CARBOCAP® sensor. Its critical parts are made of silicon which, together with the unique reference measurement capabilities, provides excellent stability over both time and temperature. The result is long calibration intervals and reduced maintenance costs.
Accurate and Reliable Vaisala Technology
Founded in 1981, Vaisala manufactures and markets environmental measurements and systems to government and industry. It is a global market leader in professional equipment measuring humidity, CO2 and barometric pressure.
For further information visit the web site at http://www.vaisala.com/inc/ssdcat
---
LOCHINVAR® UNVEILS THE INTELLI-FIN™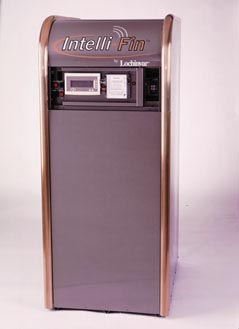 Intelli-Fin™ offers 97 percent thermal efficiency and LonWorks technology
NASHVILLE, Tenn. (February 7, 2000) --Lochinvar® Corporation is proud to announce the introduction of the Intelli-Fin™. The Intelli-Fin is the first water heater or boiler to employ LonWorks technology, which now enables total building management.
Displaying leading edge technology, the Intelli-Fin is the industry's only water heater or boiler utilizing LonWorks technology for integration into building management systems via an open network. A digital display on the front of the boiler allows access to 21+ different data points including mode of operation and total run time. Remote monitoring and control access are also available through phone lines.
There are currently three versatile models ranging from 1.5 million to 2.0 million BTUs. All models feature a wide variety of venting options, including conventional, sidewall, vertical direct, and horizontal direct venting.
Each model boasts a 97 percent thermal efficiency rating, which means 97 cents out of every fuel dollar are used to create heat. And while conventional heating appliances achieve peak efficiency only while running at maximum capacity, the Intelli-Fin models consistently provide peak performance, even while operating at low outputs. All this is due to the models' infinite modulating firing system and unique copper heat exchanger. The infinite modulating firing system provides quick and accurate response to demand for heat--as much or as little as needed--while always maintaining the ideal gas/air ratio for ultimate efficiency.
A few other unique features of the Intelli-Fin include:
Operation at low inlet water temperatures, even as low as 70 degrees F
Operation at low inlet gas pressures, down to 4" water column for 2 million BTU
These features make the Intelli-Fin more flexible for sensitive applications especially in areas with low gas pressure.
All Intelli-Fin models also offer great flexibility and ease of installation. The units are compact enough to fit through standard freight elevators intact. Once inside, the space-saving designs leave more space in the mechanical room.
For more information about the Intelli-Fin, visit the web site at www.newefficiency.com.
---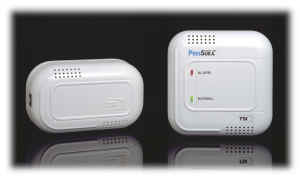 TSI offers PRESSURAä line of hospital room pressure products
ST. PAUL, MN---TSI Incorporated offers the PRESSURAä line of hospital room pressure products representing the second generation in room pressure measurement instrumentation.
This complete line offers both monitors and controllers to ensure an accurate room pressure measurement for health care applications. Ideally suited for TB isolation rooms, operation rooms and bone marrow suites, the PRESSURA line provides the ease of use and flexibility needed to keep patients, employees and hospital visitors safe. The PRESSURA line features both audible and visual alarms, along with a convenient panel door which slides open to display additional status and programming information via a digital display. The unit interfaces with current building automation systems and can easily be upgraded to fit any application. By meeting established CDC guidelines, the new PRESSURA helps manage risk at health care facilities.
TSI Incorporated is a proven leader in hospital room pressure measurements with hundreds of successful hospital installations. For more than thirty eight years, TSI has been designing and manufacturing measurement instrumentation for domestic and international markets.
For more information visit the web site at www.tsi.com/
---
TSI offers Q-STAT Installed Indoor Air Quality monitors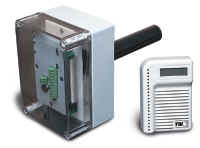 ST. PAUL, MN --- TSI Incorporated, Shoreview, Minnesota offers a reliable Q-STAT line of indoor air quality (IAQ) monitors. These new monitors are installed Carbon Dioxide/ Temperature Monitors.
The Q-STAT monitor helps building owners and managers ensure a comfortable, healthy work environment while increasing productivity and optimizing energy savings. High levels of CO2 can cause headaches, fatigue, nausea and throat irritation leading to decreased effectiveness. Prolonged ventilation problems can create Sick Building Syndrome or Building Related Illnesses and can be the basis for legal action. By measuring both CO2 and temperature in the same monitor, the Q-STAT products are ideal for conference rooms, auditoriums, classrooms, office spaces, laboratories and hospitals. The Q-STAT is available in easy to install wall or duct-mounted versions with selectable CO2 ranges. It utilizes Non-Dispersive Infrared (NDIR) technology that features a reference channel and temperature compensation for long term stability. Outputs, including analog for CO2 and temperature, a relay contact and LonMark® communications, provide interface with building control systems. Significant energy savings can be realized when the Q-STAT monitor is integrated into demand control ventilation systems.
TSI is a worldwide leader in low velocity and gas detection instrumentation. More information is available by calling 800-777-8356, or visiting the TSI at on the World Wide Web at http://www.tsi.com.
---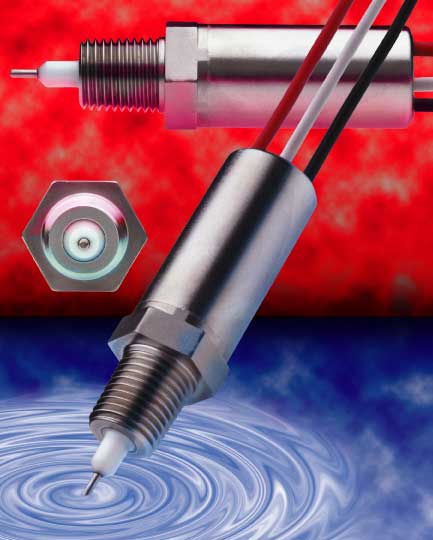 GEMS Silver Bullet Liquid Level Sensor Offers Solution for Nightmare Fluid Monitoring Applications
PLAINVILLE, CT... New Silver Bullet liquid level sensors for a wide range of demanding applications involving electrically conductive liquids are now available from Gems Sensors Inc.
Ideal for OEM applications, Gems compact Silver Bullet sensors are less than 3 inches long. These solid-state sensors feature integrated switching electronics that withstand operating temperatures to 257°F (125°C), eliminating the need for remotely mounted controllers and bulky J-boxes. Sensors operate in pressures to 2500 PSI and are resistant to vibration and thermal shock for high reliability in outdoor conditions. Sensors have an IP67 moisture entry protection rating. Typical applications include water level monitoring in oil or fuel separators, waste water level monitoring, leak detection, steam boiler water level monitoring, fluid level monitoring in ultrasonic cleaning equipment and coolant level monitoring in radiators and expansion reservoirs.
More information is available by calling 1-800-847-5691, or visiting the website at www.gemssensors.com/homenews.html
---
---


[Click Banner To Learn More]
[Stay Informed - Subscribe to our Update Mailing List]
[Home Page] [Contact Us] [The Automator - Current Issue]
[News] [Systems] [Products] [Resources] [About]

Visit Home Toys to Learn about Home Automation
Web Design by HomeToys
©Enviromation 1999